♪  Miss Jin Loh's Students Achievements (^^)  ♪
---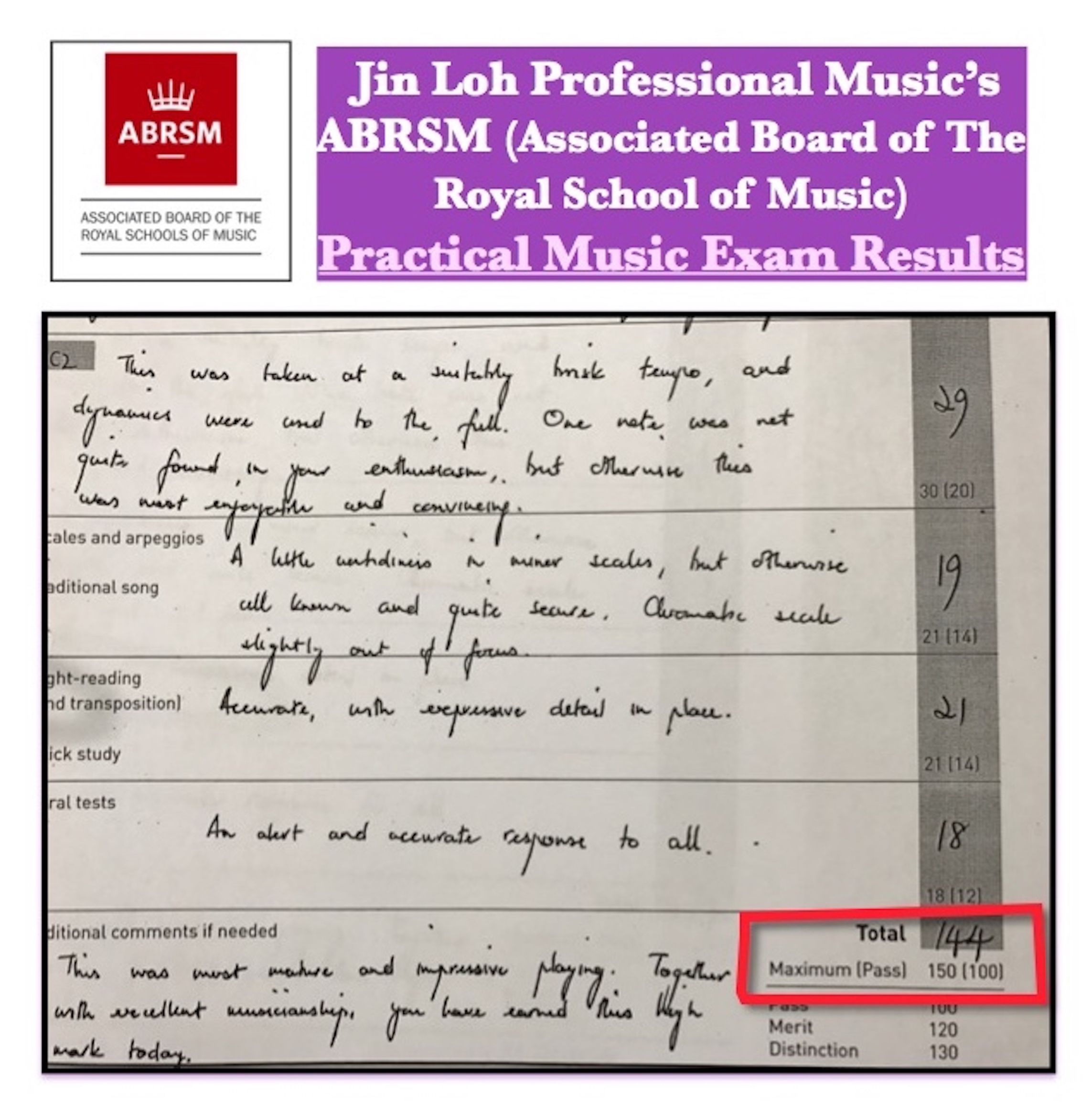 Miss Jin Loh's Music Student's ABRSM High Distinction Practical Music Result 144/150 marks
---
April 2017 ABRSM Practical Music Exam Results: All Miss Jin Loh's students scored Distinctions (130 & above/150 marks), except 2 students scored Merits (124 & 127)


March 2017ABRSM Music Theory ExamResults:All Distinction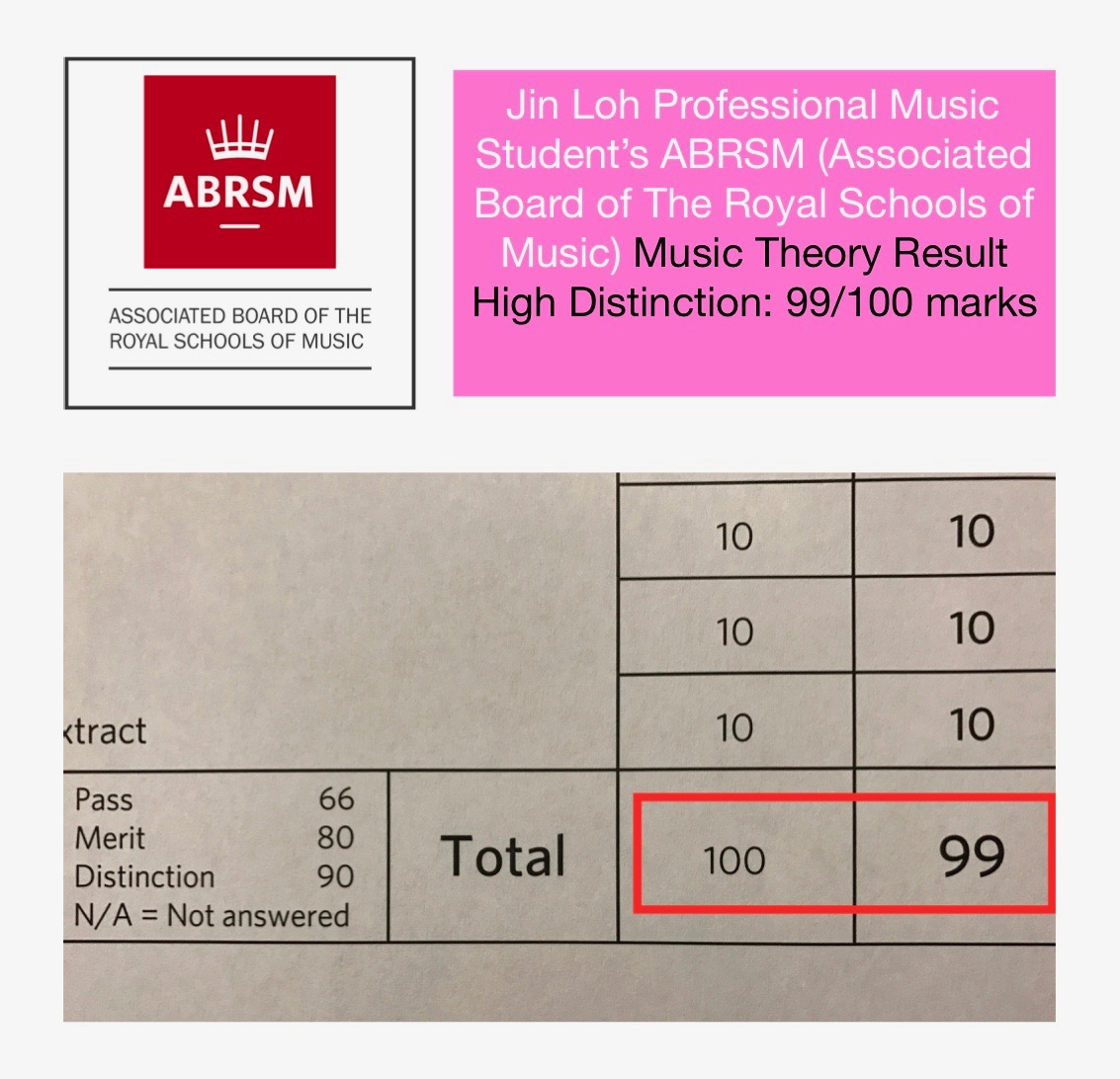 Miss Jin Loh's Music Student's ABRSM High Distinction Music Theory Result 99/100 marks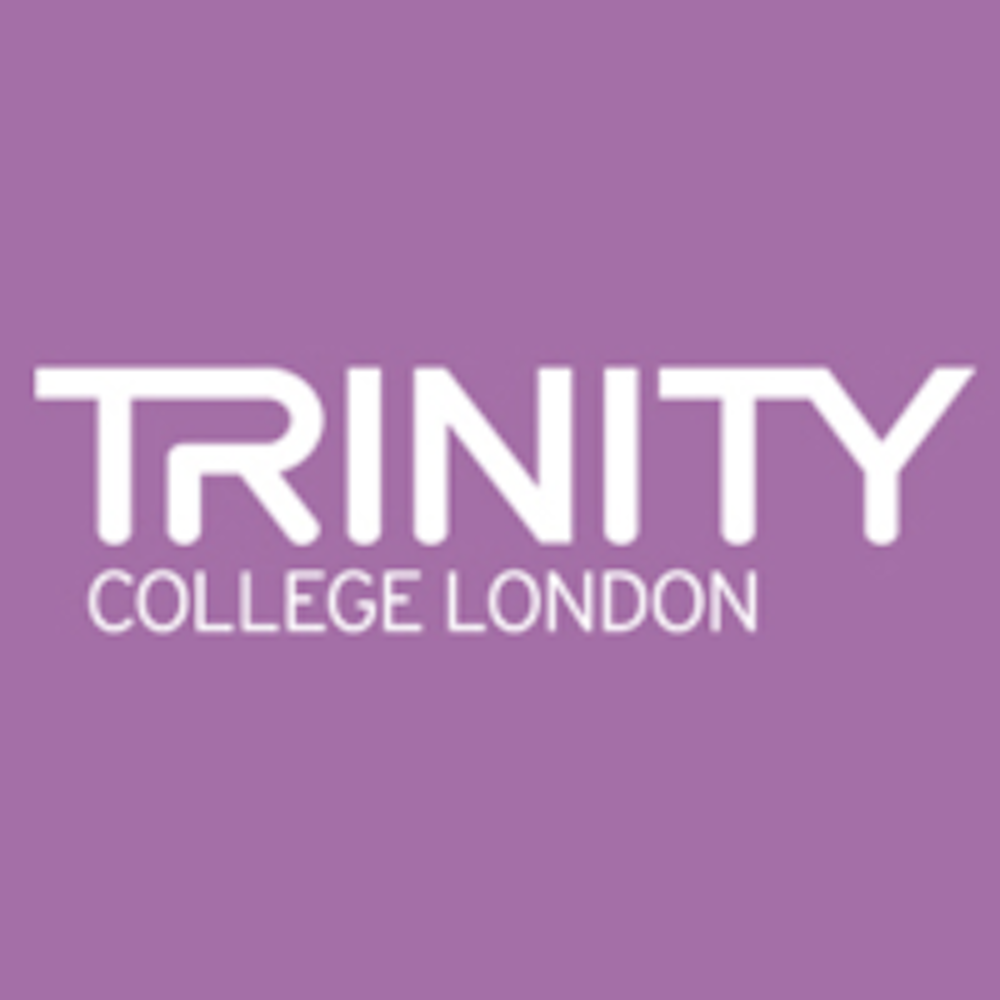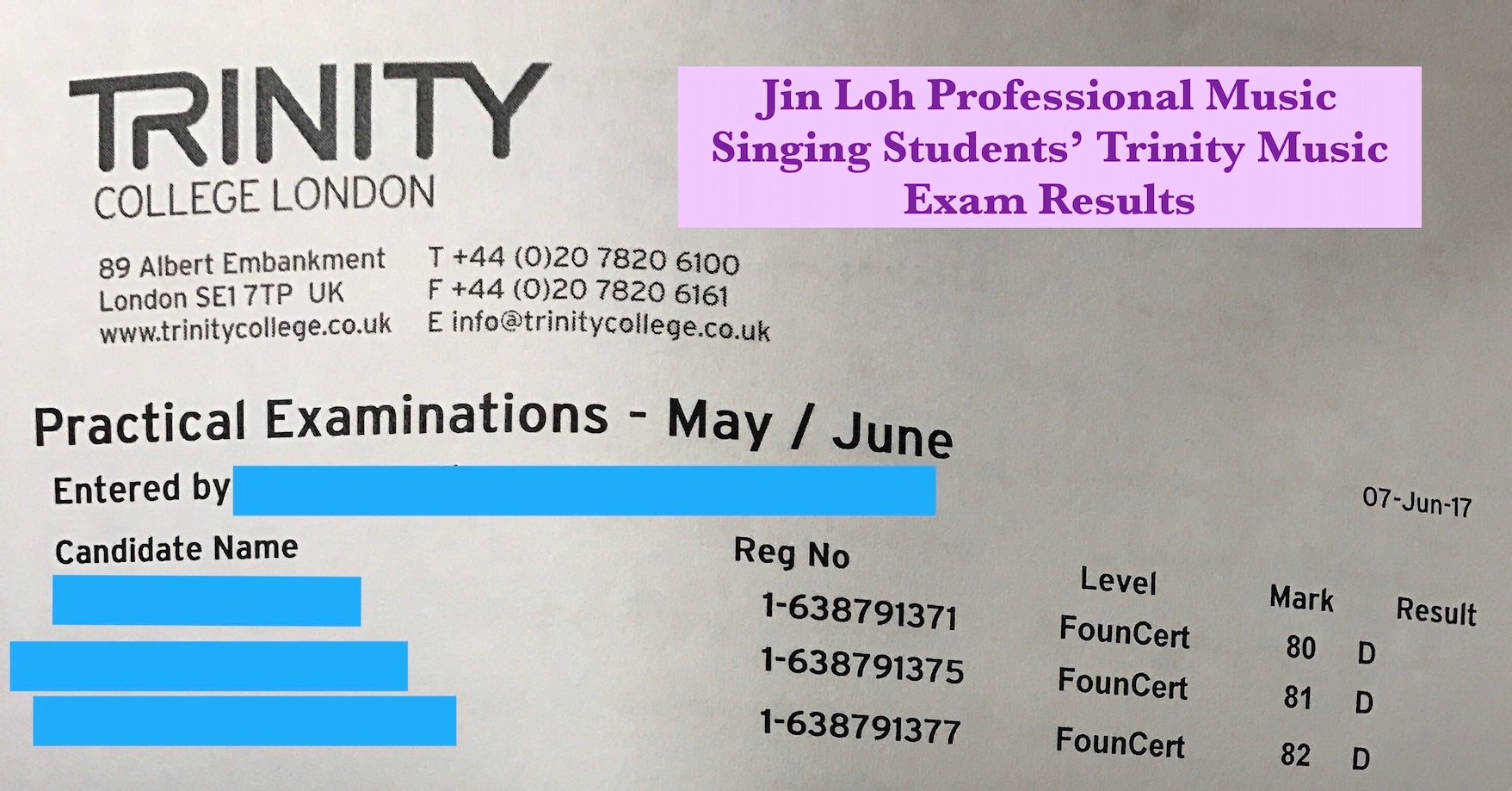 May/June 2017 Trinity College London Singing Exam Results: All Miss Jin Loh's singing/vocal students scored Distinctions (80 marks & above/100). Programme Notes scored full marks 10/10 except one student scored 9/10 marks.
60-79 marks/100 = Pass
80 & above marks/100 = Distinction
---
---

About Miss Jin Loh 

a musician/pianist/cellist/flutist




~ Jin Loh Professional Music (since 1999)




---
A Little Background About Miss Jin Loh's Academics Performances In Schools
Despite preparing, taking Grade 8 & music diploma exams for 3 musical instruments (in the same year) during secondary school, Miss Jin Loh had always scored first place in her class throughout the last 2 years of her secondary school exams.
Not only scoring first place in her own class, Miss Jin Loh's academics school result was also the first place in whole school. She scored first place in whole school during the second last year of her secondary school's final year end exams.  In that same year, when Miss Jin Loh's school academics results was the first in her whole school, Miss Jin Loh also took her music grade 8 and music diploma exams for 3 musical instruments.
Since Miss Jin Loh was in primary school, she had taken the responsibility and role as a school prefect. When Miss Jin Loh was in secondary school, she continued to be a school prefect for 5 years.
Miss Jin Loh's Music Background
Music is a passion with Miss Jin Loh. After her secondary school's education, Miss Jin Loh decided to pursue her tertiary education in music.
In music college/music university, Miss Jin Loh was accepted into the Dean's List for 5 semesters. Miss Jin Loh holds a Bachelor Degree (Hons) in Professional Music (UK). 
Miss Jin Loh received her music training under several music instructors with Master Degrees and PhD Professor in Music. 

Miss Jin Loh is an all rounder musician. She is a pianist, cellist, flutist, singer and a guzheng player in Malaysia. She studied many years of formal studies in different music genres including Classical Music, Jazz Music (Contemporary Music) and also Oriental Music, Chinese Music. 
Miss Jin Loh is a very experienced music educator in Malaysia with 19 years of teaching experiences. Currently she is devoting most of her time sharing her music knowledge and training new generation of musicians using her own unique teaching method.
Miss Jin Loh's Students Musical Achievements
The students that Miss Jin Loh has trained, won awards in national and international music competitions. For example, in 2015 Asia Piano Competition, both of Miss Jin Loh's piano diploma students won gold prize (1st place) in national round. They represented the country to compete with other best musicians from other countries around the world. Both of Miss Jin Loh's students won Silver Prize, 2nd place in the international grand final piano competition. It was the students first time taking part in a piano competition.
Besides winning in national and international music competitions, Miss Jin Loh's music student scored highest marks in the country for ABRSM music exam. Miss Jin Loh is one of the ABRSM High Scorer's music teacher in Malaysia. Her music student is specially selected and invited to perform in ABRSM (Associated Board of The Royal School of Music) High Scorers' Concert. To be selected and invited by ABRSM to perform in their High Scorers' Music Concert, students need to score one of the highest music scores in the practical music exams in the country.
---
Miss Jin Loh is fluent in English, Mandarin, Cantonese, Malay and Japanese. Miss Jin Loh learnt Japanease for about 6 years and sat for the international Japanese Language Proficiency Tests. Miss Jin Loh speaks Japanese because majority of her music students are Japanese and Koreans expatriates in Malaysia.
Besides music, Miss Jin Loh also received many years of formal training in ballet dancing and art, painting. By incorporating her knowledge in art, dance and from playing 6 different musical instruments, Miss Jin Loh has created a unique music teaching methods to teach and train students.

Musical Instruments Played
Music is Miss Jin Loh's passion.
She has a passionate interest in music since young. She spent many years of formal training, learning many musical instruments to widen her music horizon and music understanding. Miss Jin Loh plays and teaches 6 musical instruments: Piano, Flute, Electone (Electric Organ), Cello, Vocal/Singing and Gu Zheng 古筝. 
A Classical and Jazz Contemporary Musician in Malaysia
Miss Jin Loh is a Classical musician and also a Jazz/Contemporary musician in Malaysia.
When she was young, Miss Jin Loh had formal music training learning Classical music under Master Degree piano instructors. At the same time while studying Classical music, she also learnt to play Jazz/Contemporary music and music improvisations from her Electon (Electric Organ) instructors, who were award-winning Electone performers in competitions.  
Miss Jin Loh studied more in depth about Jazz, contemporary music when she was pursuing her music degree.

An Oriental/Chinese Musician with Classical and Jazz Music Background
After many years of formal training and studies learning Western Classical Music and Jazz/Contemporary Music, Miss Jin Loh decided to continue her music journey to explore a complete new music genre – the Oriental Music/Chinese Music.
In order to explore and study the ancient Oriental/Chinese music, Miss Jin Loh picked up the Gu Zheng 古筝, as her 6th musical instrument. She sat for several international Guzheng exams. Now Miss Jin Loh is a qualified Gu Zheng teacher/instructor.
Experiences in Music Arrangements
Miss Jin Loh was the music arranger for a few music albums. 
She was the music arranger for music albums of, 'Love, Kindness & Forgiveness', 'The Journey to the Temple' and 'Journey'.

Experiences in Music Compositions 
One of Miss Jin Loh's music compositions and music arrangements "是与非-True & False" won the top 10 finalists, represented Malaysia to compete in the 2005 Shanghai Asia Music Composition Award held in Shanghai, China.

Experiences in  Music Performances
Miss Jin Loh played in music studio as a piano session player and a flute player for album.
She performed as a Contemporary/Jazz piano soloist for 5 stars hotels in Malaysia.
She performed in the MPO (Malaysian Philharmonic Orchestra) under the City Life project.
Miss Jin Loh also performed for special events, for example, private banking events in Malaysia. She performed as soloist at Kuala Lumpur Performing Art Centre (KLPAC) under special event.

Experiences in Music Education 
For few years, Miss Jin Loh was invited to conduct Flute seminars in a few International Schools in Malaysia, for example, at Mon't Kiara International School (M'KIS) and The International School of Kuala Lumpur (ISKL) during the International School Band Festivals in Malaysia.

Other Music Experiences in the Music Industry
Miss Jin Loh has worked in collaboration with recording company like EMI recording company. She was invited to compile a series of 4 Volumes of Classical Music CDs- "Classical Music for Babies". Suitable soothing music for babies were carefully chosen based on her music knowledge. Miss Jin Loh was happy to play her small role in contributing her music knowledge to babies for their early childhood exposure to music. 
*************************************************************************************



Music is Love.

Love is Music

~ Jin Loh