Year of 2018 Miss Jin Loh Received

Trinity College London (UK) Letter of Commendation/Appreciation for Her Outstanding Music Students Exam Results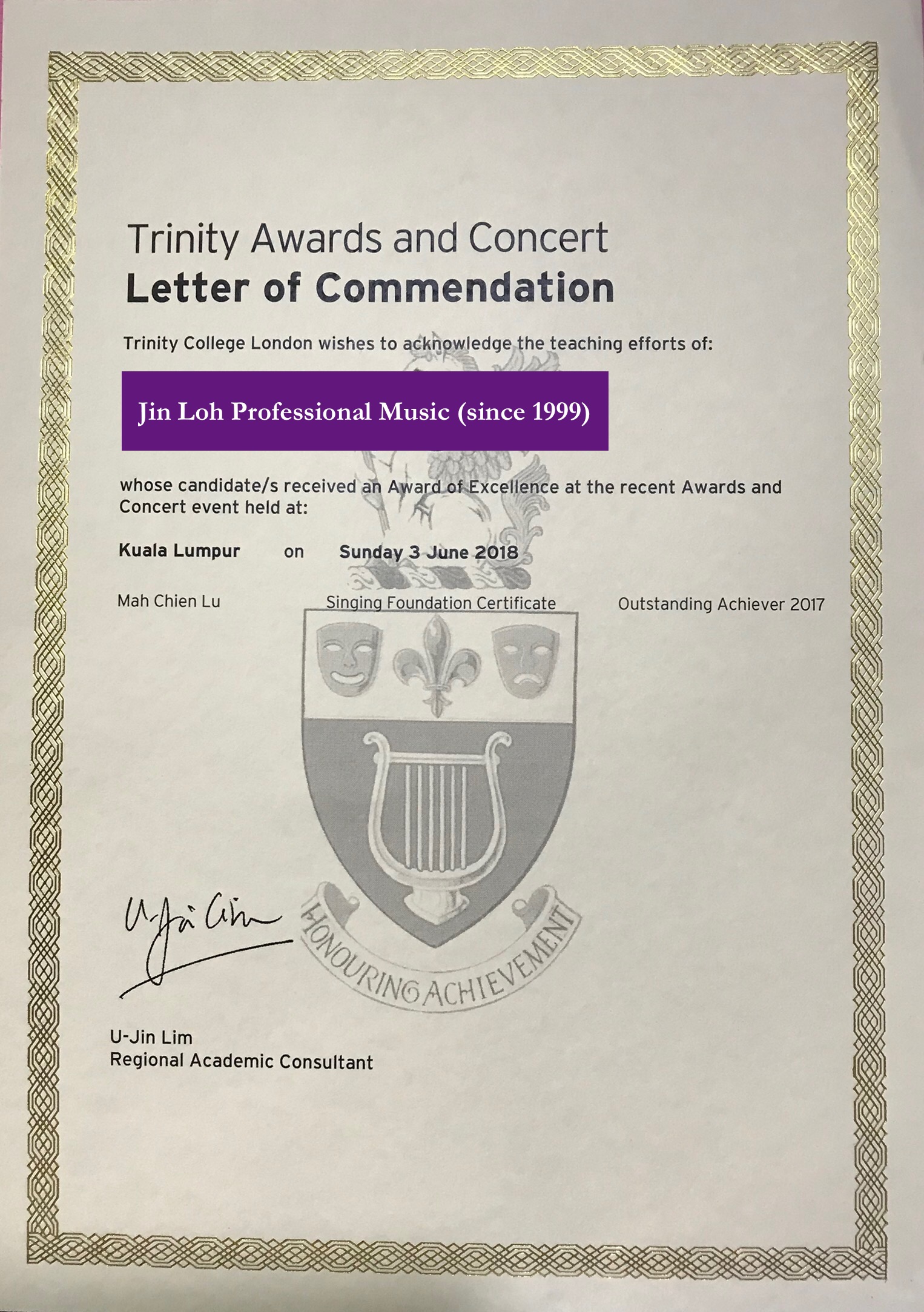 Miss Jin Loh Received

ABRSM (UK) Letter of Commendation/Appreciation for Her Outstanding Music Student Exam Result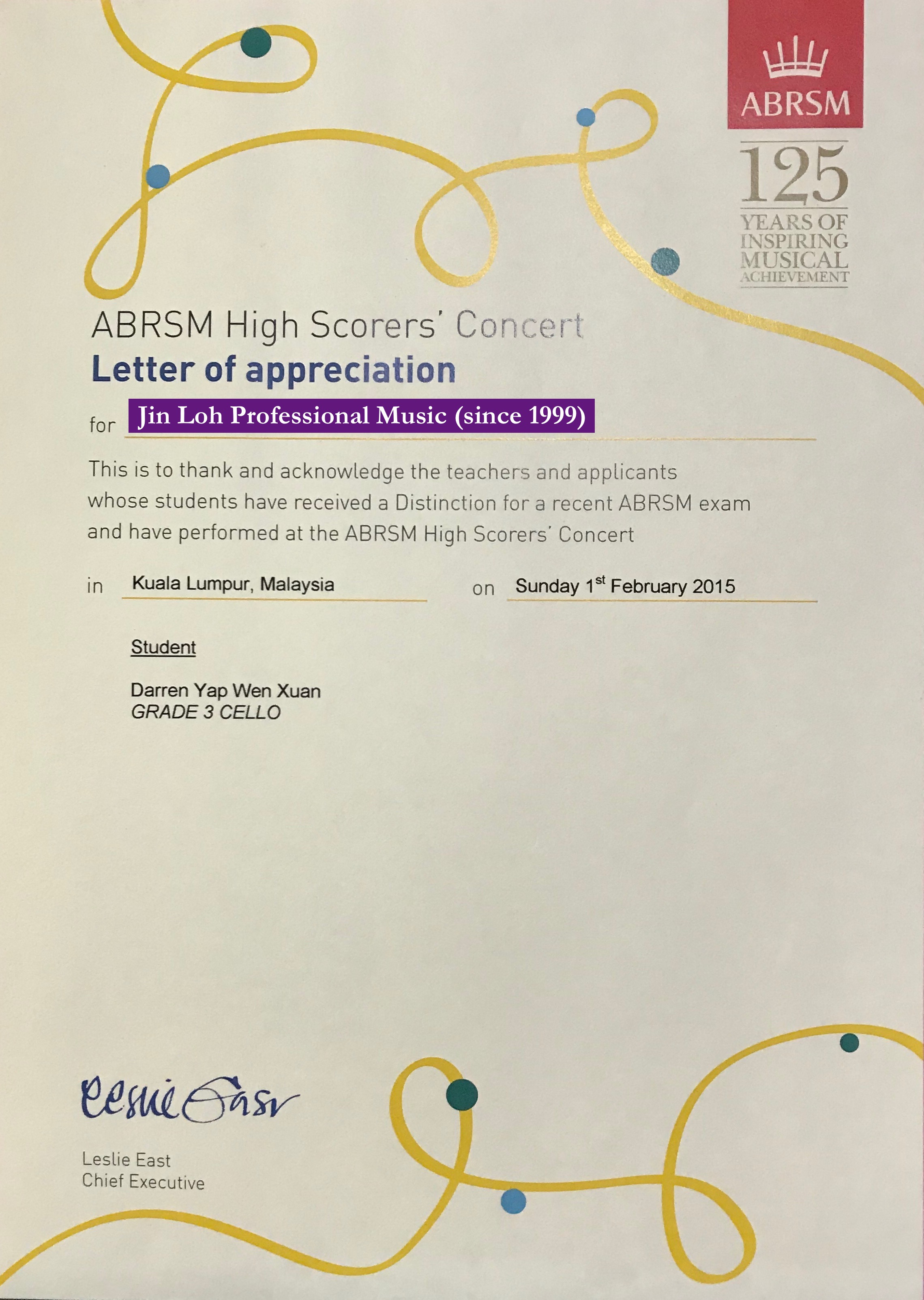 ---

The 5th Hong Kong International Music Festival 2018 Music Competition Winner - Bronze Medal (Malaysia Region)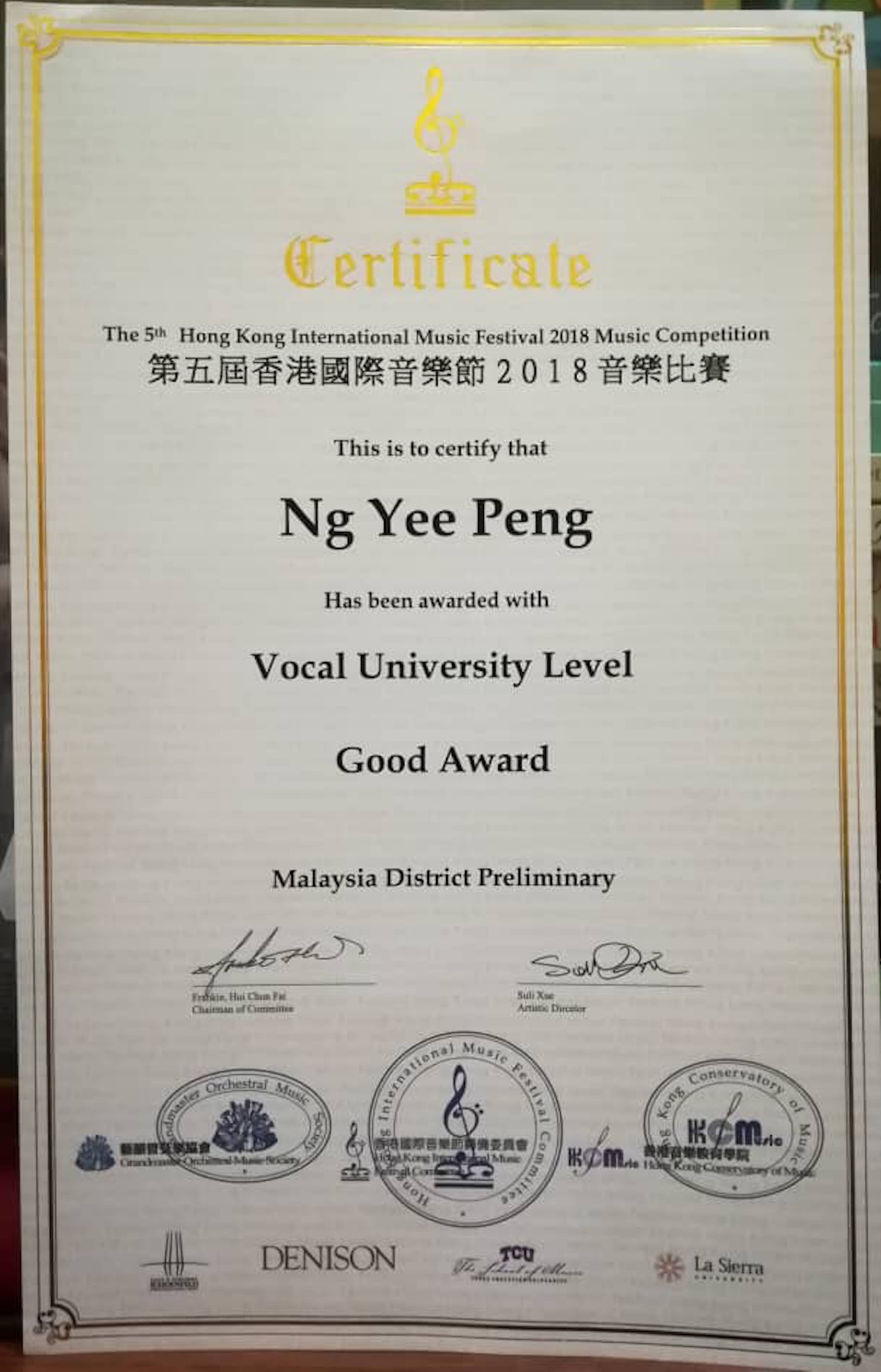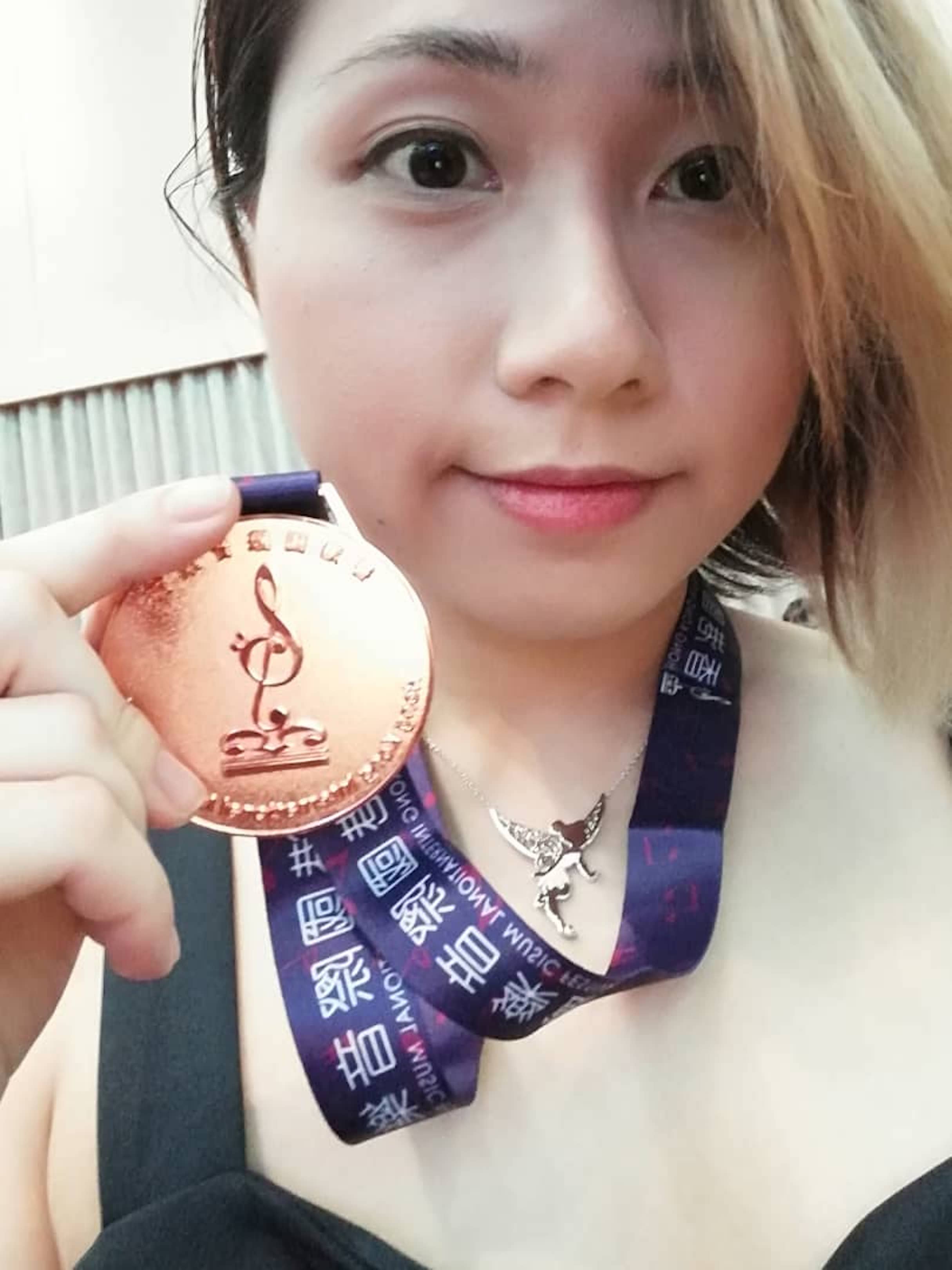 Congratulations to Miss Jin Loh's Singing Diploma (ATCL) music student, Alyson Ng, for winning in the recent 2018 Year "5th Hong Kong International Music Festival 2018 Music Competition". Alyson Ng won Bronze Medal (3rd Prize) in the Malaysia region. This is her first time taking part in a singing competition. Alyson Ng is selected to represent Malaysia to compete in the final round singing competition in Hong Kong. However unfortunately Alyson is unable to travel to Hong Kong during the final round competition in Hong Kong... 
---

Miss Jin Loh's Piano Diploma Students Represented Malaysia and Won Gold, 1st Prize in National Round, Silver Prize, 2nd Prize in International Piano Competition
---

Miss Jin Loh's ABRSM (UK) Practical Music Student High Distinction Exam Result 144/150 marks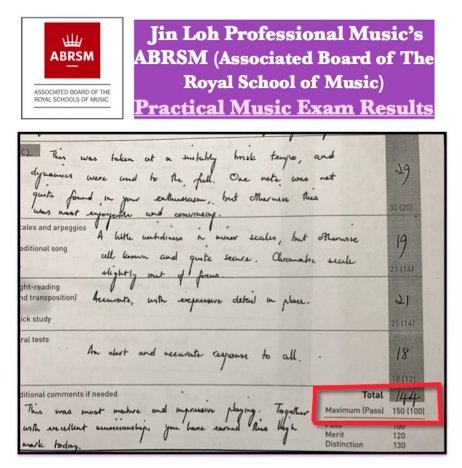 ABRSM (UK) High Scorer's Music Result High Distinction 144/150 marks

Distinction: 130-150 marks
Merit: 120-129 marks
Pass: 100-119 marks
~ Miss Jin Loh's music student was specially invited by ABRSM (UK) to perform in ABRSM High Scorer's Music Concert.
---

Year of 2018 Miss Jin Loh's Trinity College London (UK) Singing Students Exam Results - All High Distinctions 95/100 Marks and 91/100 marks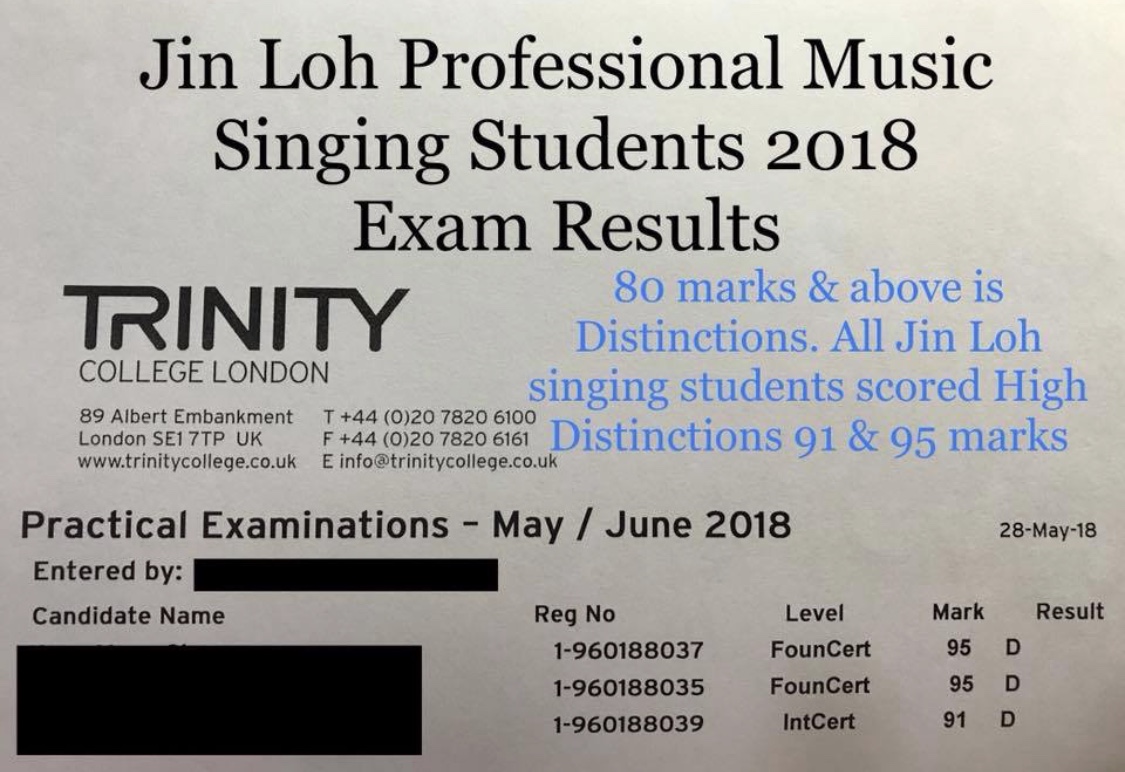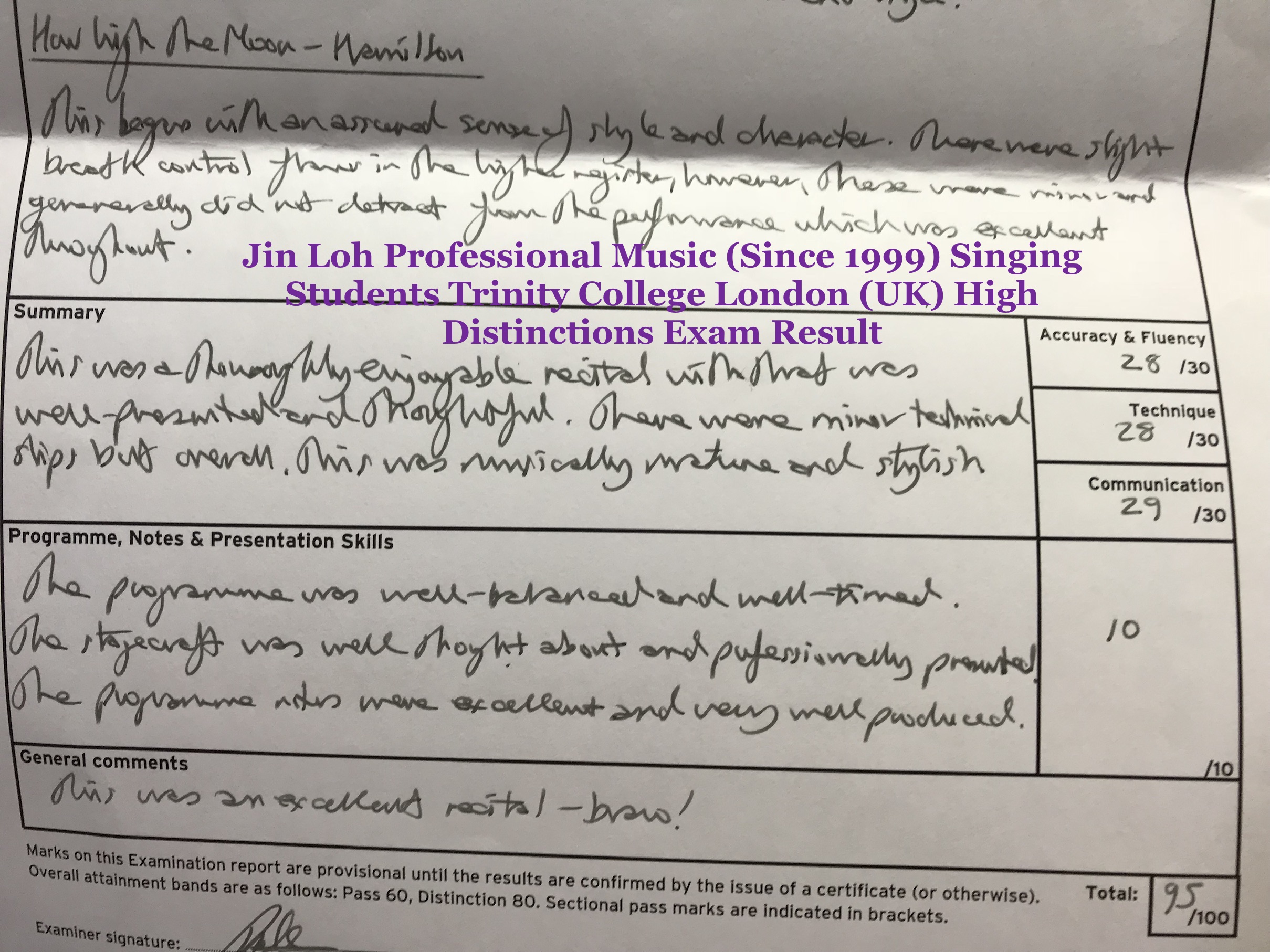 Trinity College London (UK) Singing May 2018 Exam Result 
100% pass with High Distinction (90-95/100 Marks) 
Distinction: 80 marks and above
Pass: 60-79 marks
All Miss Jin Loh's singing students scored High Distinctions 95/100 marks and 91/100 marks. Miss Jin Loh is all the students' first singing teacher.
---

Year of 2018 November Miss Jin Loh's Trinity London College (UK) Singing Exam Result November/December 2018 - Distinction 87/100 marks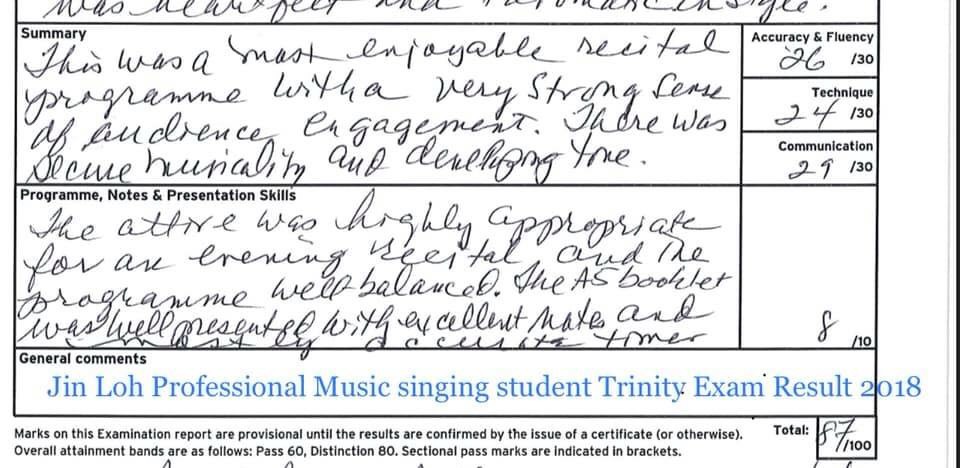 Congratulations to Miss Jin Loh's Singing student, Celine See, for scoring a Distinction on her singing exam. She was marked by a professional female singer examiner with 30 years of singing experiences; sang with New York Philharmonic Orchestra; a founder of a singing academy..etc. She gave Miss Jin Loh's singing student a Distinction, 87/100 marks. Miss Jin Loh is the students' first singing teacher.
Distinction is 80 marks and above
---
ABRSM Jazz Piano Lesson/Class in Malaysia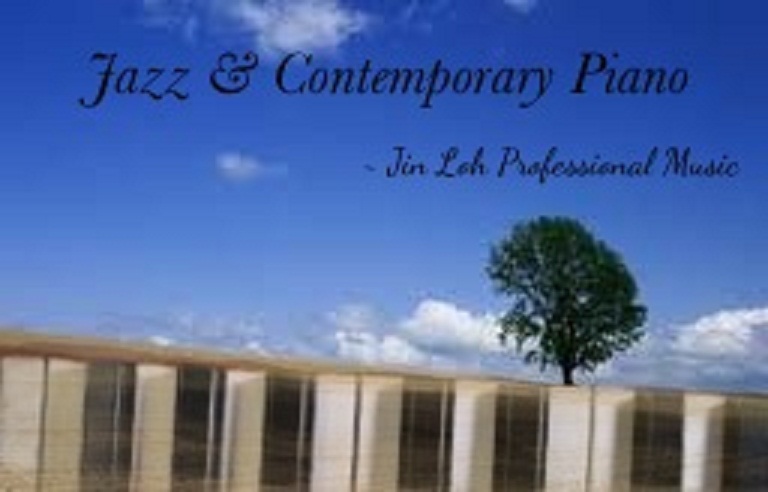 ABRSM jazz piano lessons for beginner jazz piano in Bangsar, Mon't Kiara, Sri Hartamas, Desa Sri Hartamas, Damansar Heights, KLGCC, Petaling Jaya (P.J.), Bandar Utama (BU), Taman Tun Dr. Ismail (TTDI), Ampang, KLCC, Kuala Lumpur (K.L.) and Selangor areas in Malaysia.


Beginner Jazz Piano. How to Learn Jazz Piano?
Let's Learn Jazz Piano!
This ABRSM (The Associated Board of The Royal School of Music) Jazz piano lessons are suitable for beginner jazz piano students who are new in Jazz, who are interested to know how to learn jazz piano. This ABRSM jazz piano lesson/class is also suitable for classical piano teachers who would like to venture into the jazz/contemporary piano.
Playing Jazz and classical music are very different. The notes may appear to be the same ABCDEFG, but the approaches or ways of playing jazz and classical piano are very different. A trained jazz pianist needs studies and understanding in various jazz styles, jazz music theory and other jazz/contemporary music knowledge in order to make a jazz piece sound like a real jazz musician playing!
This Jazz Piano lessons follows the ABRSM Jazz Piano Graded Exam syllabus. 
In this abrsm jazz piano classes, students learn to play for example jazz, blues, swing pieces on the piano. Students would learn how to improvise a piano piece from grade 1 onwards!
Instead of learning the classical piano scales, jazz piano students learn to play various types of jazz scales on the piano. Jazz scales include Dorian, Mixolydian, Major Pentatonic, Minor Pentatonic, blues scales and other jazz scales. 
This Jazz Piano Lesson/Class is conducted by Miss Jin Loh who is trained formerly for many years in playing both Classical and Jazz Piano. Miss Jin Loh prepares students to sit for the ABRSM Jazz Piano graded exam. 
♪ For more advanced pianists, for example pianists who have grade 8 and above, the Professional Jazz Piano Lesson/Class maybe more suitable for you. This Professional Jazz piano lesson/class is suitable for pianists who are ready to learn more advanced jazz piano playing techniques.



Music is Love.

Love is Music

~ Jin Loh