♪  Miss Jin Loh's Students Achievements(^^)  ♪

Year of 2018 Miss Jin Loh Received Trinity College London (UK) Letter of Commendation/Appreciation for Her Outstanding Music Students Exam Results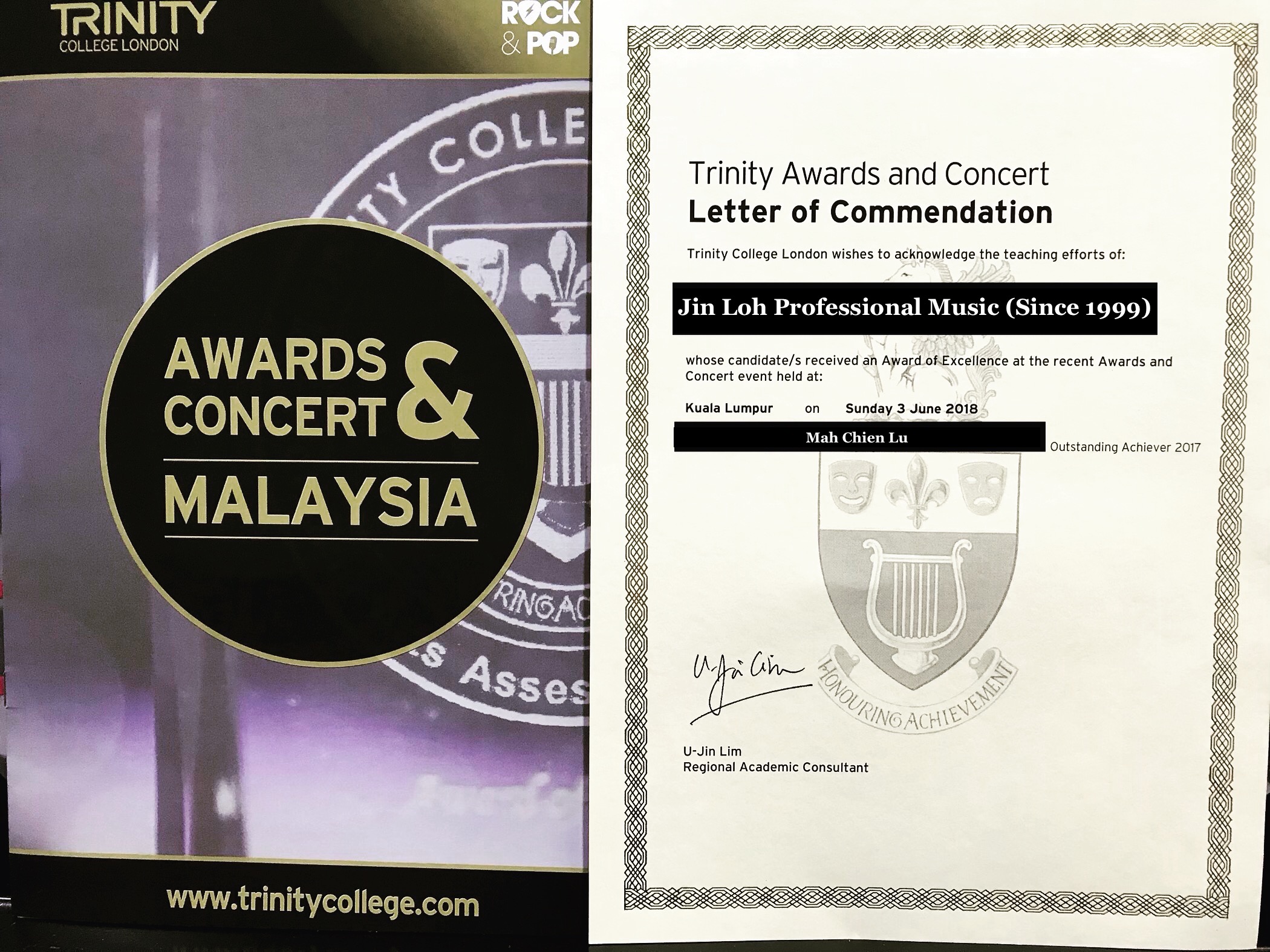 Miss Jin Loh Received ABRSM (UK) Letter of Commendation/Appreciation for Her Outstanding Music Student Exam Result 



The 5th Hong Kong International Music Festival 2018 Music Competition Winner - Bronze Medal (Malaysia Region)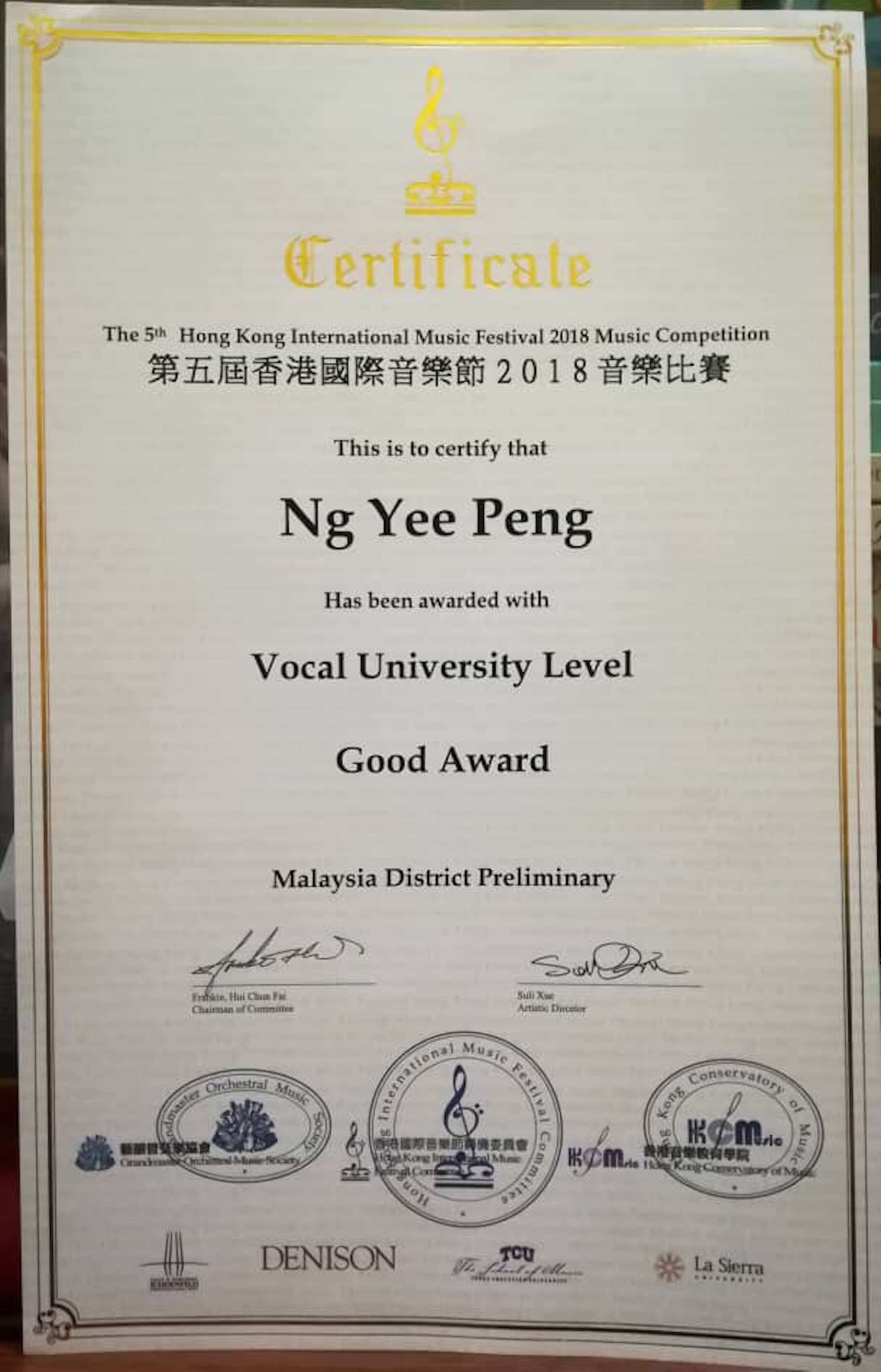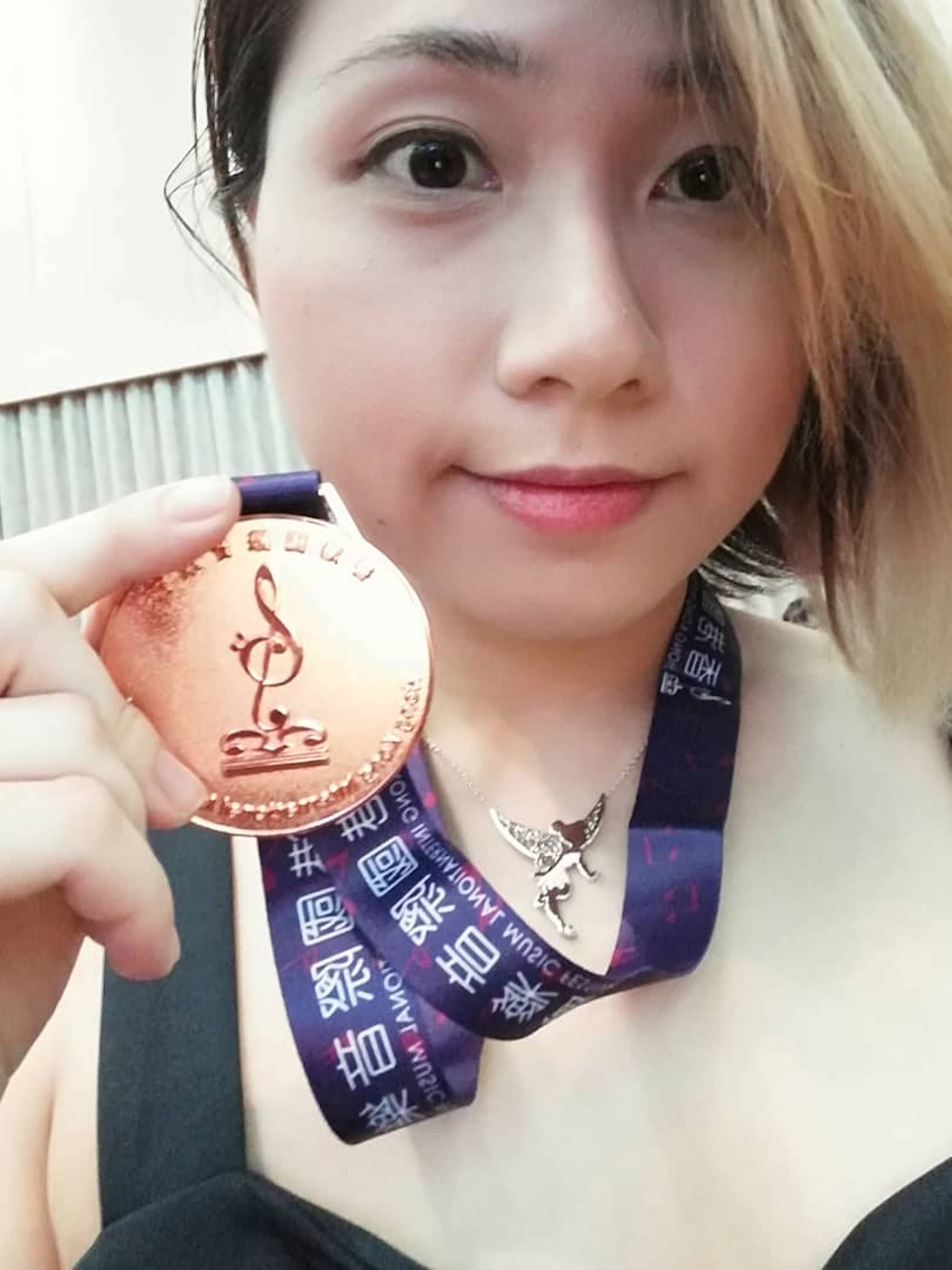 Congratulations to Miss Jin Loh's Singing Diploma (ATCL) music student, Alyson Ng, for winning in the recent 2018 Year "5th Hong Kong International Music Festival 2018 Music Competition". Alyson Ng won Bronze Medal (3rd Prize) in the Malaysia region. This is her first time taking part in a singing competition. Alyson Ng is selected to represent Malaysia to compete in the final round singing competition in Hong Kong. However unfortunately Alyson is unable to travel to Hong Kong during the final round competition in Hong Kong... 

Miss Jin Loh's Piano Diploma Students Represented Malaysia and Won in International Piano Competition


Miss Jin Loh's ABRSM (UK) Practical Music Student High Distinction Exam Result 144/150 marks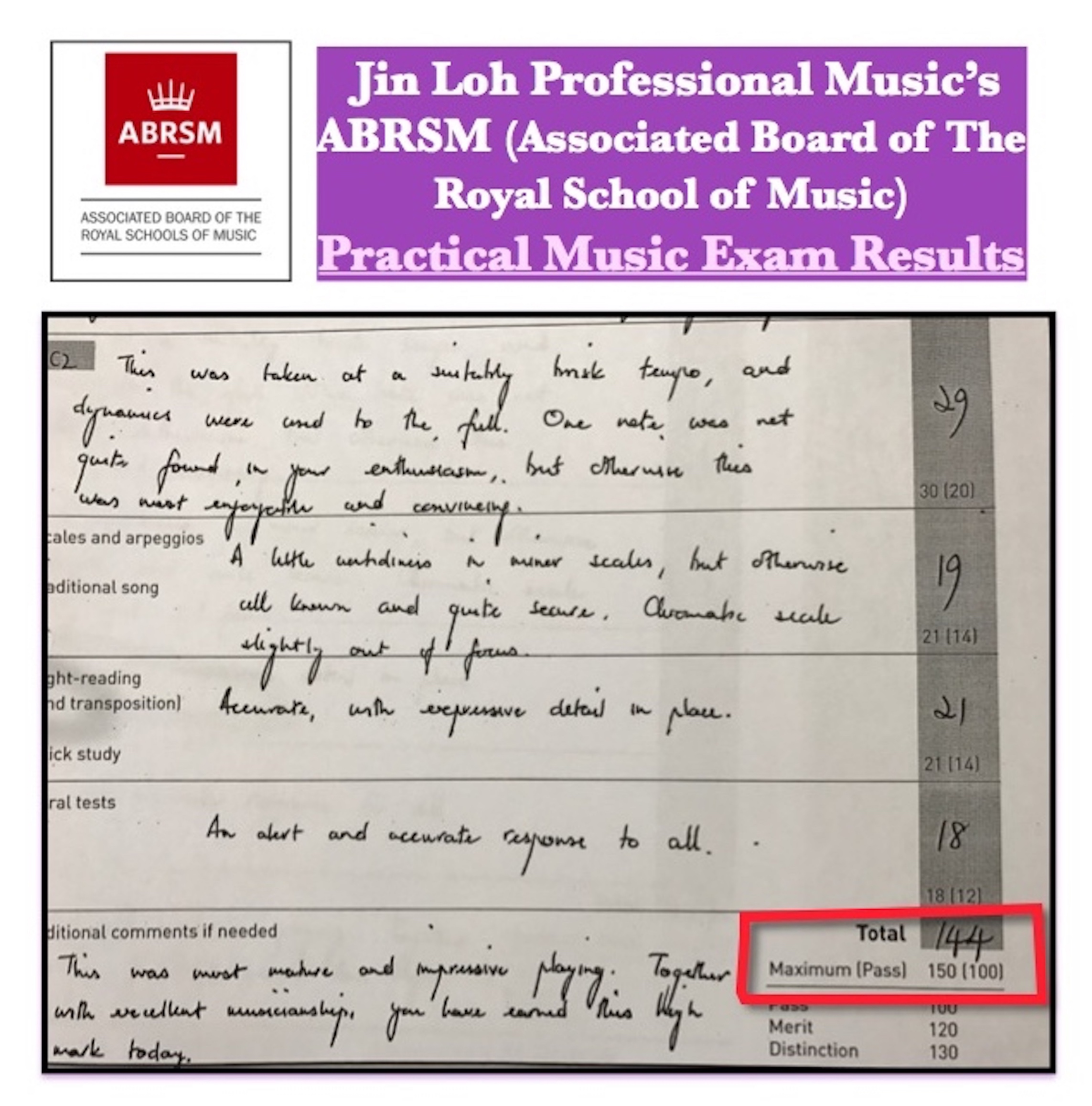 ABRSM (UK) High Scorer's Music Result
High Distinction 144/150 marks
Distinction: 130-150 marks
Merit: 120-129 marks
Pass: 100-119 marks
~ Miss Jin Loh's music student was specially invited by ABRSM (UK) to perform in ABRSM High Scorer's Music Concert.

Year of 2018 Miss Jin Loh's Trinity College London (UK) Singing Students Exam Results - All High Distinctions 95/100 Marks and 91/100 marks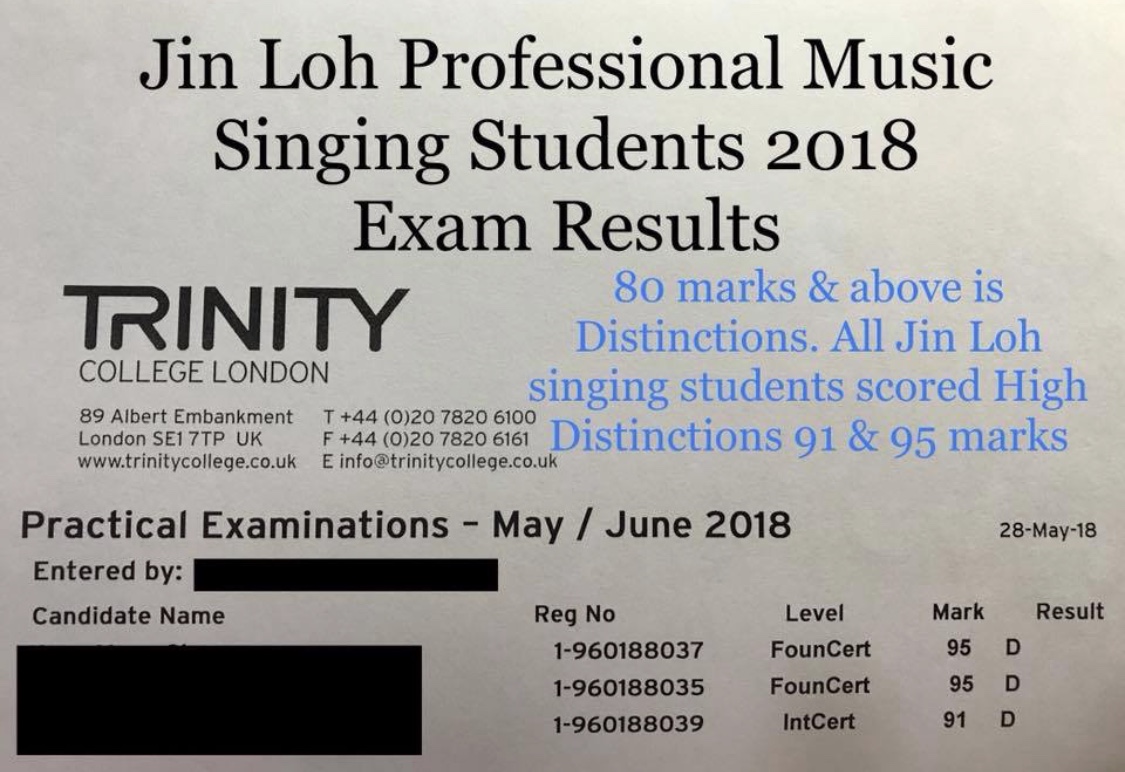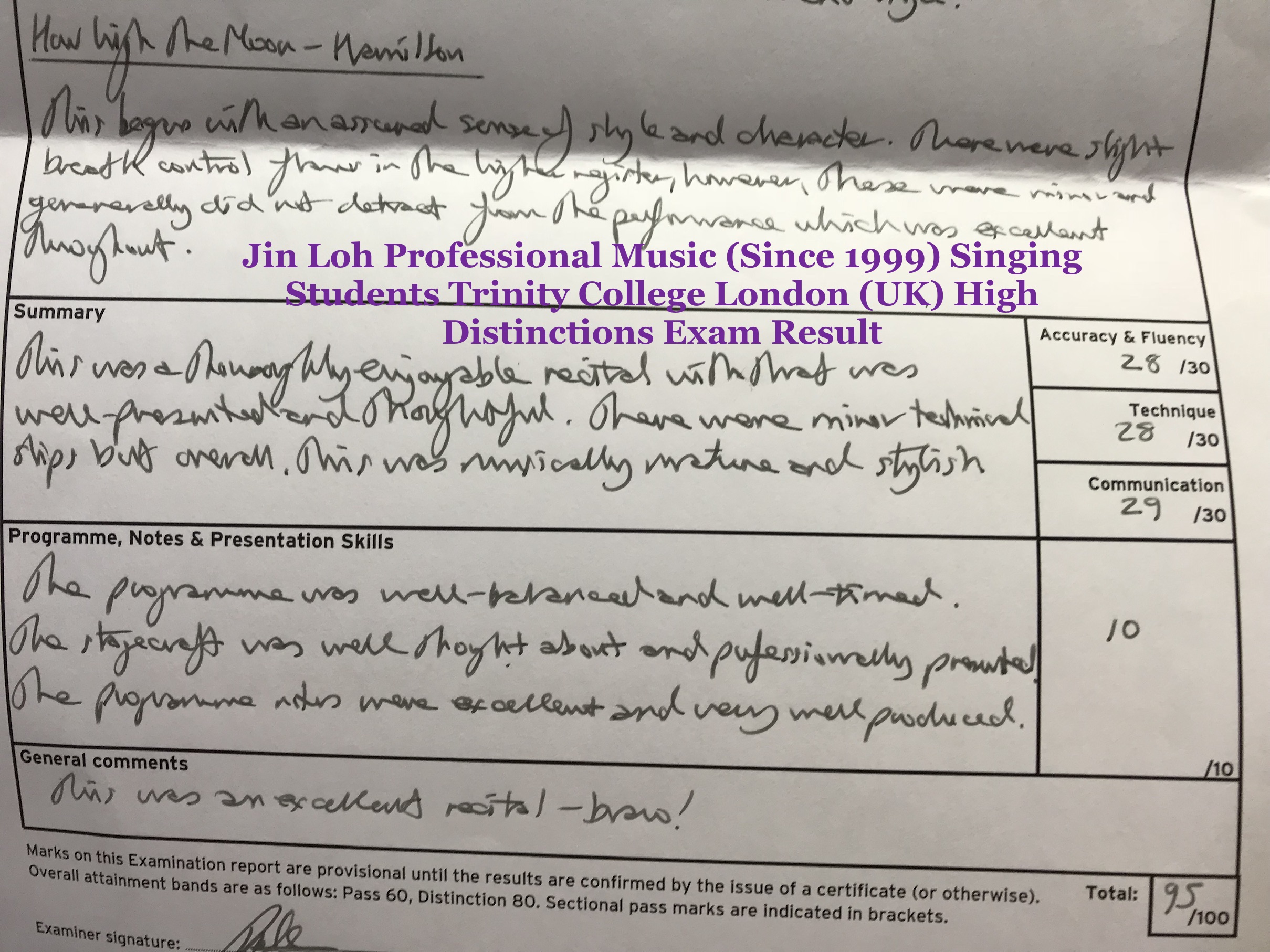 Trinity College London (UK) Singing May 2018 Exam Result
100% pass with High Distinction 
Distinction: 80 marks and above
Pass: 60-79 marks
All Miss Jin Loh's singing students scored High Distinctions 95/100 marks and 91/100 marks.
Good and Experienced Piano Tuner in Malaysia




Good and experienced piano tuner in Kuala Lumpur (kl), Bangsar, Damansara Height, Taman Tun Dr. Ismail (ttdi), Petaling Jaya (pj), Damansara and Selangor areas in Malaysia. Piano repair service is also available in Kuala Lumpur (kl), Petaling Jaya and Selangor areas in Malaysia.

One of the best piano tuners in Malaysia that I found is a blind piano tuner called Mr. Philip Yu Kim Yim. Mr. Phillip (as I normally addressed him :) ) has been tuning pianos for 46 years. Mr. Phillip is 72 years old now. He has tuned famous people and celebrities pianos for example, royalties' piano and P. Ramlee's piano.
Mr. Philip was the first blind piano tuner in Malaysia. He was blind from birth. However, Mr. Philip's hearing is very good and sharp. He does not need to rely on any piano tuning mechanical gadget when tuning a piano. Mr. Philip received his piano tuning training from a Singaporean company called Nang Heng Co. After Mr. Philip completed his piano tuning training, he worked at Nang Heng in 1961. Later he joined C. Nang Hong & Co. which later became C. Nang Hong Piano Sdn. Bhd.
At that time Mr. Philip was the only Malaysian who received training together with two other Singaporeans. After 3 years of piano tuning training in the city-state, Mr. Philip started to take up actual jobs tuning pianos in Malaysia. Mr. Philip has only taught 3 students to become a piano tunner.  However, two of his students have passed away... Now there seem to be only 2 blind piano tuners left in Malaysia. One is Mr. Philip, the other is his student.
After the company winded up about 15 years ago, Mr. Philip has been on his own, continue working as a tuner for piano. Mr. Philip's former colleagues, Mr. Fong and Miss Phua, are assisting Mr. Philip in getting to jobs and arranging piano tuning appointments for Mr. Philip.

Mr. Fong is a very experienced piano technician. If pianists need to get their piano fix, for example, in piano restringing service, piano repair service or grand piano repair service, pianists may contact Mr. Fong or Miss Phua directly to arrange for piano fix appointments.
A few years ago, when I bought a new piano, I asked for a good and experienced piano tuner to tune my pianos.  This is how I came to know about Mr. Philip. :) Since then, I have been asking Mr. Philip to tune my pianos every 6 months once in average. For more serious and advanced pianists who play their pianos daily or regularly for many hours, it is advisable that our piano need to be tuned every 6 months to maintain the piano tuning's accuracy. For normal piano students, the piano need to be tuned at least once a year to maintain the piano pitches' accuracy. 
When Mr. Philip travels to tune pianos, he comes together with Mr. Fong who would assist Mr. Philip. 2 very good and experienced piano tuner and piano technician would come to the pianist house. Mr. Philip is in charge of piano tuning while Mr. Fong is in charge of checking the piano, for example the piano pedal, the piano keys reaction to touch...etc.
The Cost of Tuning a Piano by Mr. Philip Yu Kim Yim

The cost of tuning a piano by Mr. Philip, is the same normal market price of piano tuning. However, when we asked Mr. Philip to tune our pianos, we have the privilege of having 2 professional and very experienced piano tuner and piano technician to tune or fix piano for us, yet we only pay for 1 piano tuner's market price piano tuning service fee.
Mr. Philip's piano tuning fee is very reasonable because he is retired and now just tuning pianos during his leisure time. Mr. Phillip still enjoys working as a piano tuner, tuning grand pianos and upright pianos for pianists, music shops, music colleges and music universities.
The local newspaper, Malaymail newspaper interviewed Mr. Philip Yu Kim Yim last year (2015). Please click here for the website link to read more about the Malaymail interviewed article on Mr. Philip Yu Kim Yim - Malaysia' first blind piano tuner.
Contact Mr. Philip Yu Kim Yim for Piano Tuning Appointments
To make appointment for piano tuning by Mr. Philip Yu, please directly contact Miss Phua 016-605 5802 or Mr. Fong 018-222 5078 to arrange for piano tuning appointment.



Music is Love.

Love is Music

~ Jin Loh