Professional Jazz
Piano Lessons/Online 
in Malaysia ジャズピアノレッスン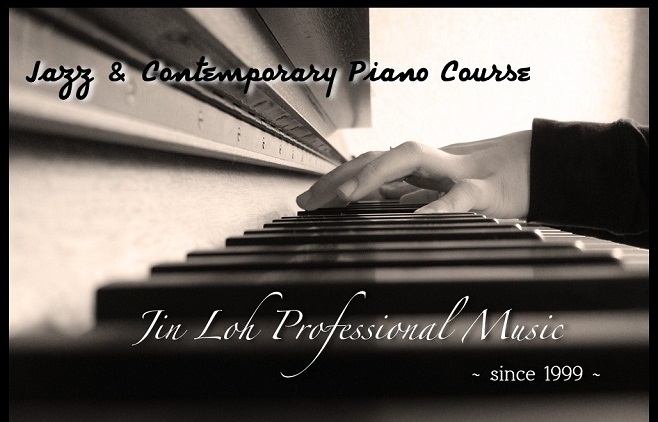 Jazz (modern) piano lesson/class/online in Damansara Heights, Bangsar, Mon't Kiara, Sri Hartamas, Kuala Lumpur (kl), Desa Sri Hartamas, Damansara, KLCC, Bandar Utama, Taman Tun Dr. Ismail (TTDI), Petaling Jaya (pj), Perak, Penang, Perlis, Pahang, Malacca (Melaka), Negeri Sembilan, Johor, Kedah, Kelantan, Terengganu, Sabah, Sarawak, Selangor, Malaysia, Australia, New Zealand, Singapore, Japan, Korea, Hong Kong and other international countries.

Experienced Jazz Piano educator
Music Qualifications
Ms Jin Loh holds a Bachelor Degree (Hons) in Professional Music (UK). She was accepted into the Dean's Lists for 5 semesters.
She plays 6 musical instruments: piano, flute, cello, singing, electon (electric organ) and guzheng (Chinese zither instrument), all 6 instruments till Teacher's Level.
Performance Experiences
Ms. Jin Loh performed in 5 stars hotel playing jazz piano in hotel lounge. She was also invited to perform jazz piano solo under special private bank event.
Teaching Experiences
Ms Jin Loh is an international jazz piano educator/teacher/coach with more than 22 years of teaching experiences.
Besides teaching jazz piano playing, Ms Jin Loh also teaches her students eg. Jazz Harmony (Jazz Music Theory); How to Improvise when playing Jazz Piano?; How to play various types of Jazz Chords Voicings and Jazz Scales (eg. Blues scales, Lydian Modes...etc); the differences between playing solo jazz piano and playing jazz piano with a jazz band.
ミス・ジンは日本語が話せるの音楽教師です。

Ms Jin Loh's Students
Ms Jin Loh has trained many music teachers, musicians, professional adults (eg. businessmen, medical doctors, surgeons, lawyers, engineers, auditors, photographer, PhD) and music college students. Ms Jin Loh's students include Tan Sri and Dato's children.
Ms Jin Loh's students include students from e.g Australia, New Zealand, United Kingdom (UK), France, Japan, Korea, Hong Kong, Singapore and Malaysia.
All Rounder, Professional Jazz Piano Teacher/Coach
Ms Jin Loh is a trained professional jazz pianist. She received many years of formal trainings learning and playing various music genres, for example: Classical Music, Jazz, Contemporary Music and Chinese Music.
She is a trained jazz musician who received many years of formal training in various jazz genres, for example: Blues, Swing, Latin (eg. Bossa Nova), Ballads, Jazz Waltz and other jazz styles.

Ms Jin Loh is one of the few jazz piano teachers with Educational Psychology (UK) and Sound Therapy (Sound Healing) (UK) certifications.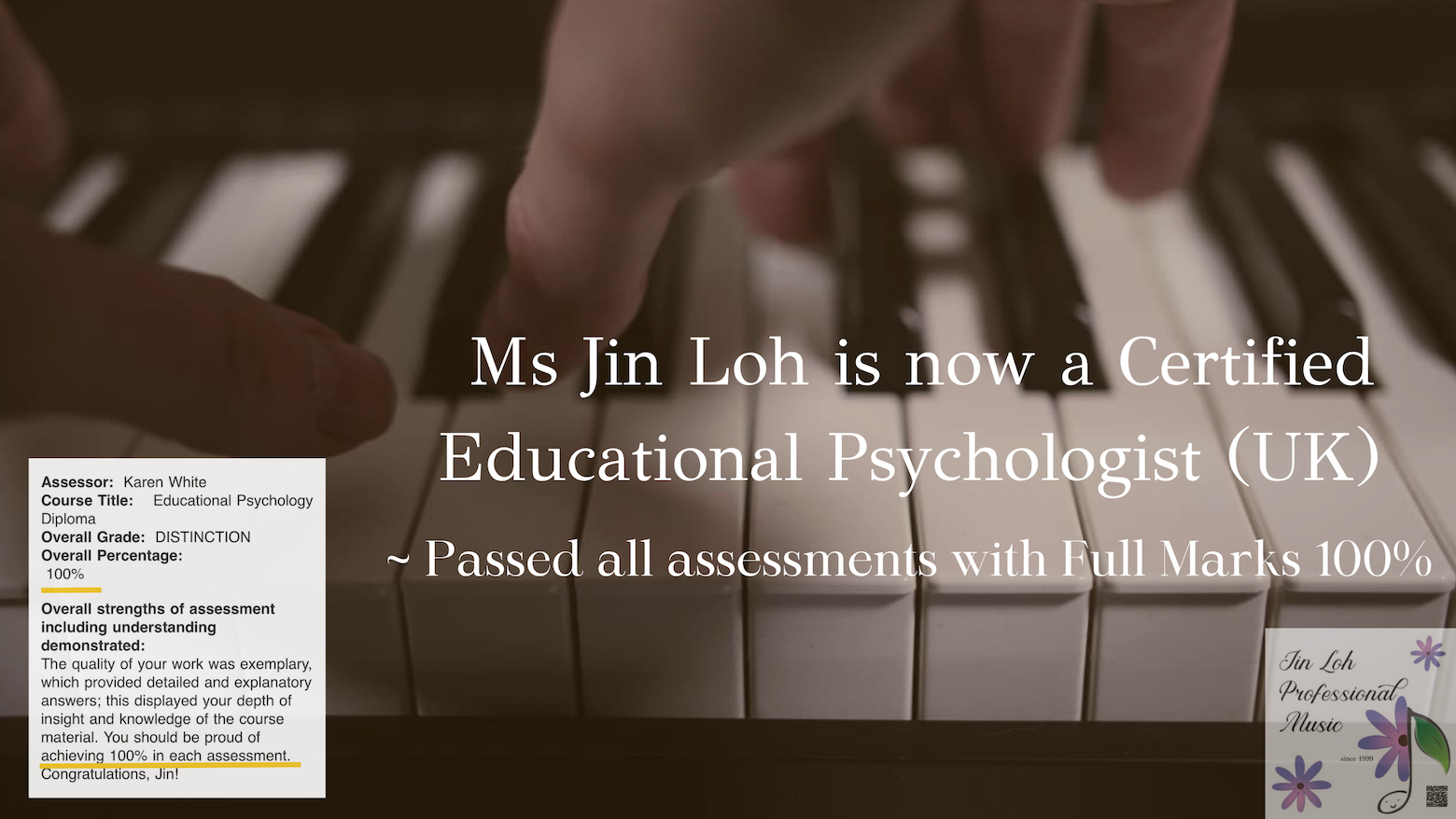 Certified Educational Psychologist (UK)
As a certified Educational Psychologist (UK) who passed all her Educational Psychology's assessments with full marks 100%, Ms Jin Loh incorporates her knowledge in e.g. human behaviours (Behaviorism); how students learn (Cognitivism); how to motivate students; and how to teach more effectively (Psychology of Teaching) in her jazz piano lessons.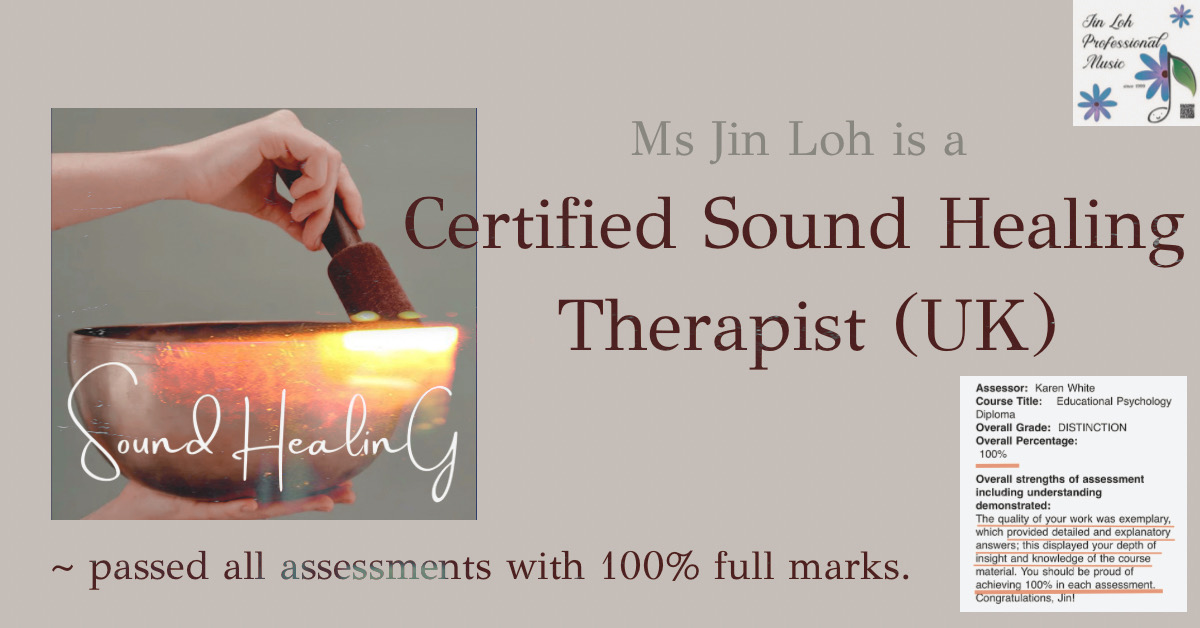 Certified Sound Therapist (Sound Healing) (UK)
As a certified Sound Therapist (Sound Healing) who also passed all her Sound Therapy (UK) assessments with full marks 100%, sometimes Ms Jin Loh shares some of her sound healing knowledge with her jazz piano students during lessons.
---
How to Play Jazz Piano?
Playing jazz piano is very enjoyable because one gets to play a jazz piece in his or her own style.
To learn jazz piano, one needs to learn how to play jazz piano improvisation, jazz scales piano (I.e. Blues scales, Dorian mode), jazz piano voicings, jazz and contemporary piano harmony and Ear Training/Jazz Aural.
Besides learning jazz piano, students would also learn how to play blues piano and other jazz piano or contemporary piano playing styles.
Jazz and contemporary music harmony/theory is very different from the Classical music theory (i.e. ABRSM music theory) that most classical musicians studied.
In Ms. Jin Loh's jazz and contemporary music harmony classes, students learn about the different music modes and their characteristic (I.e. Lydian scale, Mixolydian scale), the available chord tensions for example, V7(b9, #9, #11) for different chords, Sus4 chords, Reharmonization, chord substitution and modal interchange...etc.
A jazz musician should learn jazz/contemporary harmony or theory, in order to understand why certain notes sound "jazzy"/"good", or how to choose which notes to add to a chord to make the music sound 'jazzy'. This could be done, by adding different tensions to a chord.

Jazz musicians know how to make a song sound 'Bluesy' by using Blues scales/Blues characteristic notes in their playing. A jazz musician would normally re-harmonize the chords given on the lead sheet or real book according to their personal styles or preferences. This is also done by applying the knowledge learnt from jazz and contemporary harmony.
Ear Training/Jazz Aural is another important subject that Jazz musicians need to work on/practice.
Ear Trainings help to improve, strengthen our sense of rhythm and to train our 'inner ears'. It enables us to "convert" the melodic lines that we 'hear' inside our head, to playing the actual notes on piano spontaneously and accurately during improvisation session.
Ms. Jin Loh prepares various jazz piano exercises, jazz piano teaching materials for her students to work on according to their jazz piano playing levels, for examples, exercises on jazz piano progressions, jazz piano riff, piano jazz licks, jazz piano voicings, various jazz piano genres/styles of playing...etc.