How to Tune Gu Zheng? 如何调古筝?
A Guzheng Tuning Guide in English
by Ms Jin Loh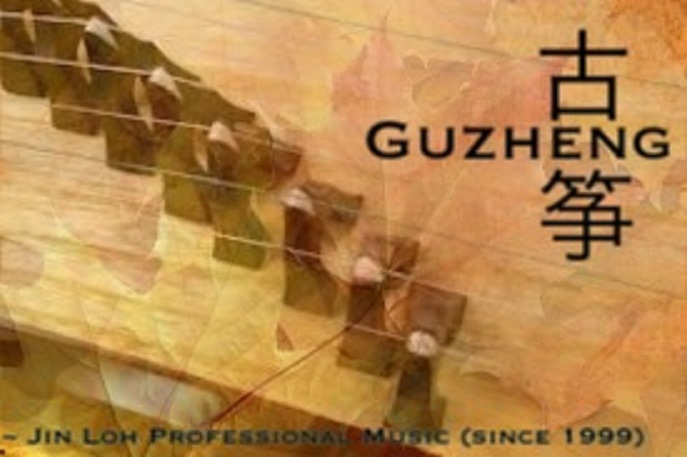 All my guzheng beginner students learn how to tune guzheng in my guzheng classes.
It is always better to learn how to tune guzheng on our own. We may bring our guzhengs to music shops for tuning, but we will need to pay for the tuning service fees, which is often quite expensive. We also need to be parted with our dear guzheng for few days and won't be able to practice guzheng for few days...
So it is important for musicians to learn how to tune our own instruments. Actually, it is quite easy to tune a guzheng. :)
To tune a guzheng, you need to have a few things:-
1) Chromatic tuner/music tuner 
~ You may download a chromatic tuner or music tuner from your smart phone app store. Eg iPad, iPhone, Samsung..etc. 
OR
~ You may get a chromatic tuner or digital chromatic tuner from any music shops. Any chromatic tuner will do. No need to get a special guzheng tuner. If you play for example guitar or violin, you may use the same chromatic tuner to tune your guzheng.
2) A guzheng tuning hammer
~ This guzheng tuning hammer is given free or comes together when we purchase our guzheng. It is normally kept inside the "box" on the right hand side of our guzheng. Try opening the box on your right side of your guzheng, if you can't find your tuning hammer... :)
3) Learn about the chromatic 12 tones/
notes used in chromatic tuner.
4) Learn about your 5 Guzheng tuning notes.
5) Patience...
~ Try to allocate more time to tune or adjust your guzheng especially when you are trying to tune the first time.
~ The more you tune your guzheng, you will get better and faster. :)

Our guzheng is tuned in pentatonic 5 note (12356/Do Re Mi So La) scale system. But we need to know the 12 note system in western music to tune our guzheng. Because the chromatic tuner display 12 note Western music system.
Guzheng in D Major is tuned in:
1 (DO = D note displayed on tuner),
2 (RE = E note displayed on Tuner),
3 (FA= F# note displayed on Tuner),
5 (SO = A note displayed on Tuner),
6 (LA = B note displayed on Tuner)
Chromatic 12 notes Western Music System Display On Chromatic Tuner
C,      C#/Db,      D,      D#/Eb,      E,      F,      F#/Gb,      G,      G#/Ab,      A,      A#/Bb,      B
(After B it goes back to C, C#.. again but in higher pitches)