About Jin Loh 
Professional Music ~ since 1999
---
For 3 Consecutive Years (2017, 2018, 2019) , Ms. Jin Loh's Students are Trinity College London Music Exam's High Scorers. Her Students Scored One of the Highest Exam Marks Throughout the Whole Year, Throughout the Whole Country.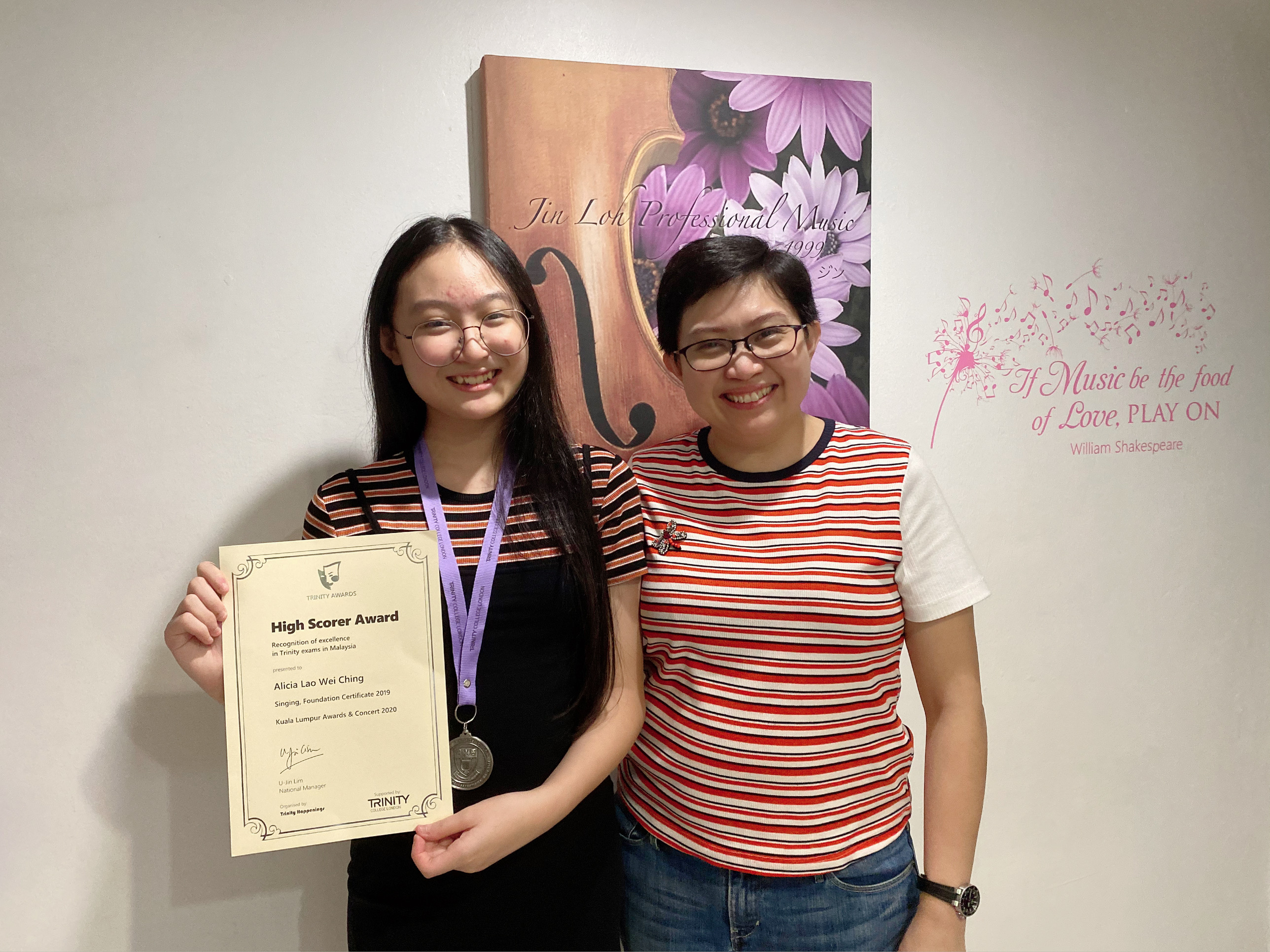 Alicia Lao (on the left) is Trinity College London High Scorer for Singing Exam 2019. She scored highest singing mark in 2019 exam throughout the whole year of 2019 in the whole country. Alicia scored 94/100 marks.
Celine See (on the right) is Alicia Lao's mother, also Trinity College London High Scorer for Singing exam. Celine scored the 2nd highest mark in 2018 year.
Both Alicia and Celine are Ms. Jin Loh's singing students.
---
---
Flute Lesson/Class in Malaysia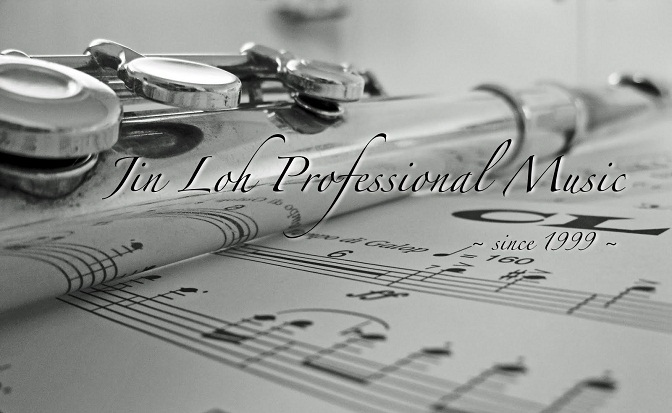 Flute lesson/class in Bangsar, Damansara Heights, Hartamas Heights, Mon't Kiara, Kuala Lumpur Golf & Country Club (KLGCC), Sri Hartamas, Desa Sri Hartamas, Taman Tun Dr. Ismail (TTDI), Bandar Utama Damansara (BU), Petaling Jaya (P.J), KLCC and other areas in Kuala Lumpur (K.L) in Malaysia by experienced flute instructor/teacher/coach/flutist. 
ABRSM/Trinity College London flute grade 1/2/3/4/5/6/7/8, diploma lesson/class/teacher/coach in Penang, Perak, Perlis, Pahang, Malacca (Melaka), Negeri Sembilan, Johor, Kedah, Kelantan, Terengganu, Sabah, Sarawak, Selangor, Kuala Lumpur (kl), in Malaysia, Singapore, Thailand, Australia, New Zealand, Japan, Hong Kong, Korea and other international countries.
Ms. Jin Loh's grade 8 flute student scored 29/30 marks in one of the ABRSM grade 8 flute exam pieces. 
Some of Ms. Jin Loh's flute students are now orchestra flute players. One of her flute students is head of flute section in the national youth orchestra, guiding other flute orchestra members in the orchestra.
One of Ms. Jin Loh's long term flute students was offered a full scholarship to study master degree in flute performance in university.
Ms. Jin Loh's flute student has been invited and offered few flute recording jobs and gigs playing on the flute. 
Flute Beginner Lesson/Class
♪  Suitable for students who are new to the flute instrument.
♪  Students learn about flute basics for example, how to play and hold a flute, proper flute posture and how to breathe while playing the flute.
♪  Ms. Jin Loh also teaches flute cleaning and flute maintenance for example, how to use flute swab and flute pads/keys cleaning papers to clean the flute. It is important to always clean the flute after every practice or playing in order to keep the flute in its best performance condition.
Flute Intermediate Lesson/Class
♪  Students learn how to play vibrato In flute (shaking the flute sound, not playing straight tones). Some history of the flute regarding flute vibrato playing, is explain during this flute intermediate classes. Besides learning how to play flute vibrato, students also learn about why vibrato was used, when and where to use vibrato when playing flute pieces.
♪  In this Intermediate Flute Class, Ms. Jin Loh teaches students how to improve their flute tones further and flute colour/expressions. She prepares various flute tones and flute techniques exercises for students to work on.
♪  How to play flute harmonics and what is flute overtones are also normally introduced and explaint during this intermediate flute course. 
Flute Advanced Lesson/Class
♪  Students learn higher and more advanced flute techniques for example, how to play flute double tonguing and triple tonguing.
♪  Ms. Jin Loh trains her students how to play flute altissimo register in a warmer tone and very softly (pp dynamics) by explaining in more details for example, about the flute mouth shape for higher flute registers. Some flute altissimo register notes exercises are handed to students to work during flute lessons and at home.
♪  Besides learning new flute techniques and some of the history of flute, students also learn to play more advanced and challenging classical flute pieces and jazz flute pieces with improvisations during this advanced/higher level flute course.
---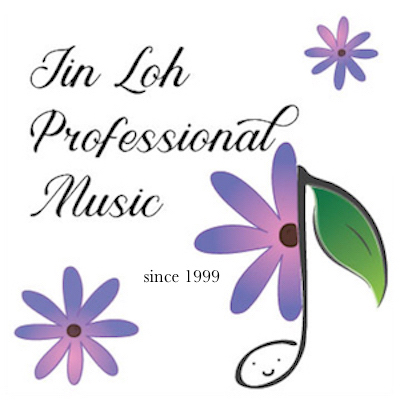 About Ms. Jin Loh
♪ Ms. Jin Loh is an international music coach/teacher. She trains international music students from different countries.
♪ Ms. Jin Loh holds a Bachelor Degree (Hons) in Professional Music (UK). 
♪ She was accepted into the Dean's List for 5 semesters. 
♪ Ms. Jin Loh has been teaching music for 21 years.
♪ She plays and teaches 6 musical instruments: singing/vocal; cello; classical and jazz piano; flute; electon (electric organ) and guzheng (chinese instrument)
♪ For few years, Ms. Jin Loh's music students scored High Distinctions in Trinity London College (UK) music exams. (Eg. 95/100, 94/100 marks)
♪ Ms. Jin Loh received few Letters of Commendations/Appreciations from Trinity College London (UK) and ABRSM (UK) for producing outstanding music students who scored one of the highest marks in the whole country.

♪ Her students won in various National and International Music Competitions.

---



Music is Love.

Love is Music

~ Jin Loh