---
---
---
For 3 consecutive years, Ms Jin Loh's Singing Students Scored One of the Highest Marks in the Whole Country for Trinity College London's Singing Exams.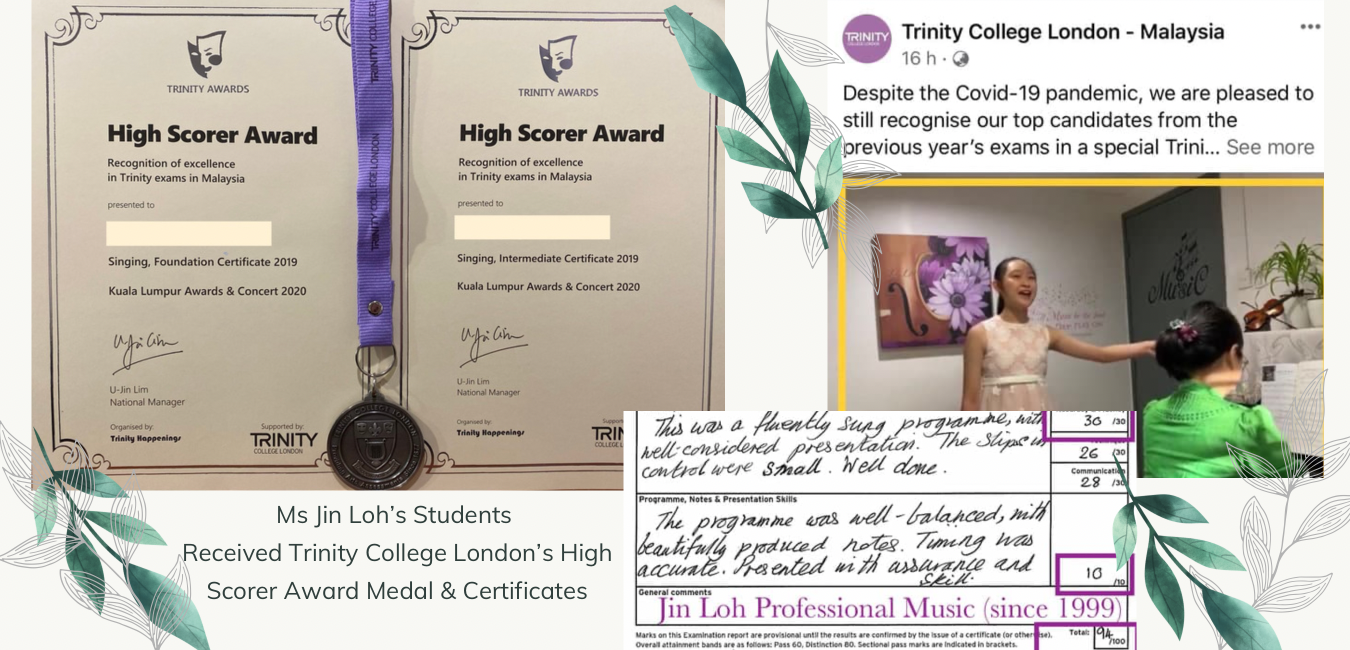 ---
---
Jin Loh professional music's piano diploma students' achievements 
---
---
---
Jazz (Contemporary) Piano




Teacher/Coach/Pianist in Malaysia




Experienced jazz/contemporary piano teacher/coach/jazz pianist in Bangsar, Damansara Heights, Hartamas Heights, Mon't Kiara, Sri Hartmas, Desa Sri Hartamas, Taman Tun Dr. Ismail (TTDI), Bandar Utama (BU), Petaling Jaya (P.J), KLCC Penang, Perak, Perlis, Pahang, Malacca (Melaka), Negeri Sembilan, Johor, Kedah, Kelantan, Terengganu, Sabah, Sarawak, Selangor, in Malaysia, Singapore, Thailand, Australia, New Zealand, Japan, Hong Kong, Korea and other international countries.
Jazz piano lessons/classes are conducted by international music coach, Ms. Jin Loh. She trains and teaches students from different countries. Ms. Jin Loh is a Classical and Jazz pianist. She received many years of formal trainings in both Classical music and Professional Jazz piano playings. Ms. Jin Loh has 21 years of music teaching experiences.
I'll Be Home For Christmas
Ms. Jin Loh is an experienced jazz piano teacher and a jazz pianist in Malaysia. Ms. Jin Loh performed in 5 stars hotels playing cocktail and smooth jazz piano, played jazz piano solo in hotel lounge, worked as a piano sessionist for a few local music albums and invited to perform in Kuala Lumpur Performing Art Centre (KLpac) under special private event.
Besides performing as a jazz and contemporary pianist, Ms. Jin Loh is also an experienced jazz and contemporary music educator, a jazz piano teacher/coach in Malaysia. She enjoys sharing her knowledge, teaching jazz and contemporary piano, training new generations of  jazz musicians. 
Ms. Jin Loh teaches professional jazz piano lessons/classes, step by step. She is a trained jazz and classical musician, not a self taught jazz musician. She trains and explains to her students systematically, using her own unique teaching methods, how to play real jazz on piano. Under Ms. Jin Loh's guidance, jazz piano students learn to play various jazz piano styles and various jazz chords. Students do not merely play from jazz piano transcriptions books that have all the left hand and right hands notes written out completely. Students learn to play real jazz piano.
Ms. Jin Loh teaches her students how to play jazz piano chords from lead sheet/real book (with only melody and chord symbols written only) and jazz piano standard. Students learn to play various jazz and contemporary piano styles, for example students learn blues piano, Jazz Latin piano (I.e. Mambo and Bossa Nova piano), Smooth Jazz piano, Swing piano, Jazz Ballads piano, Jazz Waltz piano, New Age piano...etc.
ABRSM Jazz Piano Grade 5 exam piece - "Waltz for Autumn" by Terry Seabrook. I changed the style & did some spontaneous improvisation. :)

---

Ms Jin Loh's music lessons are all online music lessons now. 
Below is an example of Ms Jin Loh's Online Singing Student Learning & Singing "The Phantom of The Opera" Song Live,  During Ms Jin Loh's Online Singing Lessons. :)

---