Year of 2018 Miss Jin Loh Received

Trinity College London (UK) Letter of Commendation/Appreciation for Her Outstanding Music Students Exam Results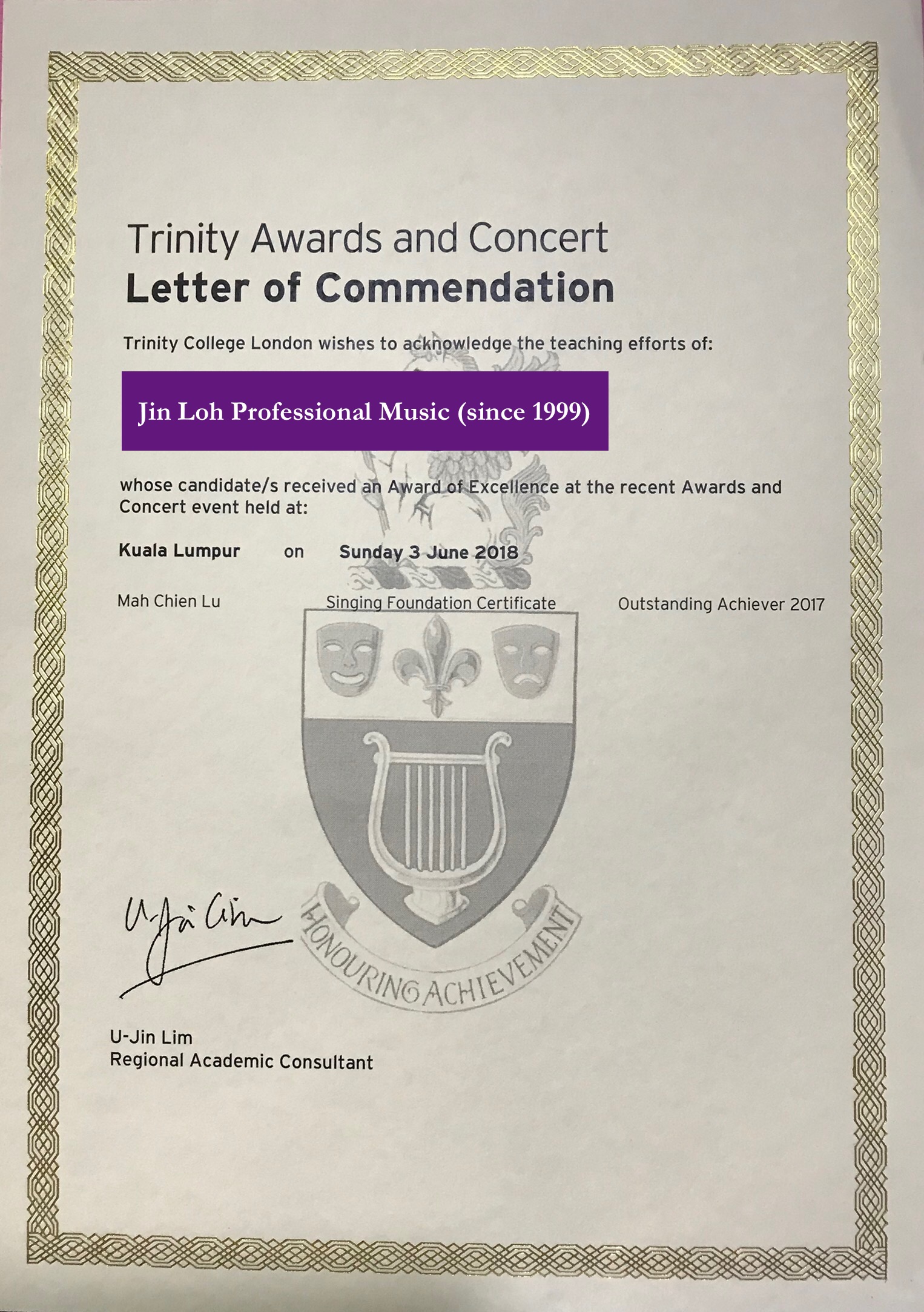 Miss Jin Loh Received

ABRSM (UK) Letter of Commendation/Appreciation for Her Outstanding Music Student Exam Result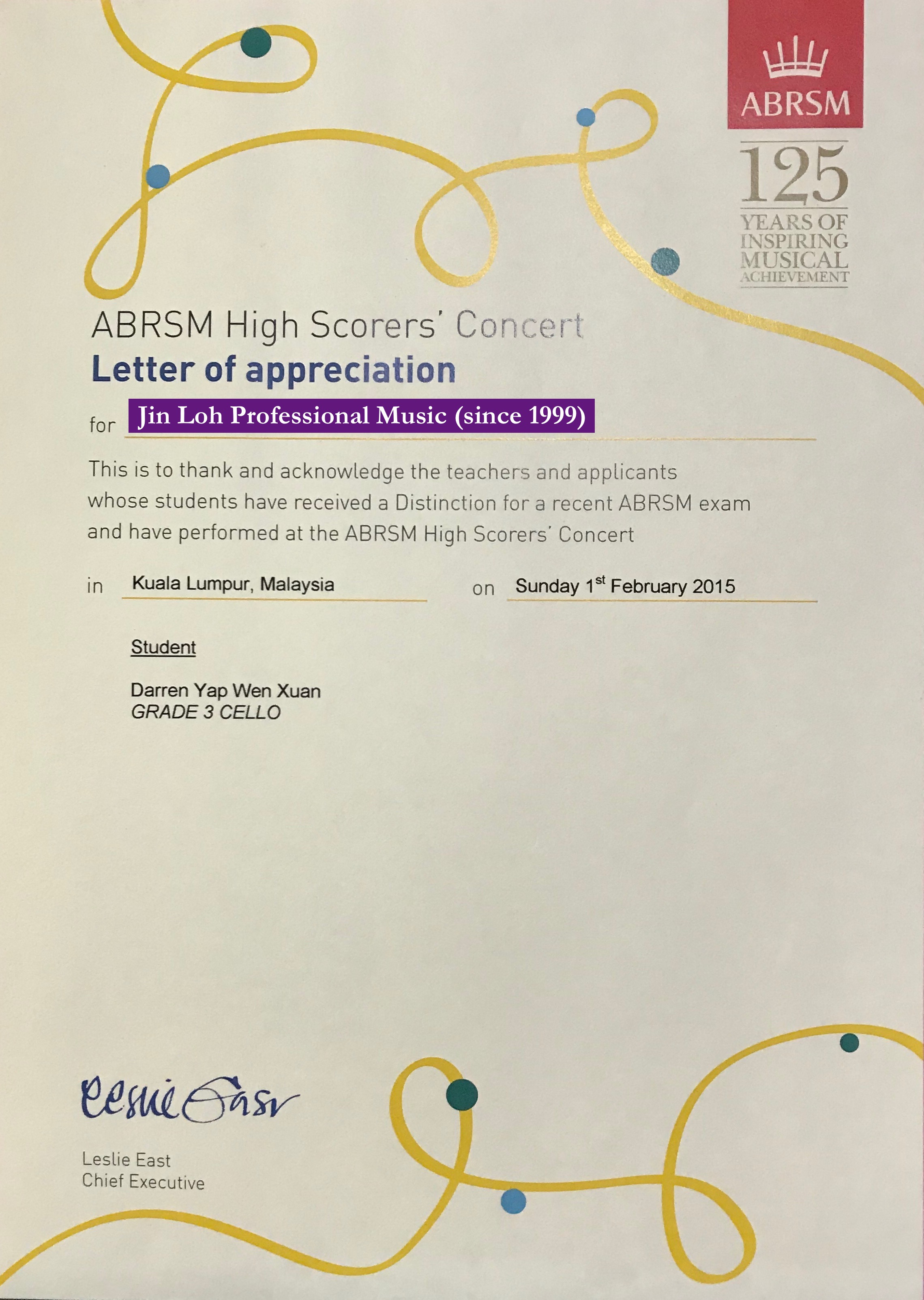 ---

The 5th Hong Kong International Music Festival 2018 Music Competition Winner - Bronze Medal (Malaysia Region)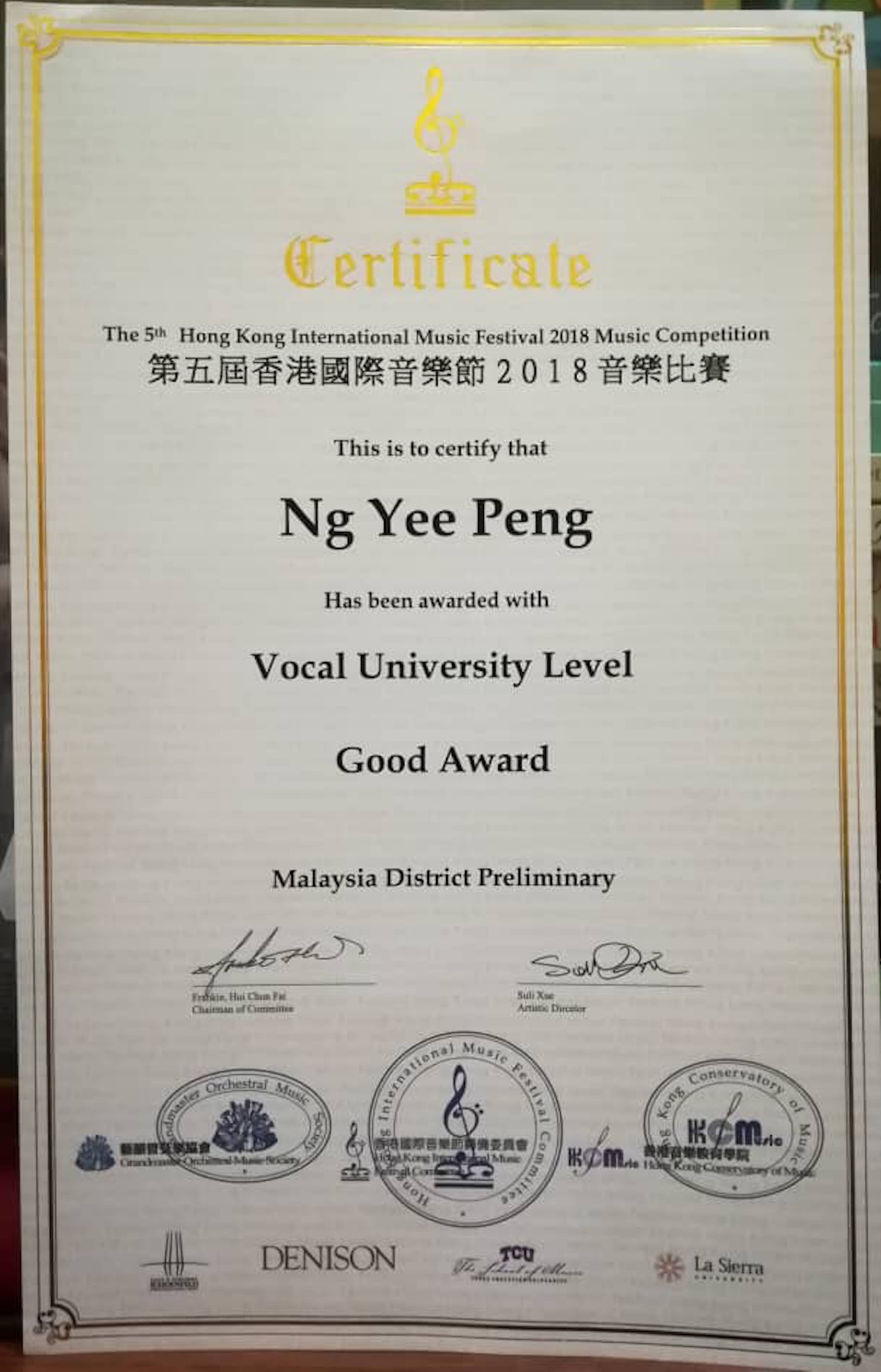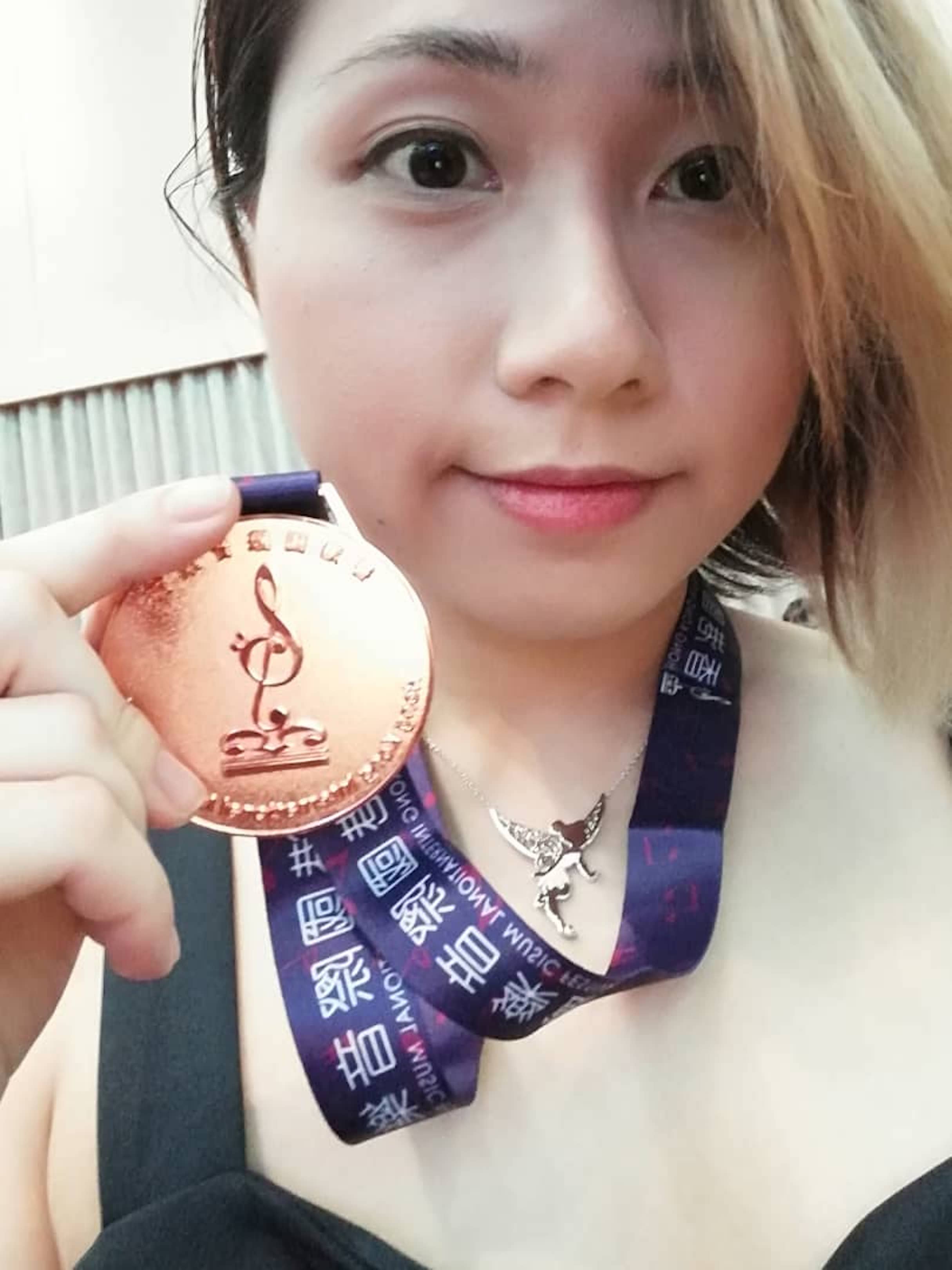 Congratulations to Miss Jin Loh's Singing Diploma (ATCL) music student, Alyson Ng, for winning in the recent 2018 Year "5th Hong Kong International Music Festival 2018 Music Competition". Alyson Ng won Bronze Medal (3rd Prize) in the Malaysia region. This is her first time taking part in a singing competition. Alyson Ng is selected to represent Malaysia to compete in the final round singing competition in Hong Kong. However unfortunately Alyson is unable to travel to Hong Kong during the final round competition in Hong Kong... 
---

Miss Jin Loh's Piano Diploma Students Represented Malaysia and Won Gold, 1st Prize in National Round, Silver Prize, 2nd Prize in International Piano Competition
---

Miss Jin Loh's ABRSM (UK) Practical Music Student High Distinction Exam Result 144/150 marks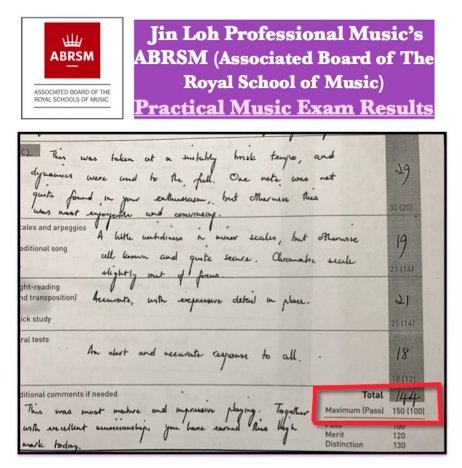 ABRSM (UK) High Scorer's Music Result High Distinction 144/150 marks

Distinction: 130-150 marks
Merit: 120-129 marks
Pass: 100-119 marks
~ Miss Jin Loh's music student was specially invited by ABRSM (UK) to perform in ABRSM High Scorer's Music Concert.
---

Mid Year of 2019 Miss Jin Loh's Trinity College London (UK) Singing Student's Exam Result - High Distinctions 94/100 Marks 

High Distinction (94/100 Marks) 
Distinction: 80 marks and above
Pass: 60-79 marks
Congratualions to Alicia Lao, Miss Jin Loh's singing student who scored High Distinctions 94/100 marks in the recent singing exam. Alicia scored FULL MARKS (30/30 marks) in "Accuracy & Fluency" singing section + FULL MARKS (10/10 marks) in Programme Notes & Presentation.

Year of 2018 Miss Jin Loh's Trinity College London (UK) Singing Students Exam Results - All High Distinctions 95/100 Marks and 91/100 marks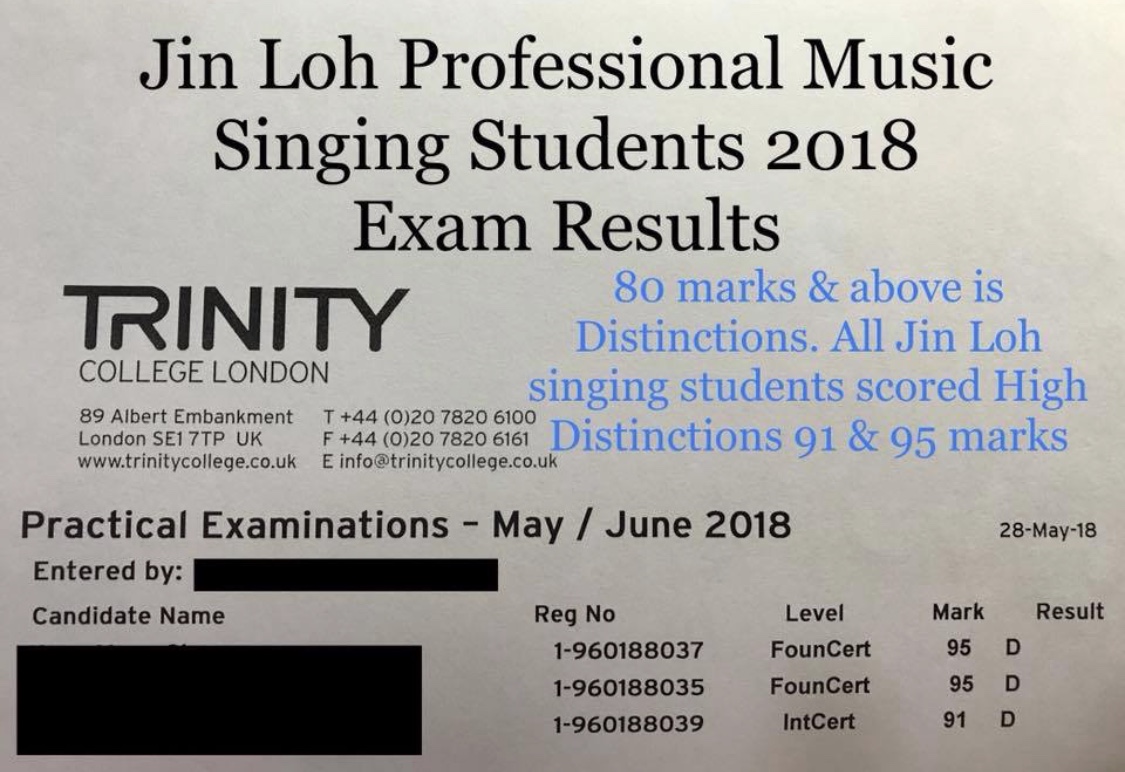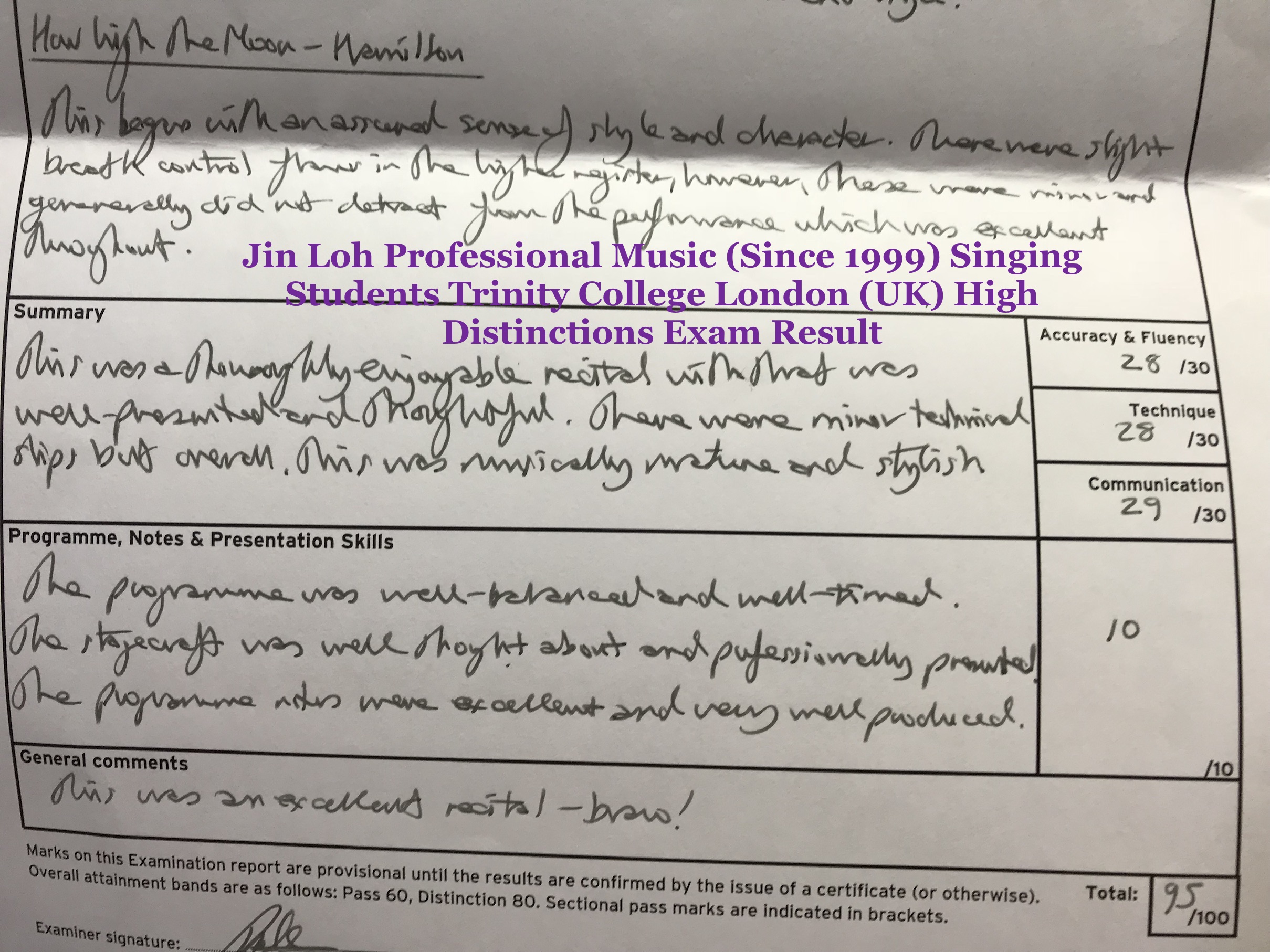 Trinity College London (UK) Singing May 2018 Exam Result 
100% pass with High Distinction (90-95/100 Marks) 
Distinction: 80 marks and above
Pass: 60-79 marks
All Miss Jin Loh's singing students scored High Distinctions 95/100 marks and 91/100 marks. Miss Jin Loh is all the students' first singing teacher.
---

Jazz (Contemporary) Piano Teacher/Instructor/Pianist 

in Malaysia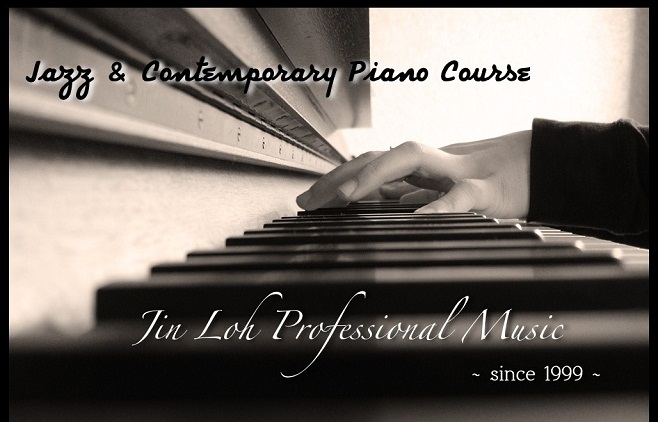 Experienced jazz/contemporary piano teacher/instructor/jazz pianist in Bangsar, Damansara Heights, Kuala Lumpur Golf & Country Club (KLGCC), Hartamas Heights, Mon't Kiara, Sri Hartmas, Desa Sri Hartamas, Taman Tun Dr. Ismail (TTDI), Bandar Utama (BU), Petaling Jaya (P.J), KLCC and Kuala Lumpur (K.L) areas in Malaysia.

Miss Jin Loh is an experienced jazz piano teacher and a jazz pianist in Malaysia. Miss Jin Loh performed in 5 stars hotels playing cocktail and smooth jazz piano, played jazz piano solo in hotel lounge, worked as a piano sessionist for a few local music albums and invited to perform in Kuala Lumpur Performing Art Centre (KLpac) under special private event.
Besides performing as a jazz and contemporary pianist, Miss Jin Loh is also an experienced jazz and contemporary music educator, a jazz piano teacher in Malaysia. She enjoys sharing her knowledge, teaching jazz and contemporary piano, training new generations of  jazz musicians. She has been teaching and conducting jazz piano lessons for more than 15 years.
Miss Jin Loh teaches professional jazz piano lessons/classes step by step. She is a trained jazz and classical musician, not a self taught jazz musician. She trains and explains to her students systematically how to play real jazz piano. Students playing jazz piano, learning jazz piano under Miss Jin Loh's guidance, learn to play various jazz piano styles and various jazz chords for piano. Students do not merely play from jazz piano transcriptions books that have all the left hand and right hands notes written out completely.
Miss Jin Loh teaches her students how to play jazz piano chords from lead sheet/real book (with only melody and chord symbols written only) and jazz piano standard. Students learn to play various jazz and contemporary piano styles, for example students learn blues piano, Jazz Latin piano (I.e. Mambo and Bossa Nova piano), Smooth Jazz piano, Swing piano, Jazz Ballads piano and New Age piano.
Note: Miss Jin Loh does not teaches lower grades piano (piano beginner till piano grade 7) students this jazz piano class. This Professional Jazz piano class is technically demanding, thus it is more suitable for more advanced classical pianist who are interested to further explore their piano studies in the jazz field. 



Music is Love.

Love is Music

~ Jin Loh