ABRSM Cello Lessons/Teacher/online

Cello ABRSM grade 1/2/3/4/5/6/7/8 cello lessons/online lessons/teacher in Bangsar, Damansara Heights, Mon't Kiara, Desa Sri Hartamas, KLCC, Sri Hartamas, Taman Tun Dr. Ismail (TTDI), Damansara, Bandar Utama (BU), Petaling Jaya (pj),  Kuala Lumpur (kl), Selangor, Penang, Perak, Perlis, Pahang, Malacca (Melaka), Negeri Sembilan, Johor, Kedah, Kelantan, Terengganu, Sabah, Sarawak, Malaysia, Australia, New Zealand, Singapore, Hong Kong, Japan, Korea and other countries.
Cello exam graded lessons/classes by award-winning international music educator.

international award-winning music
Teacher/Coach
Ms Jin Loh is an international award-winning music educator.
In December 2022, Ms Jin Loh is presented an Outstanding Teaching Award by international music competition.
She is internationally recognized, acknowledged as an exceptional teacher who has made an outstanding contribution in music education.
Teaching Experiences
Ms Jin Loh is an international cello teacher/coach with more than 22 years of teaching experiences.
Ms Jin Loh is a cello teacher/coach who speaks Japanese. She learnt Japanese for about 6 years under native Japanese teachers and took several Japanese Language Proficiency Tests.
ミス・ジンは日本語が話せるの音楽教師です。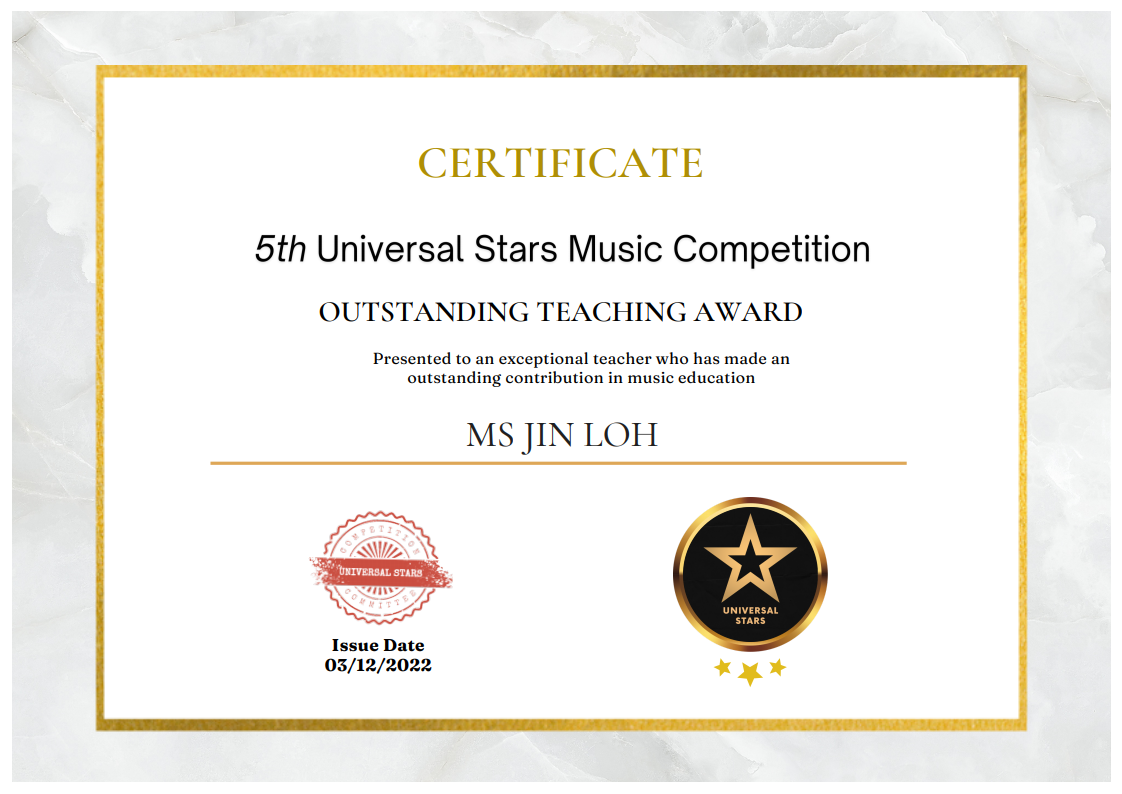 Experienced Good cello Teacher
Music Qualifications
Ms Jin Loh holds a Bachelor Degree (Hons) in Professional Music (UK). She was accepted into the Dean's Lists for 5 semesters. 
She plays 6 musical instruments: piano, flute, cello, singing, electon (electric organ) and guzheng (Chinese zither instrument), all 6 instruments till Teacher's Level.
Ms. Jin Loh studied cello under orchestral's concert master cellist and master degree's cello teacher.
All Rounder, Professional cello Teacher/coach
Ms Jin Loh is an all-rounder cello teacher/coach. She is one of the few cello teachers with Educational Psychology (UK) and Sound Therapy (Sound Healing) (UK) certifications. Ms Jin Loh passed all her Educational Psychology and Sound Therapy assessments with 100% full marks. 
Ms Jin Loh is a trained professional musician. She received many years of formal trainings learning and playing various music genres, for example: Classical Music, Jazz, Contemporary Music and Chinese Music.
highly-sought after music educator
To continue to understand more about music in a deeper level, Ms. Jin Loh furthered her music horizon studies into the dance and art field.
Ms Jin Loh learnt ballet dance formally for about 6 years. With the knowledge she has in both dance and art, Ms. Jin Loh gains a deeper understanding on playing cello dance pieces, and art or impressionism cello pieces.

Students' Achievement

ABRSM (UK) Cello High Scorer
Ms Jin Loh's cello student scored one of the highest marks in the whole country for ABRSM cello exam: 144/150 marks, thus her cello student was awarded High Scorer and was invited to perform in the ABRSM High Scorers' Music Concert.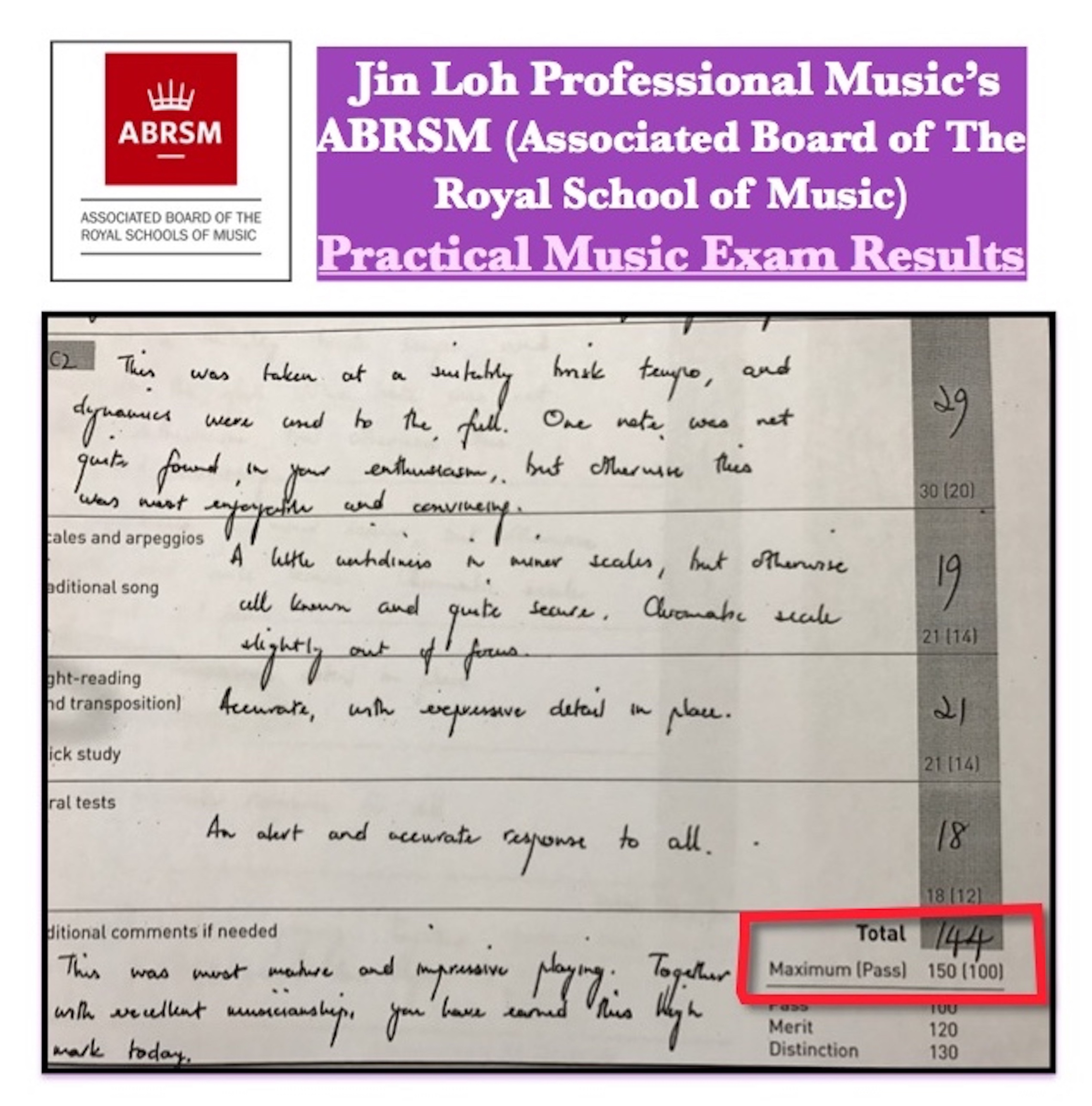 ABRSM (UK) High Scorer's Result 
High Distinction 144/150 marks
Distinction: 130-150 marks
Merit: 120-129 marks
Pass: 100-119 marks
Ms Jin Loh's Students
Ms Jin Loh is a highly sought-after international music educator by students from around the world e.g. from Japan, Australia, New Zealand, United Kingdom (UK), France, Korea, Hong Kong, Singapore and Malaysia.
Ms Jin Loh has trained many music teachers, musicians, professional adults (eg. businessmen, medical doctors, surgeons, lawyers, auditors, engineers, photographer, PhD, professor) and music college students. Ms Jin Loh's students include Tan Sri and Dato's children.

Effectiveness of Ms Jin Loh's Online music Lessons are Proven
Ms Jin Loh has been teaching only online lessons (no face-to-face physical lessons) for few years. Students from all over the world learn under Ms Jin Loh's tutelage 100% via her professional online music lessons.
Her online professional music lessons are proven effective in music exams results (eg. ABRSM Grade 8 online student scored Distinction). Besides scoring outstanding music exams results, Ms Jin Loh's online students also won Gold Medals in international music competitions.
Click here to read more about Ms Jin Loh