Jin Loh Professional Music ~ since 1999
ジン・ロー プロフェッショナル 音楽


Jin Loh Professional Music since 1999 is an international award-winning music place. It is a professional music place for students to learn professional music and receive professional music training in singing (vocal), piano, cello, flute, guzheng and music theory. 
Jin Loh Professional Music is one of the best/top music places in Malaysia to learn professional music in various music genres, eg. Classical, Jazz, Contemporary and Oriental music. 
Ms Jin Loh from Jin Loh Professional Music is one of the best/top music teachers in Malaysia.
Ms Jin Loh is an international award-winning music educator/teacher, who is internationally recognized as an outstanding music educator by various international music competitions in year 2022 and 2023.
She is a highly sought-after music teacher by international students from around the world. 

2023 best classical musicians awards teacher certificate
awarded by nternational music competition
In 2023, Best Classical Musicians Awards Teacher Certificate is awarded to Ms Jin Loh. Her piano diploma student won Gold Award in Best Romantic Compositions Performance category.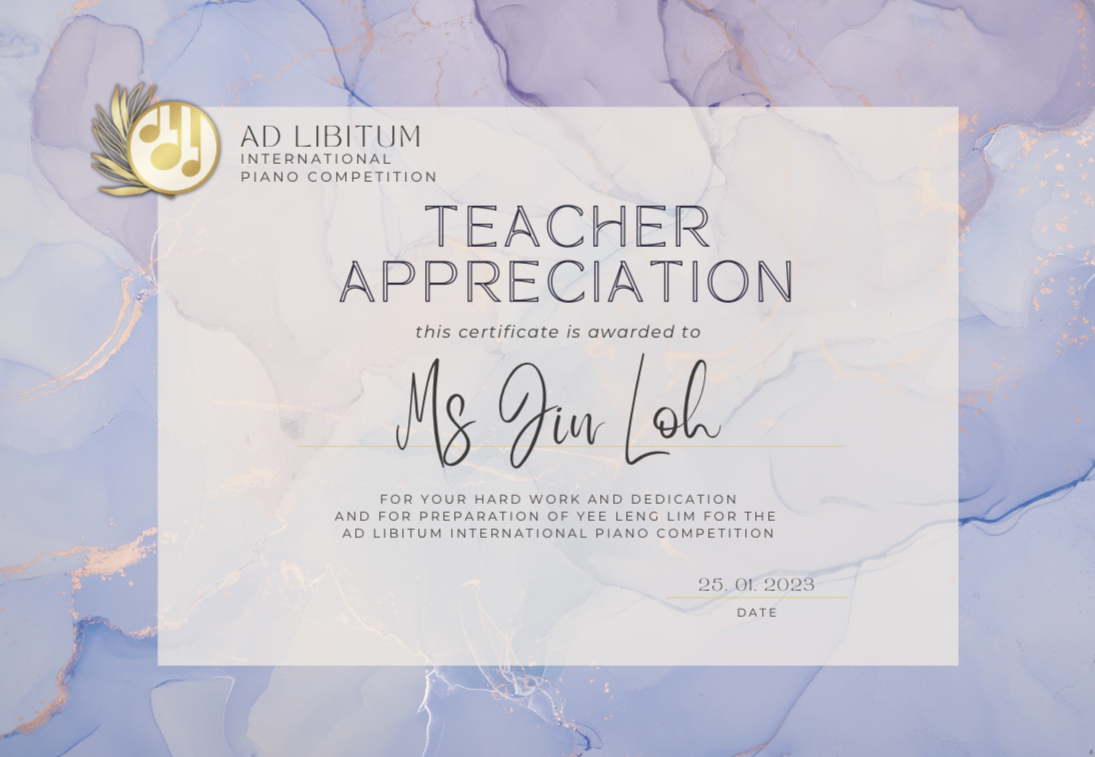 2023 teacher appreciation certificate
awarded by International piano Competition
In 2023, the Teacher Appreciation certificate is awarded to Ms Jin Loh by international piano competition. It is an international recognition of Ms Jin Loh's hard work and dedication in preparing student in International Piano Competition.
Ms Jin Loh's piano diploma student won Silver Award in Impressionism Music Category.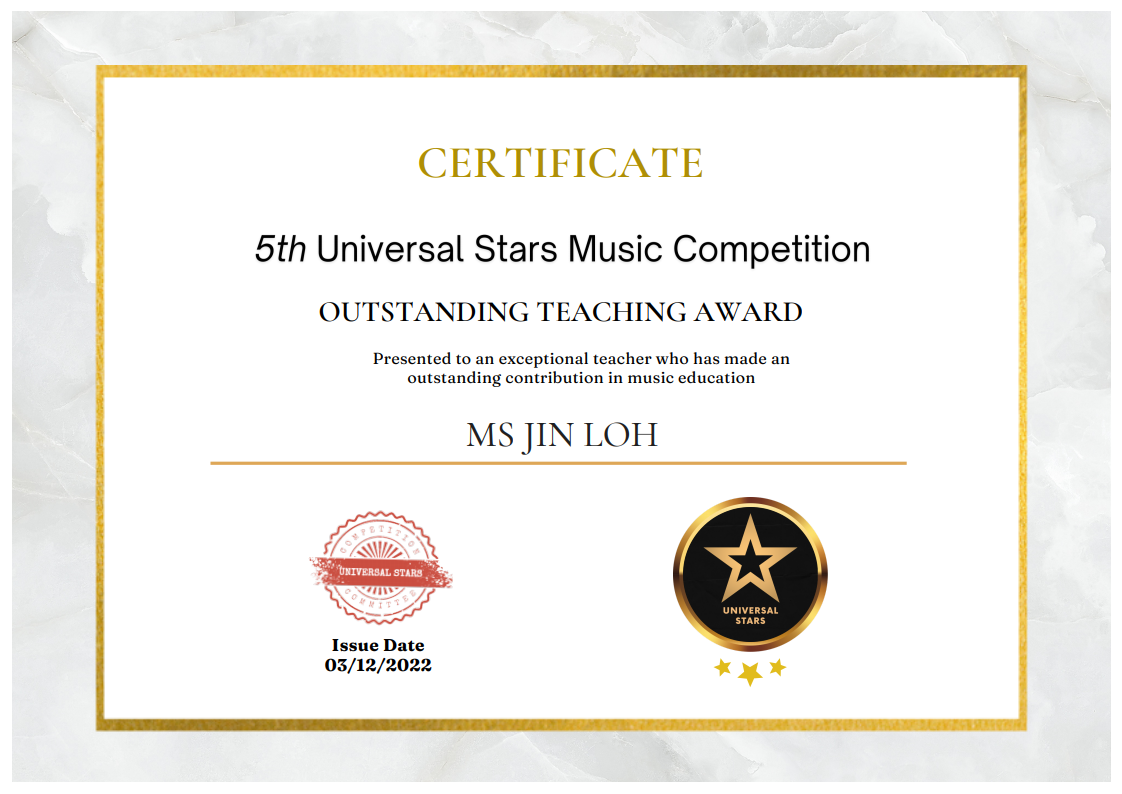 2022 Outstanding Teaching Award
Presented by International Music Competition
In 2022, the Outstanding Teaching Award is presented to Ms Jin Loh by international music competition. 
She is internationally recognized, acknowledged as an exceptional teacher who has made an outstanding contribution in music education.
---
Students from eg. Australia, New Zealand, Singapore, UK, France, Singapore and Malaysia learn under Ms Jin Loh's tutelage. Her students include Tan Sri and Dato's children.
Ms Jin Loh is one of the few music educators/teachers with Educational Psychology (UK) and Sound Therapy (Sound Healing) (UK) certifications. She passed all her Educational Psychology and Sound Therapy assessments with 100% full marks.
ミス・ジンは日本語が話せるの音楽教師です。

Students' Achievements
2023, 2022 International Music Competitions' Gold Awards Winners