♪  Miss Jin Loh's Students Achievements  (^^)  ♪

Year of 2018 Miss Jin Loh Received Trinity College London (UK) Letter of Commendation/Appreciation for Her Outstanding Music Students Exam Results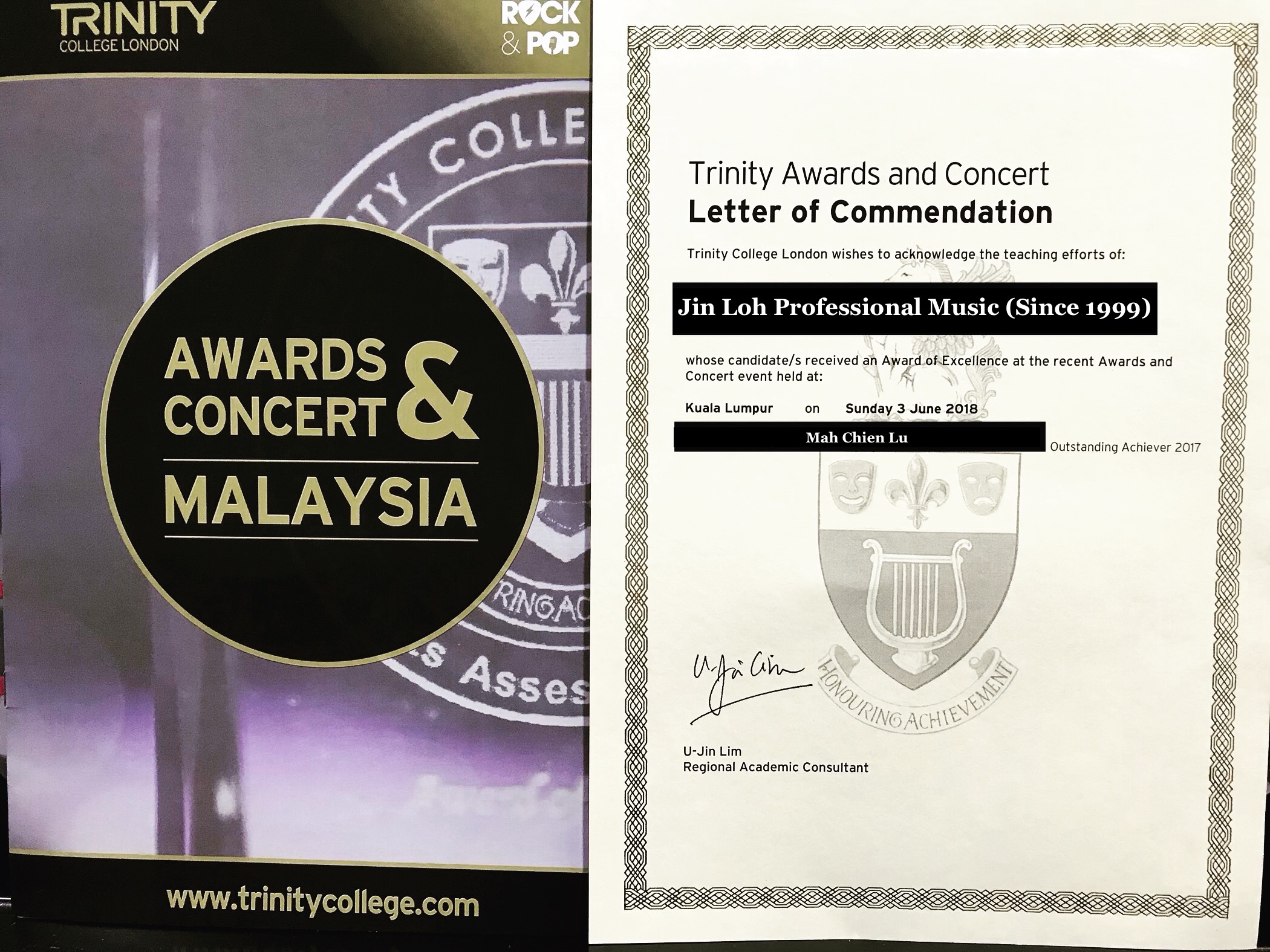 Miss Jin Loh Received ABRSM (UK) Letter of Commendation/Appreciation for Her Outstanding Music Student Exam Result 



The 5th Hong Kong International Music Festival 2018 Music Competition Winner - Bronze Medal (Malaysia Region)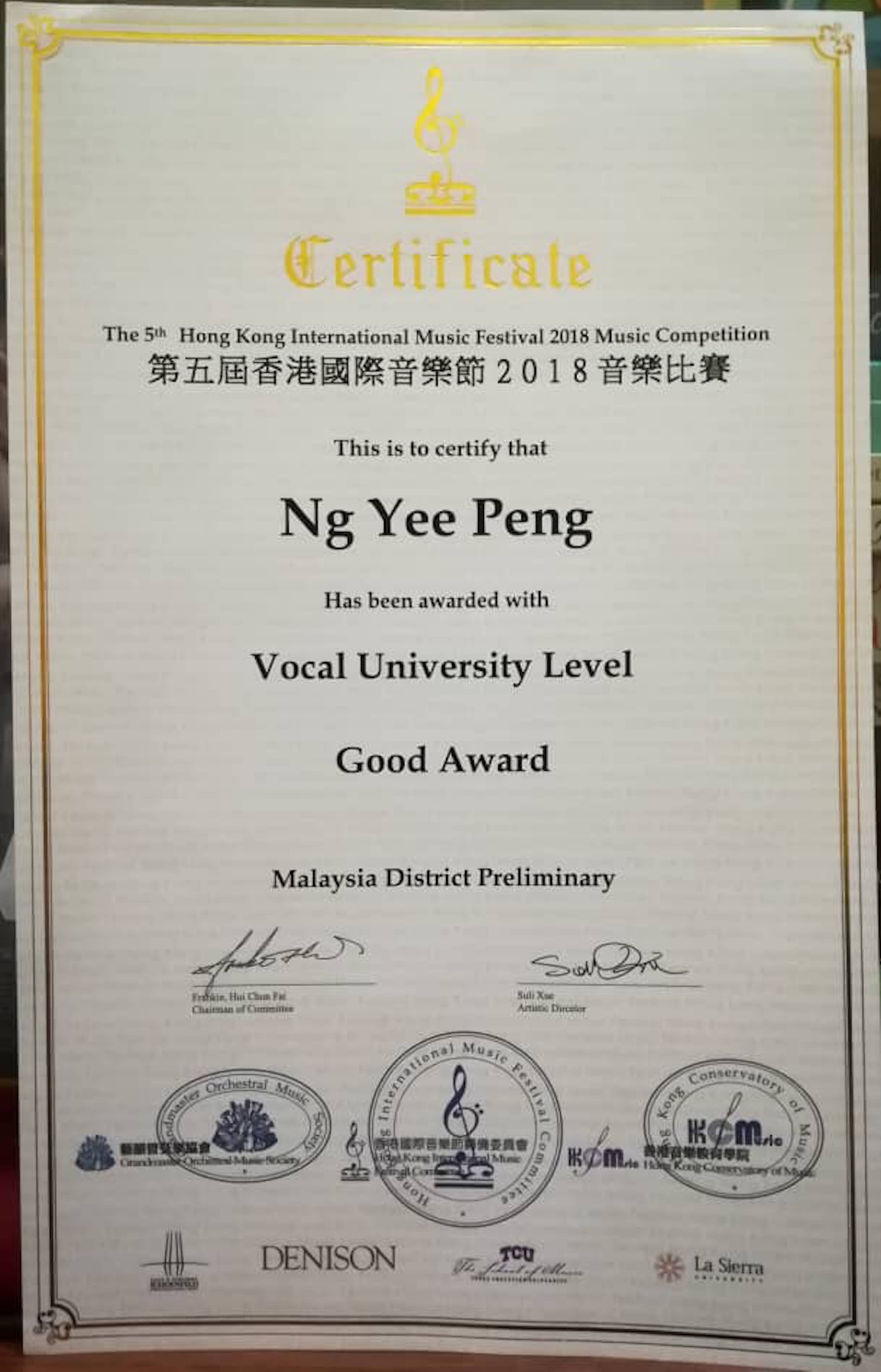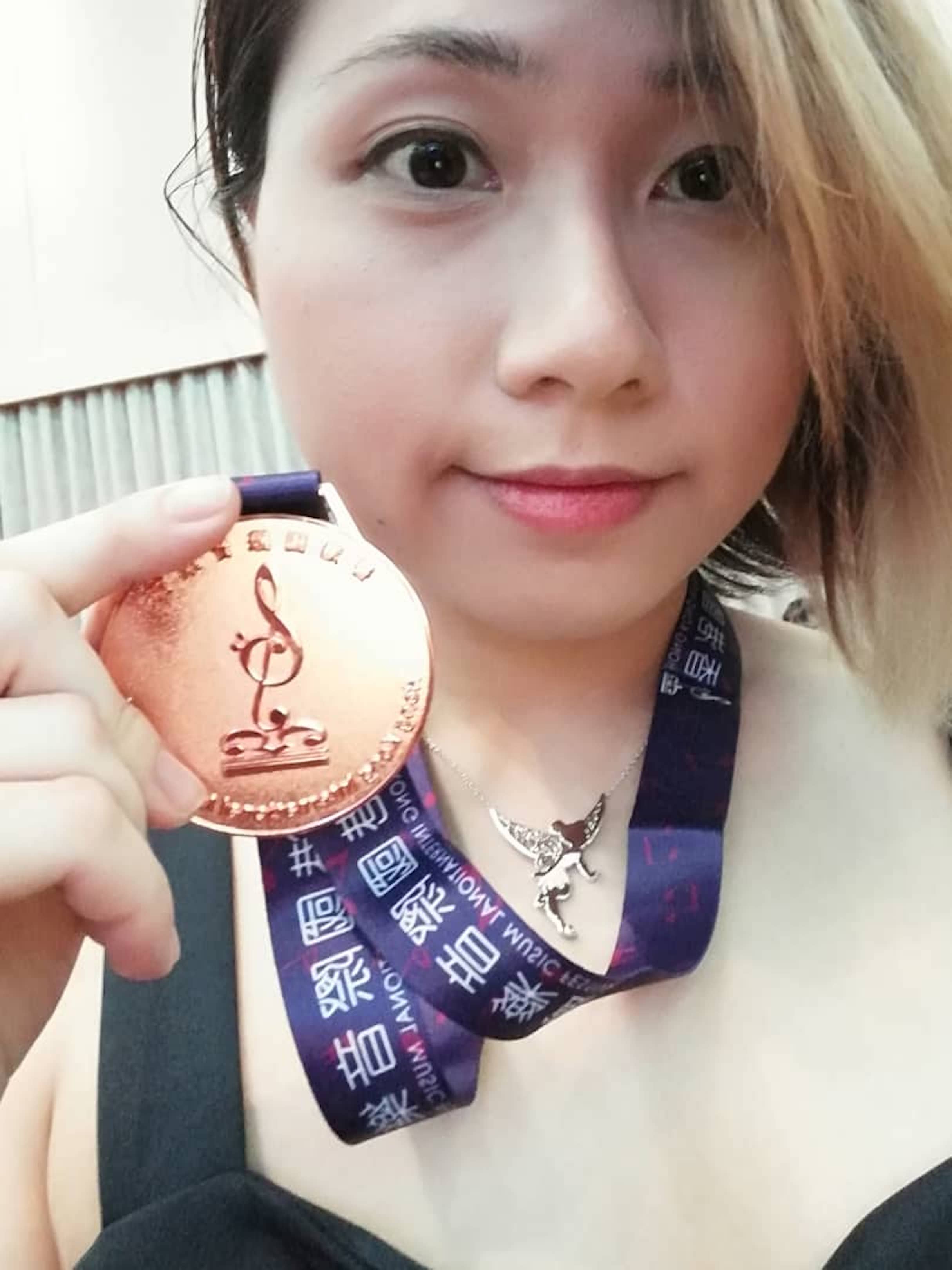 Congratulations to Miss Jin Loh's Singing Diploma (ATCL) music student, Alyson Ng, for winning in the recent 2018 Year "5th Hong Kong International Music Festival 2018 Music Competition". Alyson Ng won Bronze Medal (3rd Prize) in the Malaysia region. This is her first time taking part in a singing competition. Alyson Ng is selected to represent Malaysia to compete in the final round singing competition in Hong Kong. However unfortunately Alyson is unable to travel to Hong Kong during the final round competition in Hong Kong... 

Miss Jin Loh's Piano Diploma Students Represented Malaysia and Won in International Piano Competition


Miss Jin Loh's ABRSM (UK) Practical Music Student High Distinction Exam Result 144/150 marks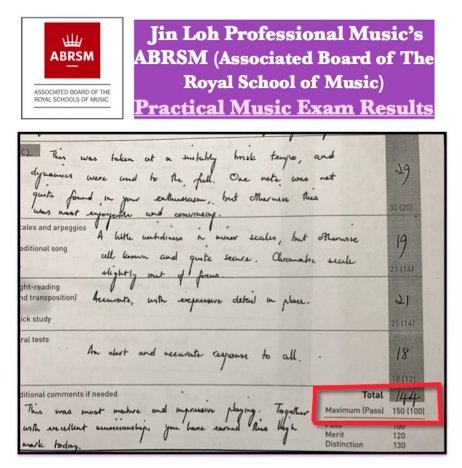 ABRSM (UK) High Scorer's Music Result
High Distinction 144/150 marks
Distinction: 130-150 marks
Merit: 120-129 marks
Pass: 100-119 marks
~ Miss Jin Loh's music student was specially invited by ABRSM (UK) to perform in ABRSM High Scorer's Music Concert.

Year of 2018 Miss Jin Loh's Trinity College London (UK) Singing Students Exam Results - All High Distinctions 91-95/100 Marks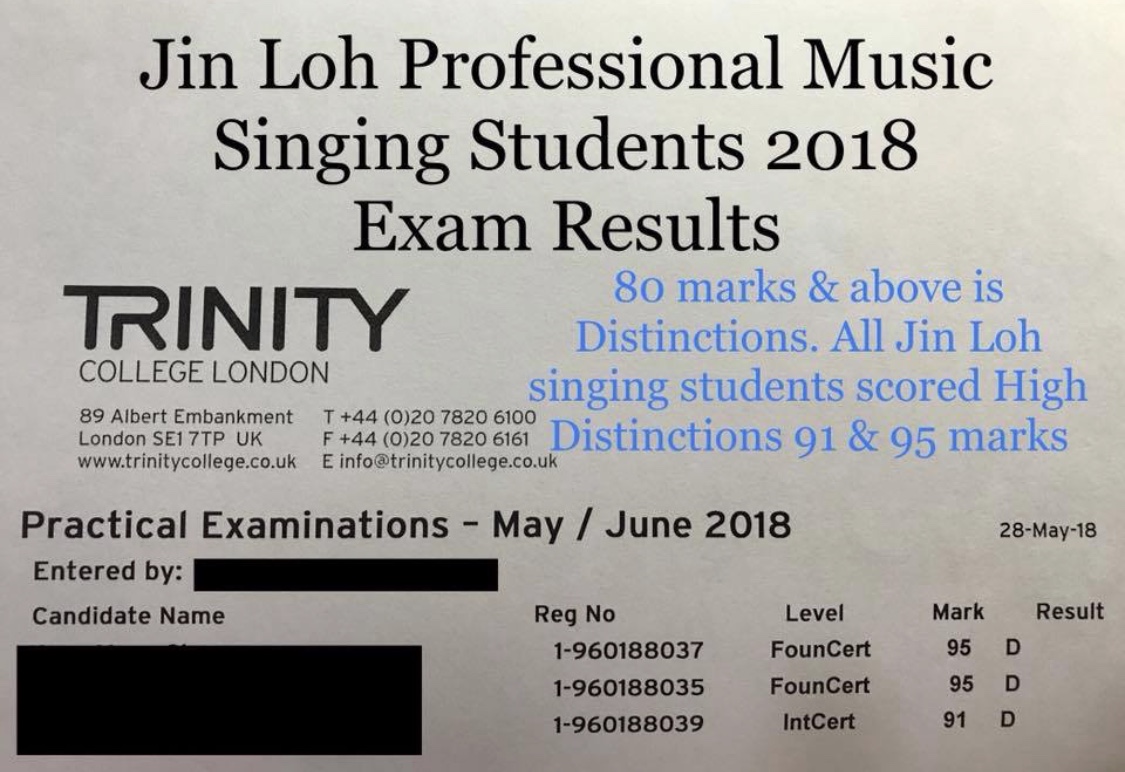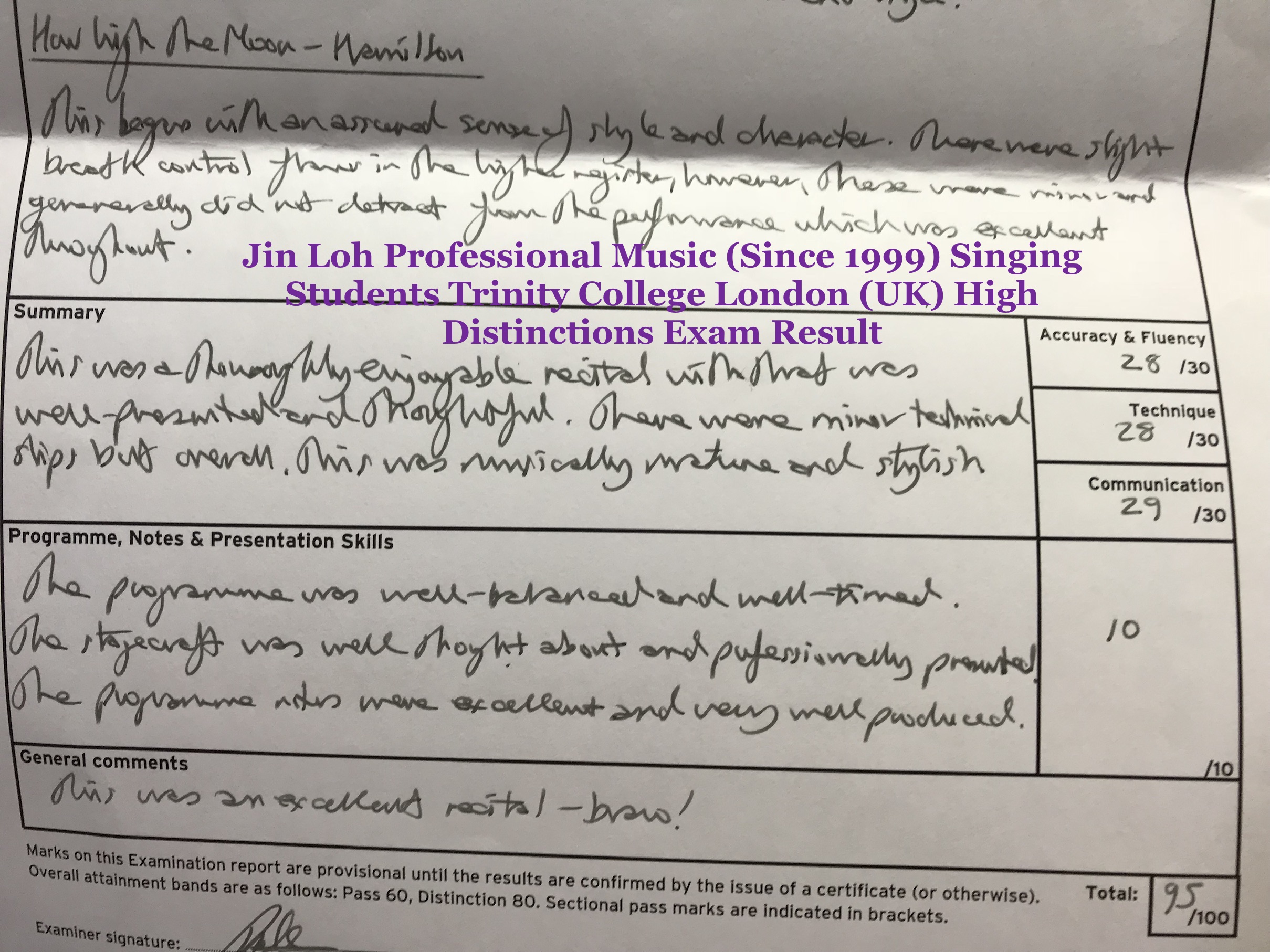 Trinity College London (UK) Singing May 2018 Exam Result
100% pass with High Distinction 
Distinction: 80 marks and above
Pass: 60-79 marks
All Miss Jin Loh's singing students scored High Distinctions 95/100 marks and 91/100 marks
Singing/Vocal/Voice Teacher (Instructor/Coach) 
in Malaysia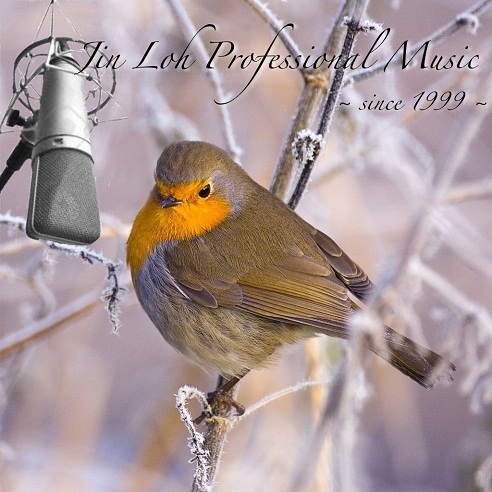 Experienced singing (vocal/voice) teacher/coach/instructor in Bangsar, Damansara Heights, Kuala Lumpur Golf & Country Club (KLGCC), Mon't Kiara, Hartamas Heights, Sri Hartamas, Desa Sri Hartamas, Taman Tun Dr. Ismail (TTDI), Bandar Utama (BU), Petaling Jaya (P.J.), KLCC and Kuala Lumpur (K.L) areas in Malaysia. 

Miss Jin Loh's diploma singing ATCL student, Alyson Ng, sings Trinity College London (UK) Grade 8 Singing exam song: "Nuit d'étoiles"~ "Starry Night" French song composed by Claude Debussy.

How to be a Singing Teacher?

How to be a singing teacher? To be a singing teacher, one needs to study many years of formal singing, have many years of regular vocal training, pass several singing exams, learn and understand how to sing in different singing styles..etc, in order to become a qualified, trained singing teacher, not a self taught singing teacher. :)

Learn how to sing with Miss Jin Loh. Miss Jin Loh is an experienced singing (voice, vocal) teacher/coach in Malaysia, with more than 15 years of teaching experiences. She is a ATCL singing diploma music teacher in Malaysia who prepares her diploma singing students to sit for singing diploma international exams. 
Miss Jin Loh has taken many years of formal vocal training under 7-8 vocal teachers. She is a trained and qualified singing teacher who has taken various international singing exams, not a self taught singer.
Miss Jin Loh's Singing Teaching Methods
Miss Jin Loh teaches the Classical singing methods, or  known more commonly as the 'opera singing' methods. Students learn to sing using the singing methods that Opera singers use to sing. 
Besides Classical singing, Miss Jin Loh teaches students how to sing jazz singing, contemporary, Broadway and classic songs according to various music styles. Different music genres require different singing approaches or interpretations to suit the music styles.
Miss Jin Loh teaches private singing lessons, one to one singing lessons. Because each and every student's voice is unique. Student's singing strength and areas to work on, are also different. Hence, group singing lessons are not very ideal for students who are very new in singing.
Miss Jin Loh teaches Italian Opera songs, German songs, French songs. Besides Classical singing, Miss Jin Loh also teaches students Jazz songs, Contemporary, Broadway, musical songs and songs from other music genres.
In Miss Jin Loh's singing classes/lessons, she teaches students for example, various singing exercises, vocal warm ups, body postures, explain to students and work with them how to expand vocal range (meaning how to increase students higher and lower notes), how to breathe for singing, and how to improve vocal/voice projection (vocal resonance).
Miss Jin Loh prepares and trains students for singing exams and even singing competitions and singing auditions. 
Note: Please note that Miss Jin Loh does not teach new generation's pop songs. She does teaches classics pop songs like 'The Way We Were", "When I Fall In Love" (from Sleepless in Seattle movie). 

Miss Jin Loh's Singing Students' Singing Exams Results 


2016 Year

♪  20% of Miss Jin Loh's singing students scored Distinction 80/100 marks and above, 50% students scored Merits 70/100 above.

♪   One of the Miss Jin Loh's singing students scored Full Marks 10/10 marks in Programme Notes area.

2015 Year
♪   100% pass in Trinity College of Music singing exams in 2015 year.
♪   All students scored High Distinctions in Programme Notes writing. Scoring 9/10 and 8/10 in Programme notes Writing.



Music is Love.

Love is Music

~ Jin Loh