ABRSM Singing (Vocal) 
Lessons/Teacher/Online
オンラインボーカルレッスン

ABRSM singing (vocal/voice) grade 1/2/3/4/5/6/7/8 lessons/class/teacher in Kuala Lumpur (kl), Petaling Jaya (pj), Damansara, Bandar Utama (bu), KLCC, Ampang, Mon't Kiara, Sri Hartamas, Desa Sri Hartamas, Taman Tun Dr. Ismail (ttdi), Bangsar, Damansara Heights, Selangor, Penang, Johor, Negeri Sembilan, Malacca (Melaka), Sabah, Sarawak, Perak, Perlis, Pahang, Kedah, Kelantan, Terengganu, Malaysia, Singapore, Australia, New Zealand, Thailand, Hong Kong, Japan, Korea and other international countries by experienced singing teacher ~ Ms Jin Loh, an all rounder singing teacher/coach.

Experienced ABRSM Singing (Vocal)
Teacher/Tutor/Coach
Music Qualifications
Ms Jin Loh holds a Bachelor Degree (Hons) in Professional Music (UK). She was accepted into the Dean's Lists for 5 semesters.
She plays 6 musical instruments: piano, flute, cello, singing, electon (electric organ) and guzheng (Chinese zither instrument), all 6 instruments till Teacher's Level.
Teaching Experiences
Ms Jin Loh is an international vocal coach/singing teacher with more than 22 years of teaching experiences.
ミス・ジンは日本語が話せるの音楽教師です。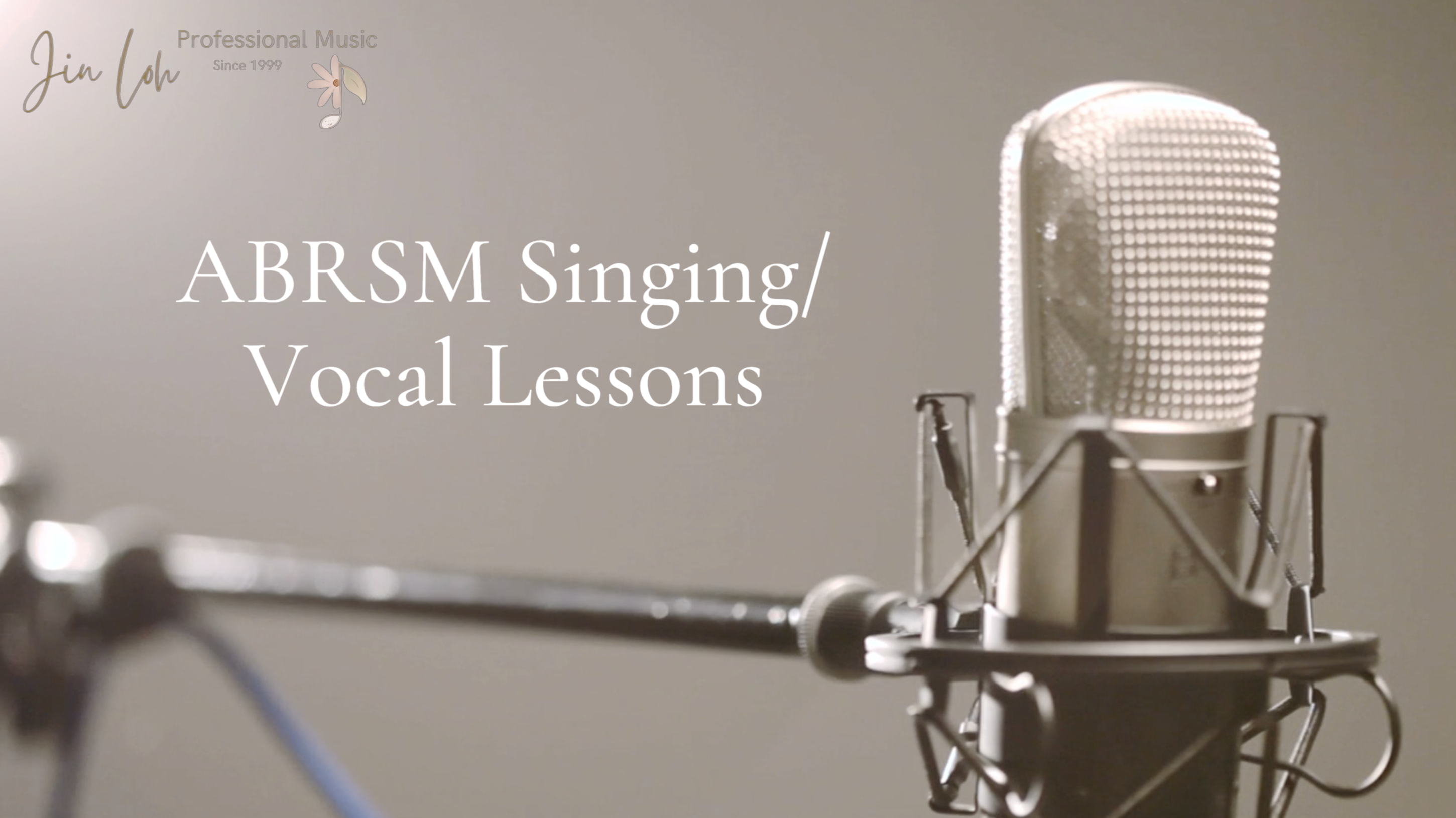 strong Track Records of singing students
scoring good/Distinction
Exams results
Ms Jin Loh is well-known for her approachable, effective tutelage and strong track records in training music students who score outstanding music exams results (High Distinctions) in ABRSM (UK) and Trinity College London (UK) international music exams. 
Ms Jin Loh's Students
Ms Jin Loh has trained many music teachers, musicians, professional adults (eg. businessmen, medical doctors, surgeons, lawyers, engineers, auditors, photographer, PhD) and music college students. Ms Jin Loh's students include Tan Sri and Dato's children.
Ms Jin Loh's students include students from e.g Australia, New Zealand, United Kingdom (UK), France, Japan, Korea, Hong Kong, Singapore and Malaysia.
All Rounder, Professional Singing Teacher/coach
Ms Jin Loh is a trained professional musician/singer. She received many years of formal trainings learning and playing various music genres, for example: Classical Music, Jazz, Contemporary Music and Chinese Music.

Ms Jin Loh's High Scorer Singing Student ~ Hway Yin, Performed "Not a Day Goes By" (from Merrily We Roll ALong). Pianist & Choreographer: Ms Jin Loh

Ms Jin Loh is one of the few singing teachers/coaches with Educational Psychology (UK) and Sound Therapy (Sound Healing) (UK) certifications.

Certified Educational Psychologist (UK)
As a certified Educational Psychologist (UK) who passed all her Educational Psychology's assessments with 100% full marks, Ms Jin Loh incorporates her knowledge in e.g. human behaviours (Behaviorism); how students learn (Cognitivism); how to motivate students; and how to teach more effectively (Psychology of Teaching) in her singing lessons.
Thus, Ms Jin Loh is regarded as an effective, approachable and good singing teacher/tutor/coach by her singing students from around the world.
Certified Sound Therapist
(Sound Healing) (UK)

As a certified Sound Therapist (Sound Healing) who passed all her Sound Therapy (UK) assessments with 100% full marks, Ms Jin Loh shares some of her sound healing knowledge with her singing students on how to improve their singing/voices.
Sometimes Ms Jin Loh also explains and shares about e.g. what are the natural essential oils; food; gem stones and colours that may help to improve her students' singing/voice. 

Unique & Effective Teaching Methods
By incorporating various music studies, skills and knowledge that Ms Jin Loh have learned and gained throughout the years, Ms Jin Loh has developed her own unique way to train and teach her singing students effectively. 
Ms Jin Loh's High Scorer's Singing Student ~ Celine See, Performed "When I Look At You (from Scarlet Pimpernel". Pianist: Ms Jin Loh
Singing Teaching Styles/Techniques:
Classical, Pop, Jazz & Musicals
Ms. Jin Loh teaches the Classical singing technique or known as the "Opera" singing technique/style. She teaches her students to sing, for example, Italian, French and German classical songs.
Ms. Jin Loh also teaches her students pop, jazz and musicals singing styles which are different from the Classical Singing styles.
Stagecrafts
Ms Jin Loh was trained in Ballet dance for about 6 years. Besides teaching singing techniques, Ms Jin Loh also incorporates her ballet dance training and knowledge into her singing lessons when she teaches her singing students stagecrafts.
Ms Jin Loh teaches her singing students various stagecrafts, for example, how to look confident; how to look graceful on stage when performing; how to stand and walk confidently; various hand gestures; eyes contact and facial expressions when singing different lyrics in order to enhance the meaning of the lyrics to the audiences...etc.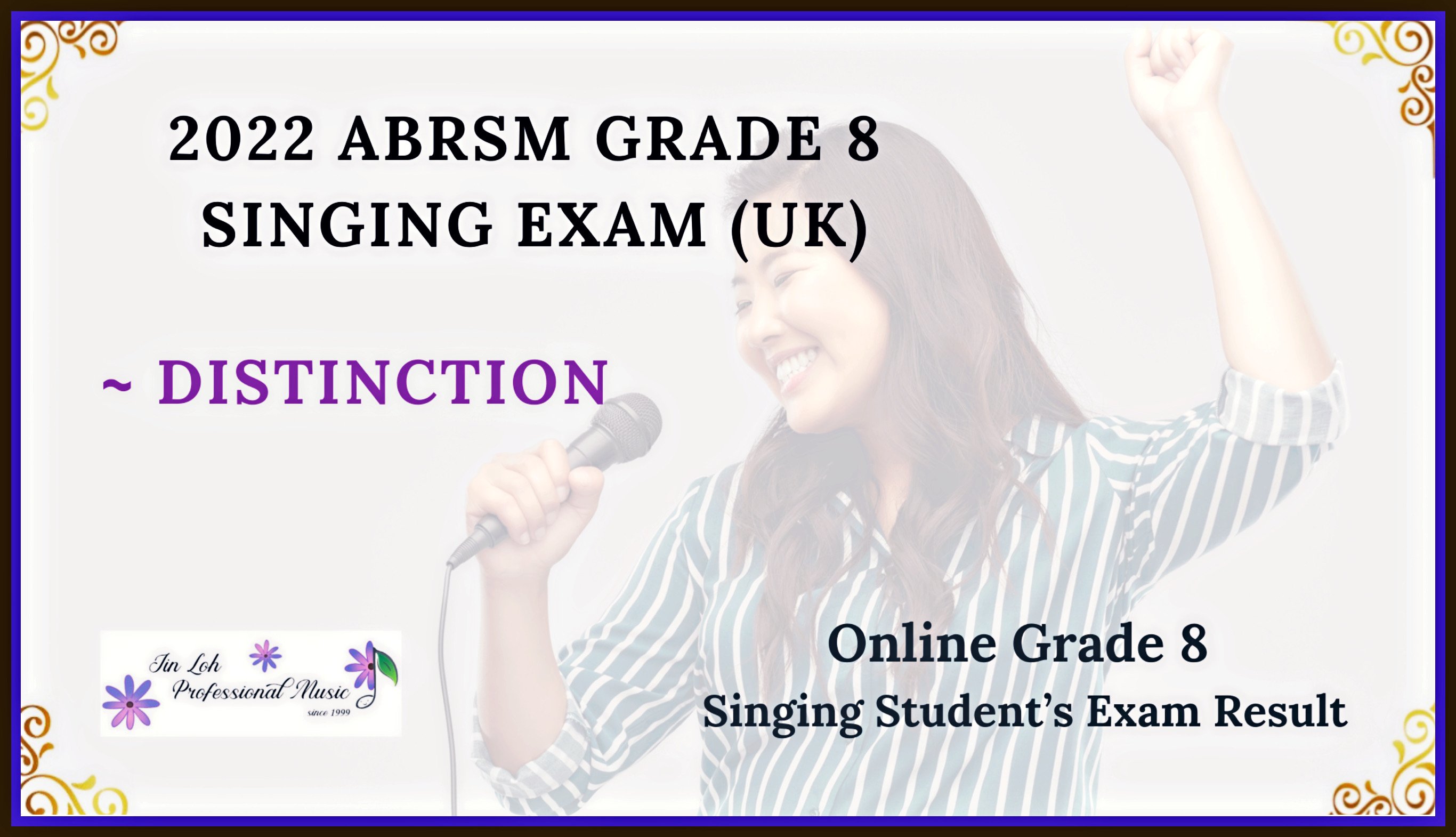 2022 Year ABRSM (UK) Grade 8 Singing Exam
Online student's Distinction Result 
In year 2022, Ms Jin Loh's 100% online ABRSM Grade 8 singing student ~ Hway Yin, scored Distinction in the ABRSM (UK) Grade 8 singing exam. 
Hway Yin prepared and trained for her ABRSM Grade 8 Singing Exam 100% via Ms Jin Loh's professional online singing lessons. Ms Jin Loh is Hway Yin's first singing teacher. 
Under Ms Jin Loh's tutelage all these years, Hway Yin has been consistently scoring all Distinctions in all her singing exams, in both Trinity College London (UK) and ABRSM (UK) singing exams.
Hway Yin was also Trinity College London's Singing Exams' High Scorers.