ABRSM Singing (Vocal) 
Lessons/Teacher/Online
オンラインボーカルレッスン

ABRSM singing (vocal/voice) grade 1/2/3/4/5/6/7/8 lessons/class/teacher in Kuala Lumpur (kl), Petaling Jaya (pj), Damansara, Bandar Utama (bu), KLCC, Ampang, Mon't Kiara, Sri Hartamas, Desa Sri Hartamas, Taman Tun Dr. Ismail (ttdi), Bangsar, Johor, Damansara Heights, Selangor, Penang, Negeri Sembilan, Malacca (Melaka), Sabah, Sarawak, Perak, Perlis, Pahang, Kedah, Kelantan, Terengganu, Japan, Malaysia, Singapore, Australia, New Zealand, Thailand, Hong Kong, Korea and other international countries.
Singing (vocal) exams lessons/teacher by award-winning singing (vocal) teacher/coach.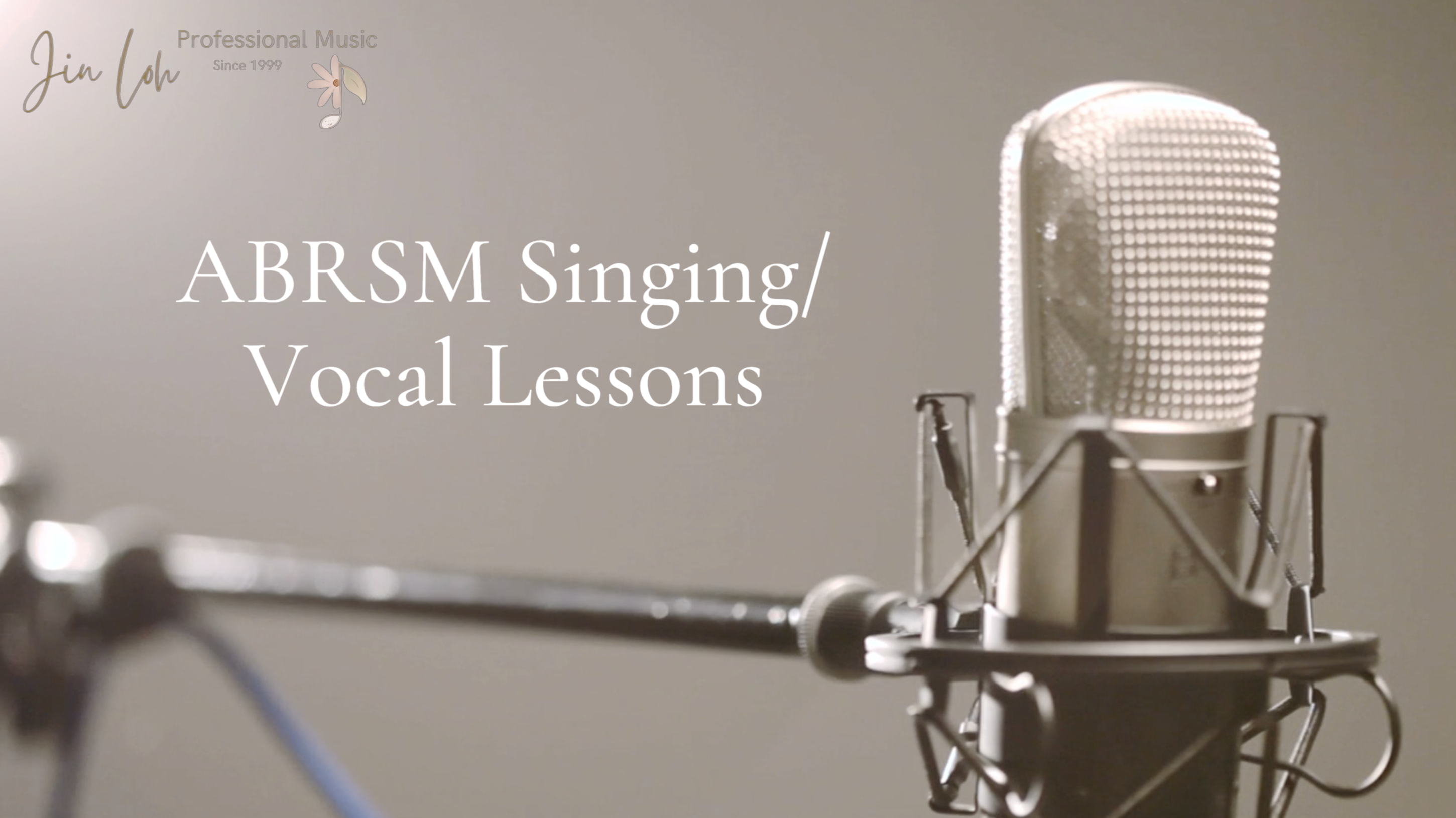 international award-winning singing/Vocal
Teacher/Coach

Ms Jin Loh is an international award-winning singing teacher and vocal coach, with a proven track record of success. Her students have won several Gold Medals in international singing competitions and international piano competitions.
Ms. Jin Loh attained Global Recognition as an Exceptional Music Teacher. Her name has been listed on the prestigious "Honorable League of Global Exceptional Music Teachers" by the World Online Music Competitions Organization. This puts her in the company of esteemed Professors of Music in universities and Doctor of Music (PhD) awardees from around the world.
In 2023 and 2022, Ms Jin Loh was presented with Outstanding Teaching Award Certificates from UK's international music competition, as a testament to her outstanding contributions in music education.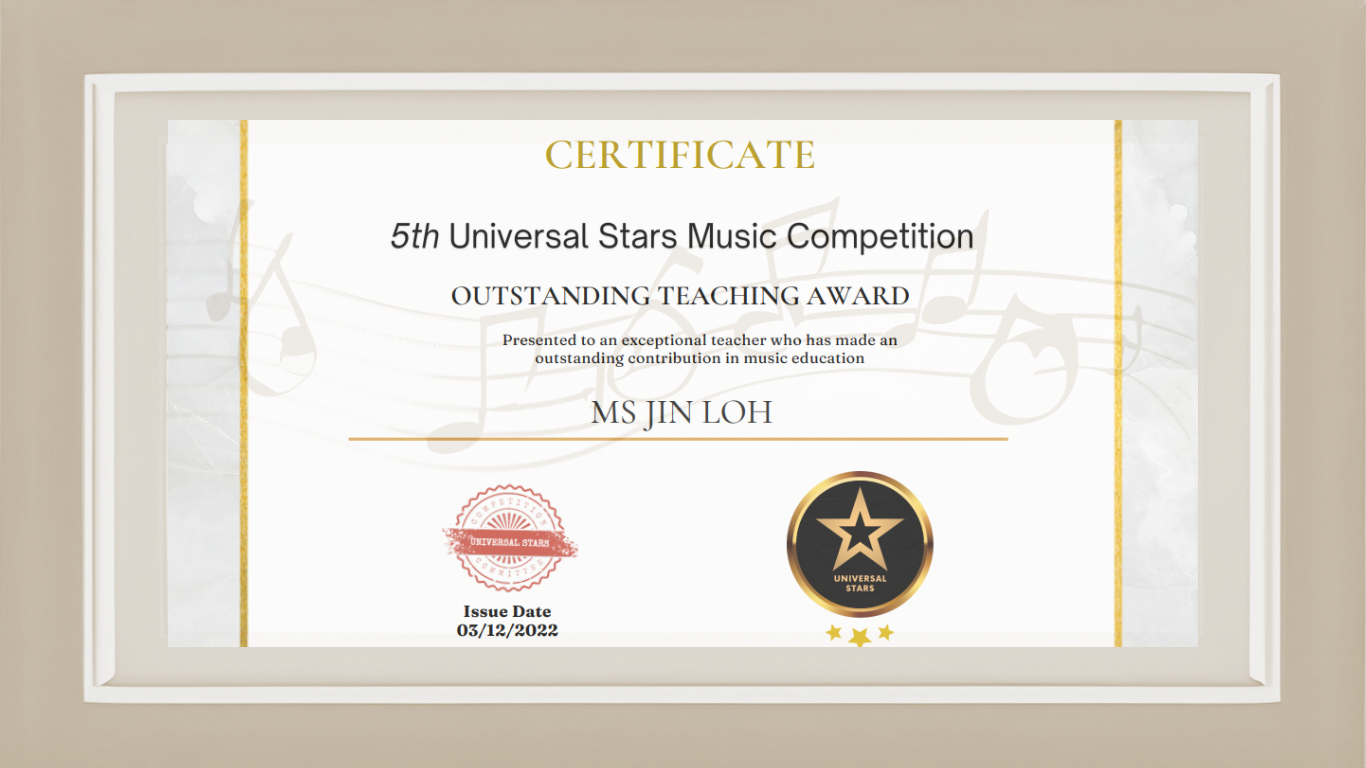 Singing Students' Achievements
~ Gold Awards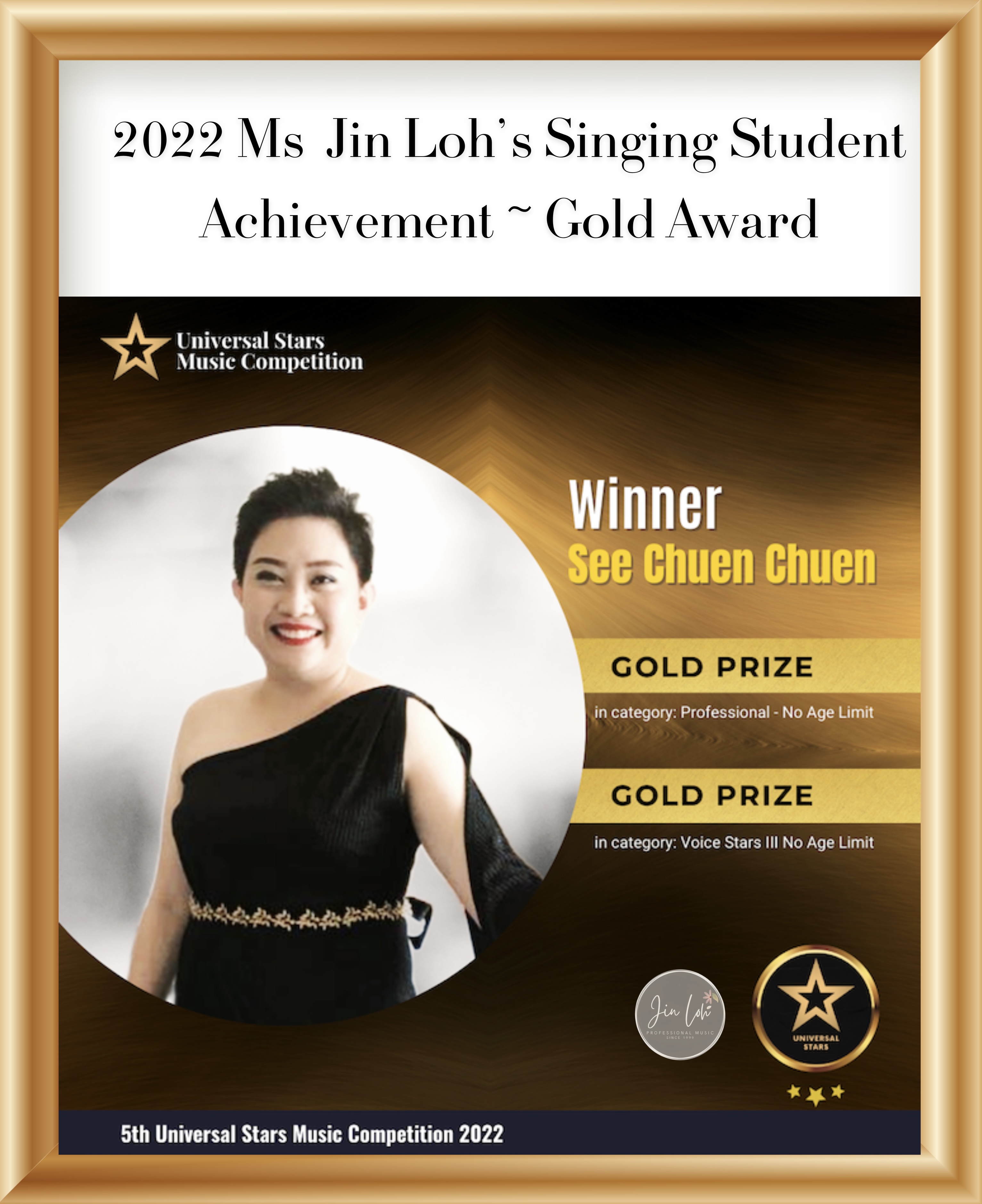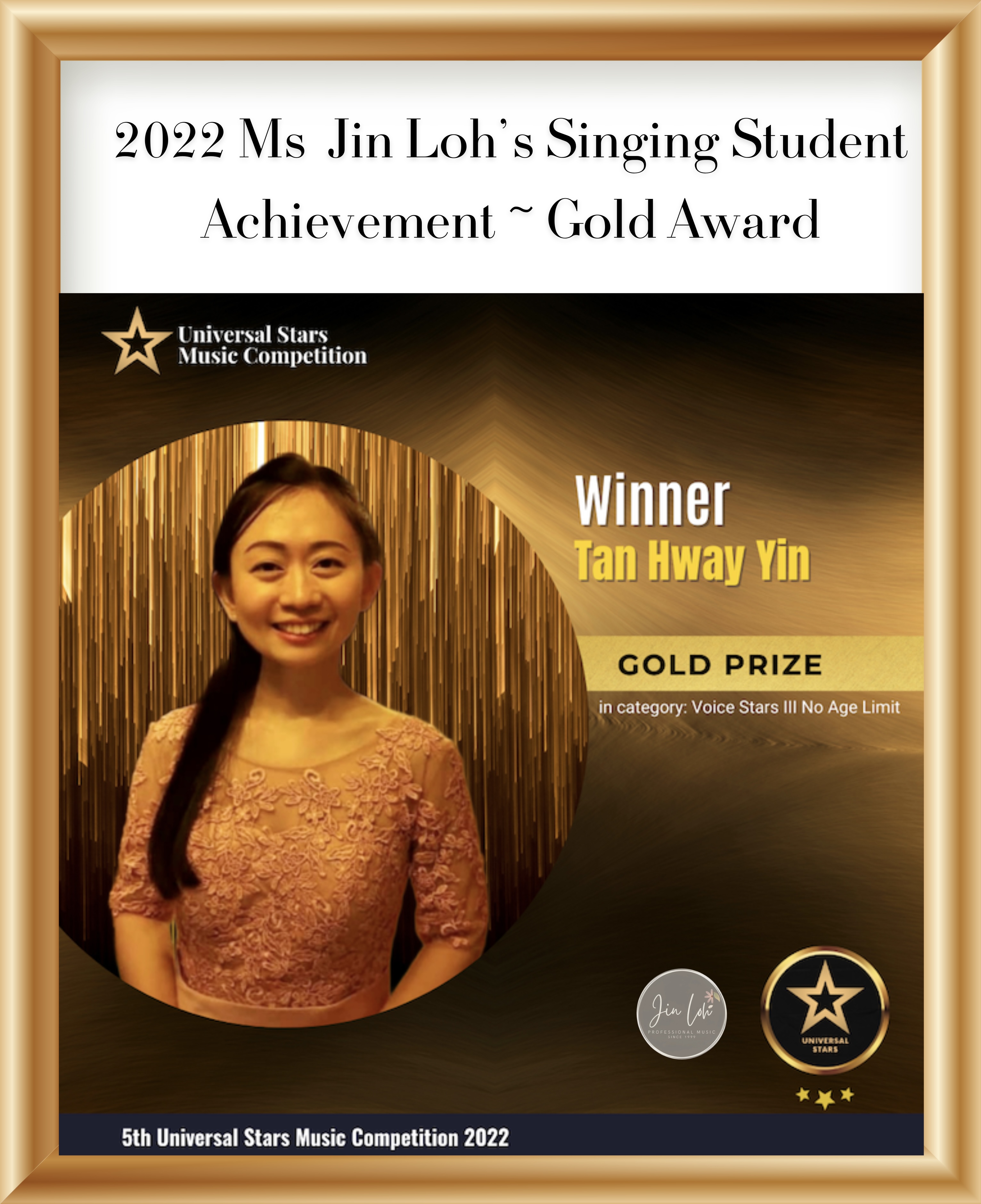 Ms Jin Loh is renowned for her approachable, effective tutelage, and her strong track record of training singing students to score outstanding results in ABRSM (UK) and Trinity College London (UK) international music exams.
Her students have consistently received High Scorers' Awards for three consecutive years (2017-2019) in Trinity College London's Singing Exams, escoring one of the highest music exam marks in the country.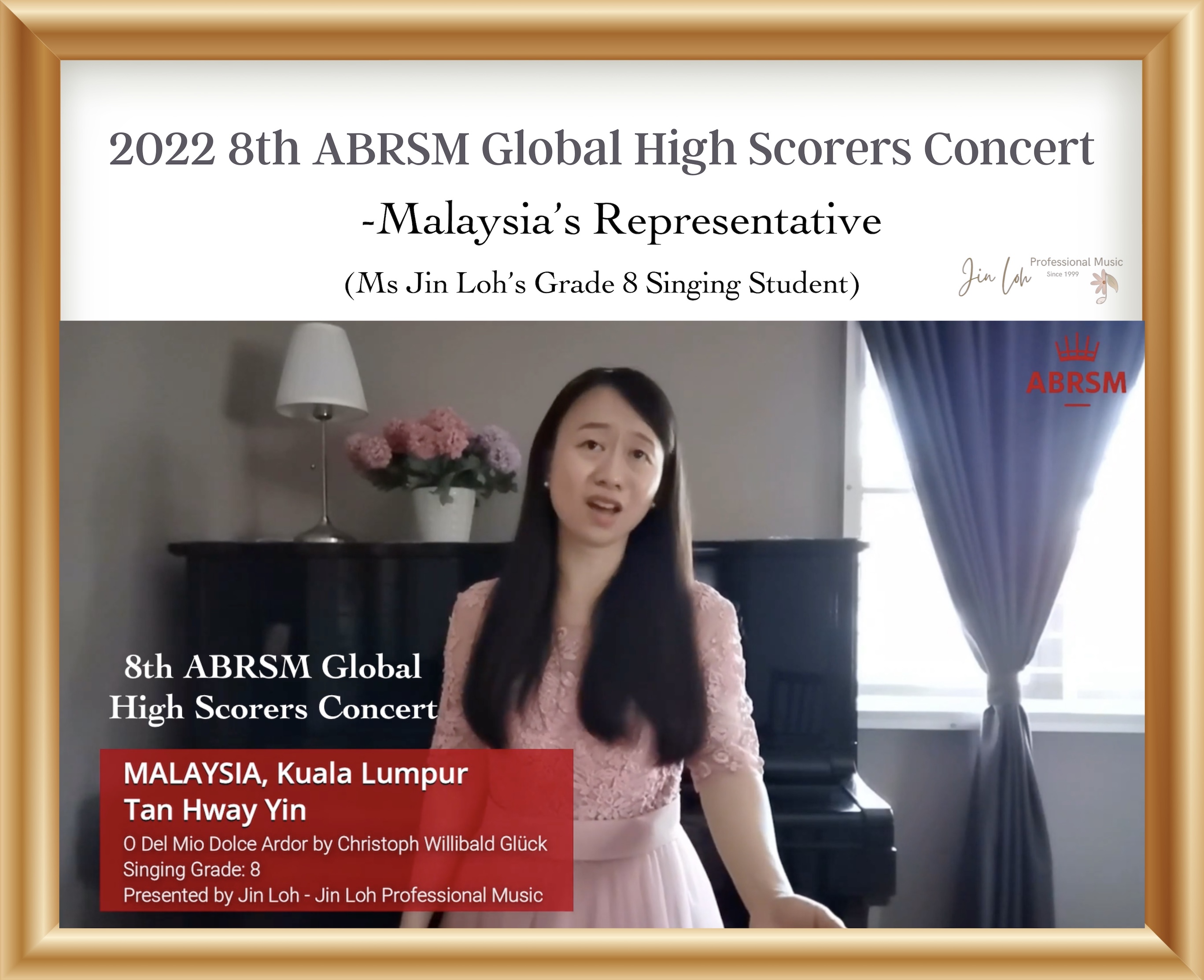 Malaysia's Representative to Perform in the 8th ABRSM Global High Scorers' Concert 2022
The 2022 ABRSM (The Associated Board of the Royal School of Music) Global High Scorers' Concert showcase talented individuals hailing from 26 different countries.
Among them is Hway Yin, a Grade 8 Singing Student of Ms Jin Loh, who has been selected as Malaysia's representative for the virtual concert.
Hway Yin has been under Ms Jin Loh's tutelage for about 5 years, scoring all Distinctions till Grade 8 in both ABRSM (UK) and Trinity College London's (UK) singing exams.
Hway Yin has also been awarded as High Scorers (by Trinity College London) and even as Global High Scorers (by the ABRSM).

Ms Jin Loh's High Scorer Singing Student ~ Hway Yin,
Performed "Not a Day Goes By" (from Merrily We Roll Along). Pianist & Choreographer: Ms Jin Loh
students of ms jin loh
Ms Jin Loh's students come from all over the world, including Japan, Australia, New Zealand, United Kingdom (UK), France, Korea, Hong Kong, Singapore, and Malaysia.
Her teachings have extended to music teachers, musicians, professional adults (e.g. businessmen, medical doctors, surgeons, lawyers, auditors, engineers, photographer, PhD, professor), and music college students, including the children of Tan Sri and Dato.
Music Qualifications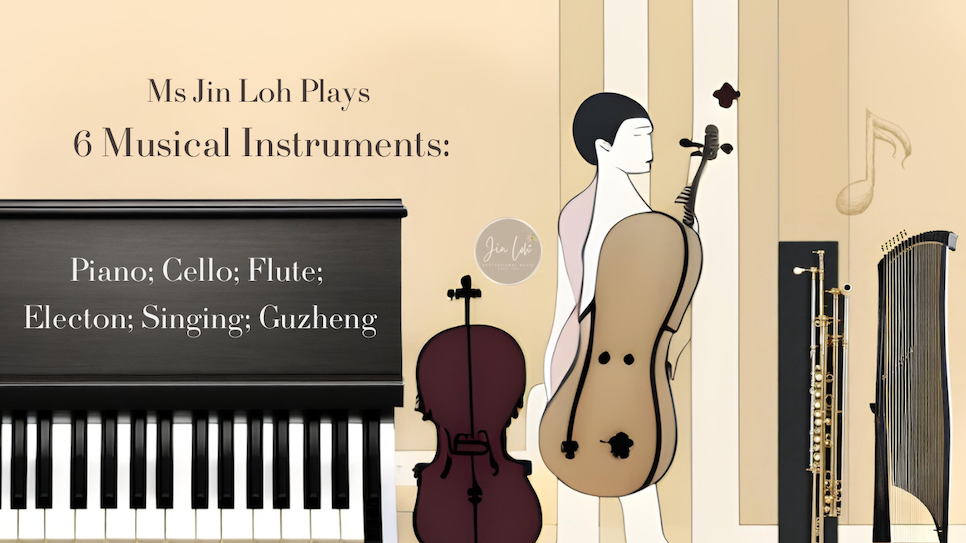 Ms Jin Loh holds a Bachelor Degree (Hons) in Professional Music (UK) and is an all-rounder singing teacher/coach.
Ms Jin Loh's Educational Psychology (UK) and Sound Therapy (Sound Healing) (UK) certifications set her apart from other music educators. She has passed all her Educational Psychology and Sound Therapy assessments with 100% full marks.
Ms Jin Loh plays six instruments: piano, flute, singing, cello, electon (electric organ), and guzheng (Chinese zither instrument), all up to Teacher's Level.
Teaching Experiences
Ms Jin Loh has over 22 years of teaching experience.
Languages
Ms Jin Loh is a multilingual music teacher who speaks English, Chinese (Mandarin & Cantonese), Malay and Japanese.
Ms Jin Loh has studied Japanese for about six years under the tutelage of native Japanese teachers and took several Japanese Language Proficiency Tests (JLPT).
ミス・ジンは日本語が話せるの音楽教師です。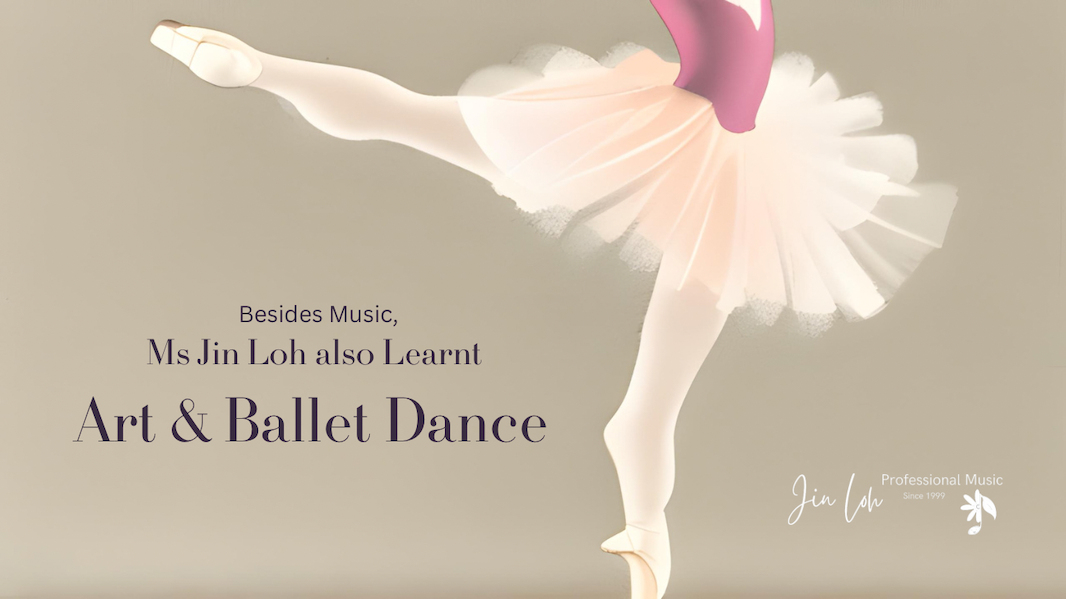 Singing Technique/Styles
Ms Jin Loh teaches the Classical singing technique, known commonly as the "Opera" singing technique. She also instructs her students in pop, jazz, and musical singing styles.
Ms Jin Loh prepares singing students for international singing exams.
Besides teaching singing techniques, Ms Jin Loh also imparts her ballet dance training and knowledge into her singing lessons when teaching her singing students stagecrafts.
She teaches various stagecrafts, such as looking confident, graceful, and confident on stage, standing and walking confidently, and using hand gestures, eye contact, and facial expressions when singing different lyrics to enhance the meaning of the lyrics to the audience.
Online Singing Lessons
Ms Jin Loh has been teaching exclusive online music lessons for several years, and her teaching efficacy is proven in Distinctions earned in international music exams and Gold Medal wins in international music competitions.
Her ABRSM Singing Grade 8 online student scored Distinctions in the 2022 ABRSM Singing Grade 8 exam and was chosen to perform in the 2022 ABRSM Global High Scorers' Concert.
Ms Jin Loh's High Scorer's Singing Student ~ Celine See, Performed "When I Look At You (from Scarlet Pimpernel). Pianist: Ms Jin Loh
Ms Jin Loh's Singing Student ~ Alicia Lao, Performed "Over the Rainbow (from Wizard of Oz). Pianist & Choreographer: Ms Jin Loh