Online Piano Diploma/Performance/
Piano Recital diploma lessons/Classes

Online piano diploma atcl/ltcl piano lessons/classes/teacher/coach in Kuala Lumpur (k.l.), Selangor (pj), Johor, Malacca (Melaka), Penang, Sarawak, Sabah, Pahang, Perak, Negeri Sembilan, Kedah, Kelantan, Terengganu in Malaysia, Singapore, Thailand, Australia, New Zealand, Japan, Hong Kong, Korea and other international countries.
Piano diploma lessons online/teacher/coach by international award-winning piano teacher ~ Ms Jin Loh.
International Award-Winning PIANO Lessons by Ms Jin Loh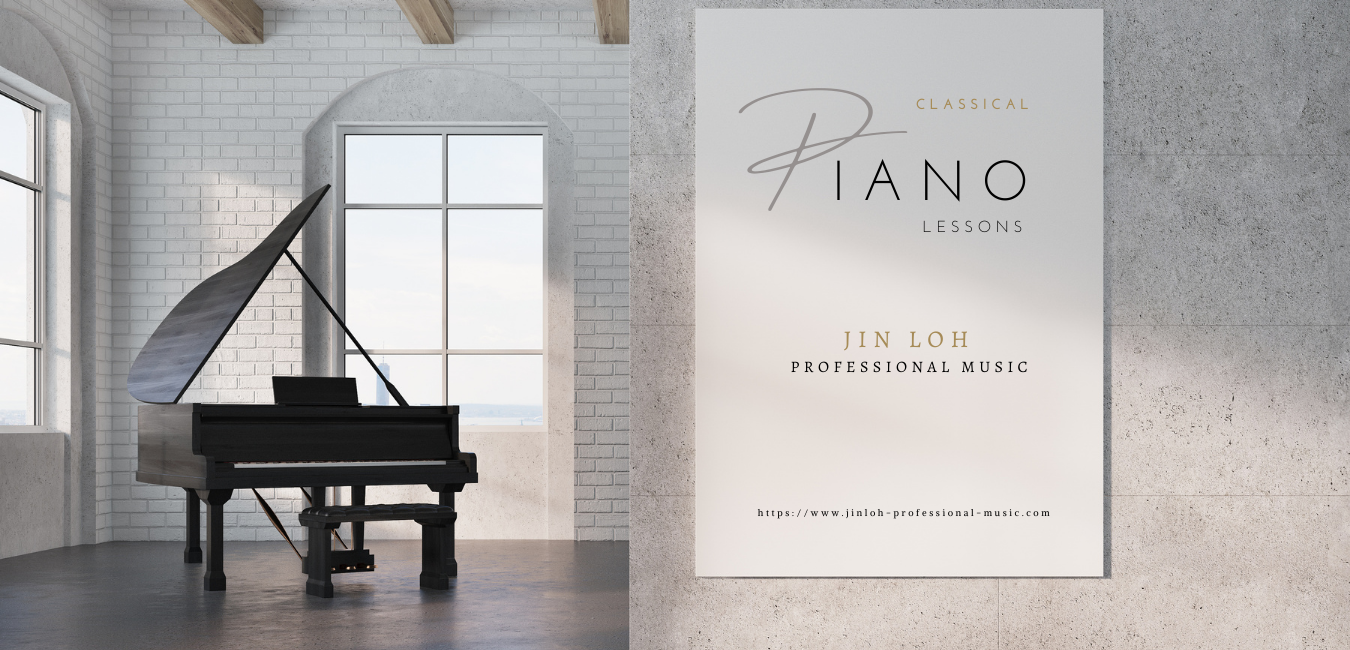 Ms Jin Loh is a globally recognized award-winning music educator and an accomplished musician.
Ms Jin Loh's formal training in various music genres, including classical, jazz, contemporary, and Chinese music, makes her a true all-rounder in the music field. 
What sets her apart from other music educators is her certification in Educational Psychology (UK) and Sound Therapy (Sound Healing) (UK), which she passed all assessments with 100% full marks.
Ms Jin Loh's achievements include being listed on the prestigious "Honorable League of Global Exceptional Music Teachers" by the World Online Music Competitions Organization, which recognizes her alongside esteemed professors of music in universities and Doctor of Music (PhD) awardees from around the world.
Her piano diploma student has won several Gold Medals in various international piano competitions in 2023 and 2022. 

Ms Jin Loh is listed under the "Honorable League of Global Exceptional Music Teachers" by the World Online Music Competitions Organization.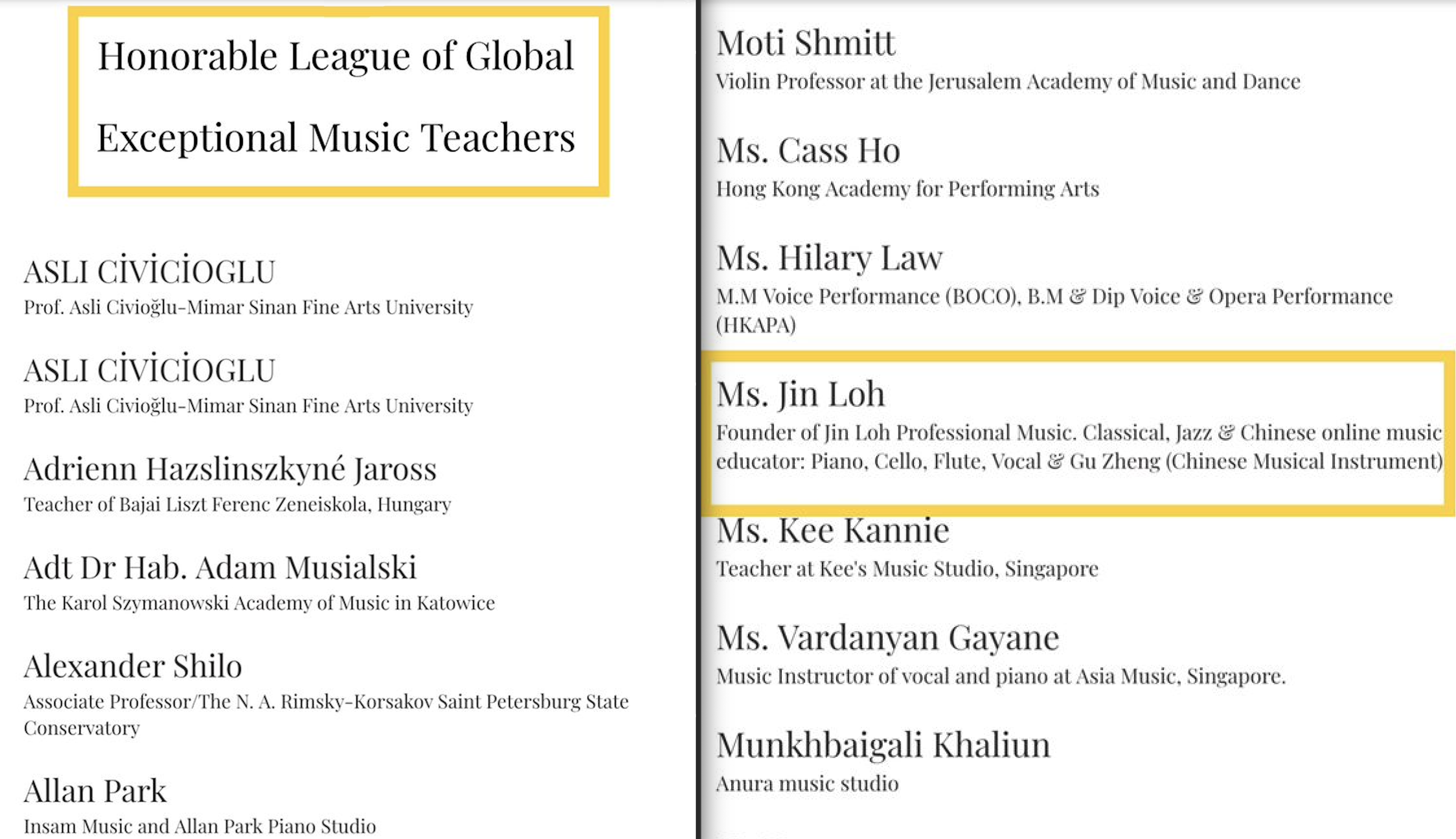 In 2023 and 2022, Ms Jin Loh has won several international awards for her exceptional teaching skills, including of receiving the certificates & medals from the "Royale Music Competition", "Best Classical Musicians Awards for Teacher", "Outstanding Teaching Awards" from the UK international music competitions.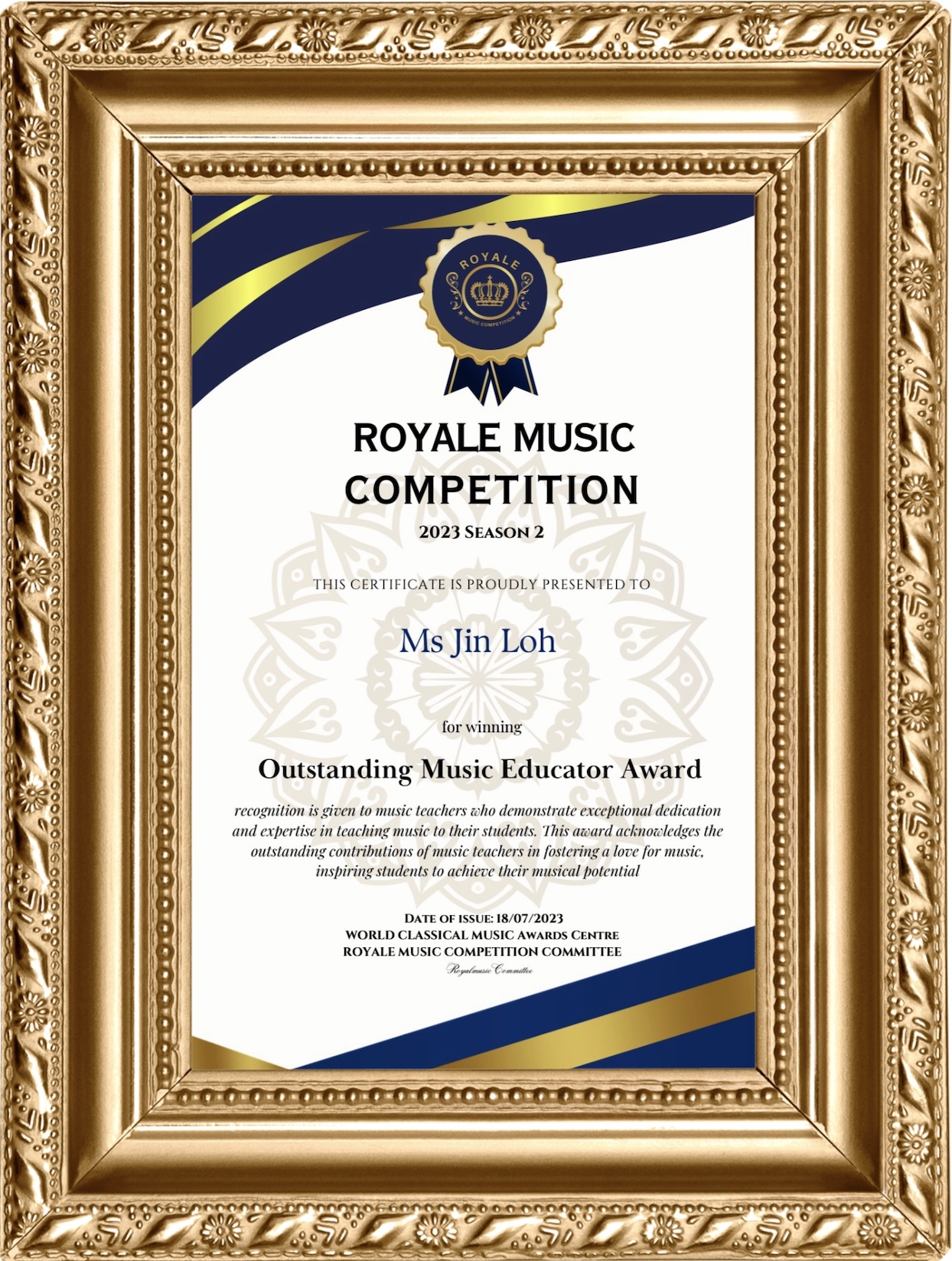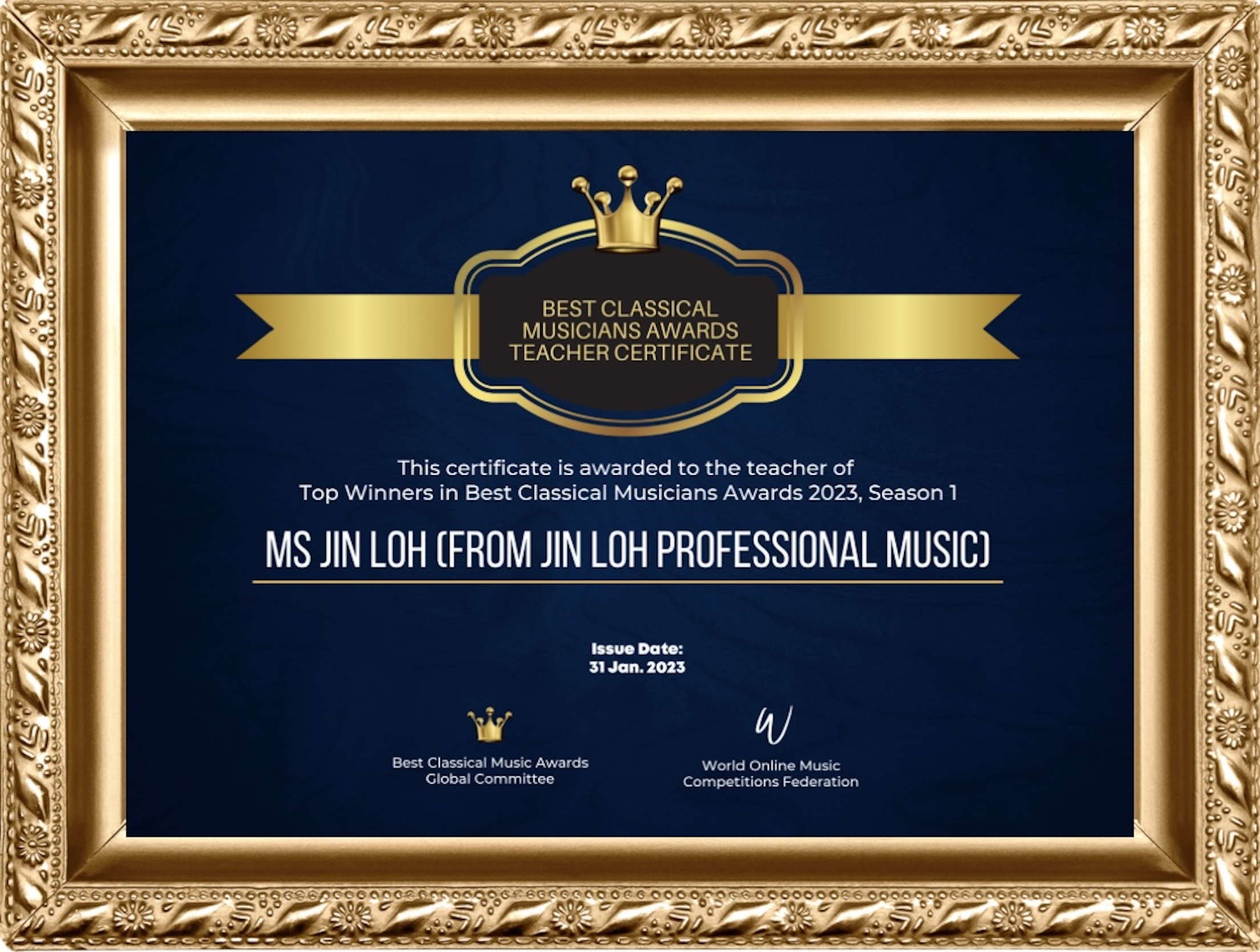 Ms Jin Loh's passion for music led her to explore its different facets. She pursued studies in dance and art to gain a deeper understanding of music. As a formally trained ballet dancer of 6 years, Ms. Jin Loh's knowledge in dance and art gives her a unique perspective on playing dance, art, or impressionism piano music pieces.
With over 22 years of teaching experience, Ms. Jin Loh is a highly seasoned and multilingual music educator who speaks English, Chinese (Mandarin & Cantonese), Malay and Japanese. She studied Japanese for about 6 years under the tutelage of native Japanese teachers.
Under Ms Jin Loh's tutelage, her 13-year-old Japanese piano student scored Distinction in the ATCL piano diploma exam.
ミス・ジンは日本語が話せるの音楽教師です。
♪ Highlights of piano diploma Student's Achievements in 2023 & 2022
2023 Gold Award Winner in the Royale Music Competition ~ International Music Competition (Classical Music Category ~ Piano)

2023 Gold Award Winner in the Best Classical Musicians Awards ~ international music competition  (Best Romantic Compositions Performance ~ Piano)

2023 Silver Award Winner in Poland's international piano competition

2022 Gold Award Winners in Universal Stars Music Competition ~ international music competition (Piano)