About Jin Loh 
Professional Music ~ since 1999
---
For 3 Consecutive Years (2017, 2018, 2019) , Ms. Jin Loh's Students are Trinity College London Music Exam's High Scorers. Her Students Scored One of the Highest Exam Marks Throughout the Whole Year, Throughout the Whole Country.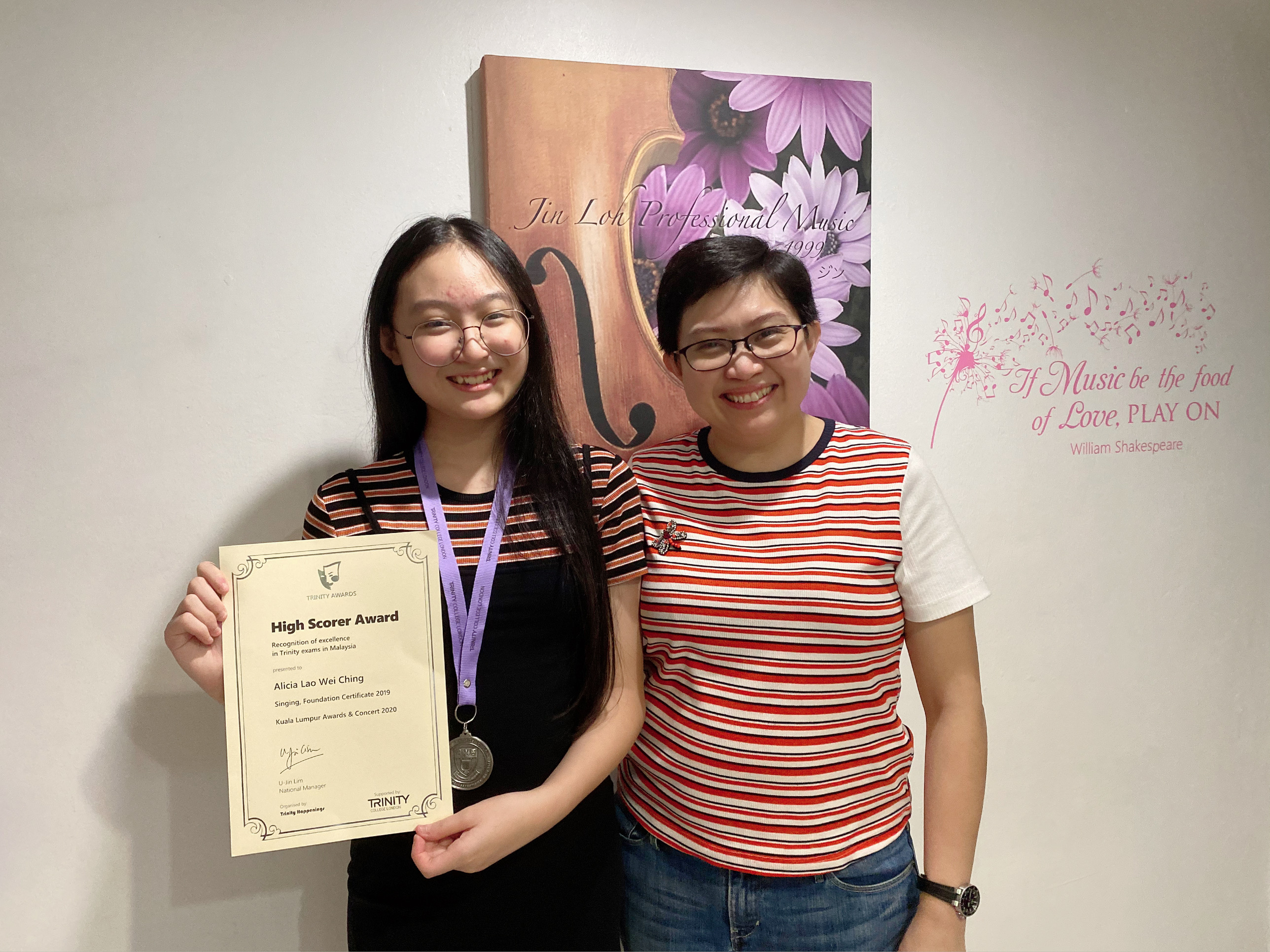 Alicia Lao (on the left) is Trinity College London High Scorer for Singing Exam 2019. She scored highest singing mark in 2019 exam throughout the whole year of 2019 in the whole country. Alicia scored 94/100 marks.
Celine See (on the right) is Alicia Lao's mother, also Trinity College London High Scorer for Singing exam. Celine scored the 2nd highest mark in 2018 year.
Both Alicia and Celine are Ms. Jin Loh's singing students.
---
Public Speaking Voice Lessons/Classes in Malaysia

 
---
Public speaking voice lesson/class in Bangsar, Damansara Heights, Taman Tun Dr. Ismail (ttdi), Mon't Kiara, Desa Sri Hartamas, Sri Hartamas, KLGCC, Kuala Lumpur (kl), petaling jaya (pj), Damansara, Selangor in Malaysia by experienced voice coach Miss Jin Loh.

How to Speak Clearly? How to Speak with Confidence? 
How to Make Your Voice Sound Better?

Miss Jin Loh, an experienced voice coach/voice teacher is teaching voice to public speakers who would like to improve on their voice. To become good speaker or even great public speakers, we need to learn, for example, "how to speak clearly", "how to speak with confidence", "how to make your voice sound better" and how to "improve on voice projection". These are important areas to work on when we want to give a speech or presentations during seminars or company presentations.

♪     Miss Jin Loh teaches public speaking voice classes/lessons in Malaysia. She conducts training speech classes for businessmen, businesswomen and public speakers who wish to improve their voice when they give a speech or presentation in company or to public. With proper and regular vocal training, students are able to improve to make their voice sound better and more pleasant for listeners to listen. Students also learn to strengthen & project their voice further, better, louder and clearer to a large audiences without hurting the throat too much. 
♪     This special public speaking voice classes/lessons are suitable for people who need to conduct long hours seminars, conferences or training to a large crowd of audiences. Miss Jin Loh conducts private voice lessons, one to one voice classes with her students.
♪     Every student's voice is unique. Our speaking habits maybe different too. Thus, the areas to train and work more on may be different from student to student. Hence, it is not ideal to conduct teaching voice classes in groups if a student needs more personal guidance and training.
♪     Students would undergo a series of vocal trainings. Various vocal warm ups exercises are done in classes to improve voice projections. Besides being a professional musician, an experienced voice coach, Miss Jin Loh is also trained in ballet dancing for many years. She would be working on student's body postures, hand gestures, body languages..etc in class. Miss Jin Loh's students would look more confident and professional when giving presentations, speech in company or in public.
Please note that Miss Jin Loh specialised in vocal training. She trains students to speak or sound better with their voice. Miss Jin Loh does not teaches students for example, how to write a good public speaking speech..etc.
♪     Miss Jin Loh's singing/vocal/voice lesson (course/class) is proven useful. It benefited Miss Jin Loh's students who are international public speakers. One of Miss Jin Loh's students used to complain that after many hours of 'talking loudly' during seminars to a large number of audiences, the student would end up having bad sore throat. So she had to bring and take sore throat sweets, to ease her throat when she gave public speaking or symposium. 
One day, the student told Miss Jin Loh that she has noticed her improvements on voice projection. During one of the student's Q & A work shops, the student did not realised that her microphone was switched off! The student just kept talking and answering audiences' questions without realising she was relying completely on her own voice to project to a large group of audiences. The student was surprised to find out that her audiences could  hear her even without the help pf a microphone! :)
---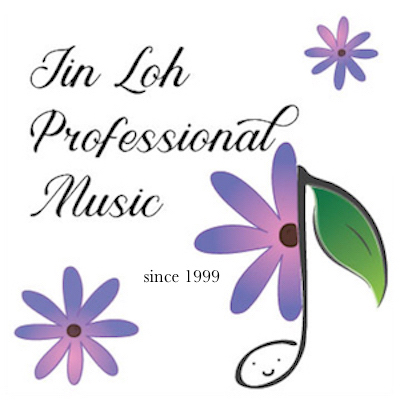 About Ms. Jin Loh
♪ Ms. Jin Loh is an international music coach/teacher. She trains international music students from different countries.
♪ Ms. Jin Loh holds a Bachelor Degree (Hons) in Professional Music (UK). 
♪ She was accepted into the Dean's List for 5 semesters. 
♪ Ms. Jin Loh has been teaching music for 21 years.
♪ She plays and teaches 6 musical instruments: singing/vocal; cello; classical and jazz piano; flute; electon (electric organ) and guzheng (chinese instrument)
♪ For few years, Ms. Jin Loh's music students scored High Distinctions in Trinity London College (UK) music exams. (Eg. 95/100, 94/100 marks)
♪ Ms. Jin Loh received few Letters of Commendations/Appreciations from Trinity College London (UK) and ABRSM (UK) for producing outstanding music students who scored one of the highest marks in the whole country.

♪ Her students won in various National and International Music Competitions.

---



Music is Love.

Love is Music

~ Jin Loh