Qualified/Certified Sound Therapist in Malaysia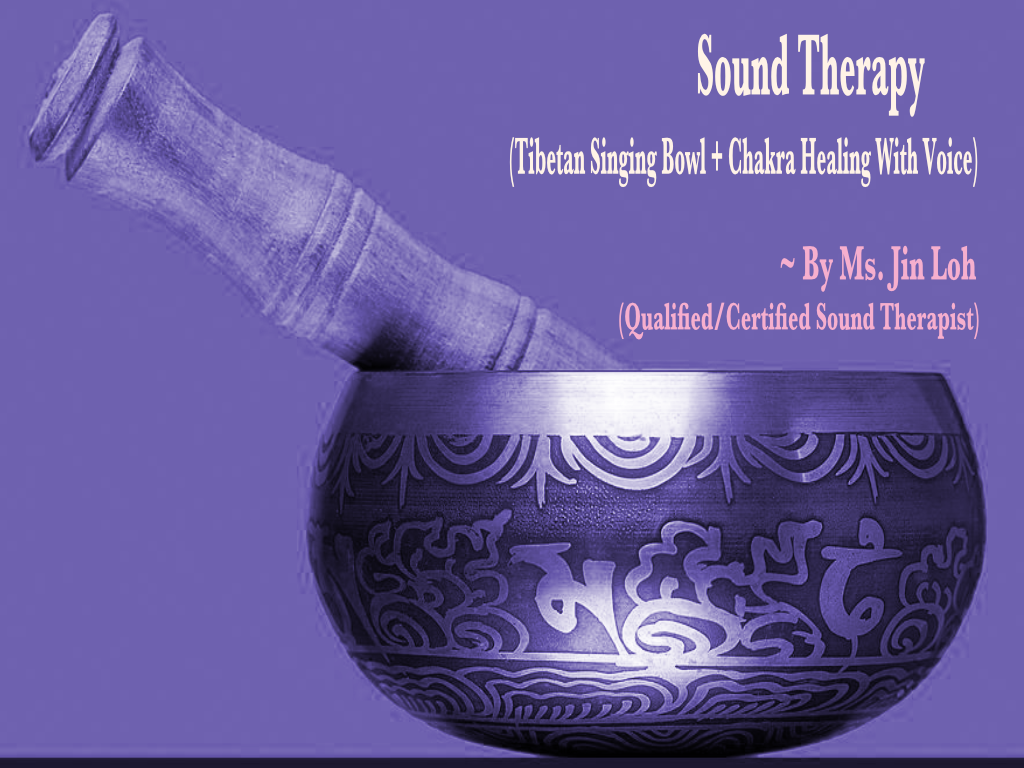 Ms. Jin Loh is a qualified/certified sound therapist in Bangsar, Kuala Lumpur (kl), Petaling Jaya (pj), Damansara Heights, Mon't Kiara, Sri Hartamas, Bandar Utama, Taman Tun Dr. Ismail (TTDI), KLCC, Ampang, Selangor, Penang, Johor, Malacca (Melaka), Pahang, Sarawak, Sabah, Negeri Sembilan, Perak, Perlis, Malaysia, Singapore, Thailand, Hong Kong and other international countries.
Qualifications
Ms Jin Loh holds a Bachelor Degree (Hons) in Professional Music (UK). She was accepted into the Dean's Lists for 5 semesters. Ms Jin Loh plays 6 musical instruments: piano, flute, cello, singing, electon (electric organ) and guzheng (Chinese zither instrument), all 6 instruments till Teacher's Level. Ms Jin Loh is an international music educator with more than 22 year of teaching experiences. 
Ms. Jin Loh is a qualified/certified sound therapist and also a chakra healer. She was a sound therapy practitioner member of the Complementary Medical Associations (UK), MCMA. 
She studied and passed all her sound therapy (sound healing) assessments with 100% full marks including Quantum Physics (eg. energy, frequency, resonance & various healing instruments). 
Ms Jin Loh is also a certified Educational Psychologist (UK). She also passed all her Psychology in Education assessments with 100% full marks.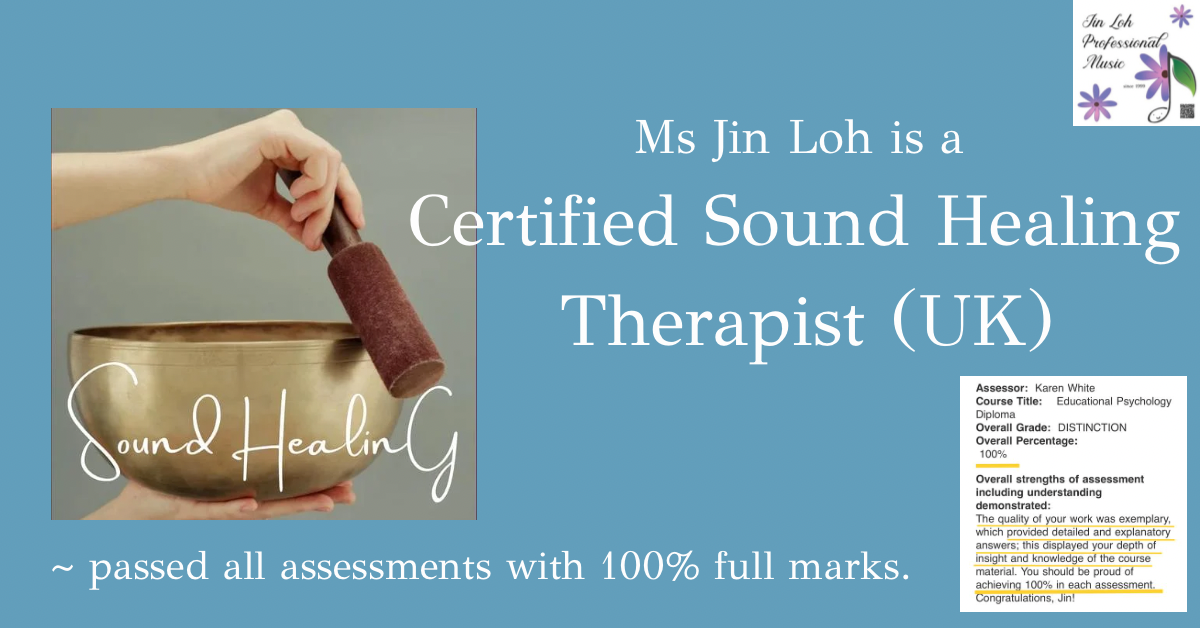 Ms Jin Loh uses various sound, as "natural medicine", natural healing therapy/treatment/alternative healing methods to help her patients to reduce or ease their stress, depression, anxiety, insomnia (sleeping disorder) problem, headache or migraine due to stress, to calm and stabilise their emotions and mind and other health issues. 
Ms Jin Loh uses specific natural healing sound or frequencies as "sound medicines" to help her patients to relax, to calm their mind and body, to re-balance their out-of-harmony chakras and re-energise their auric field, thus helping them to improve their overall health, mental or spiritual condition.

Brief Explanations About Sound Therapy as Natural Healing Therapy
Specific sound, music, ancient musical instruments or songs have been used as "natural remedies" or "natural healing medicines" since thousand of years ago by various countries or cultures, to help one to balance or improve one's health, mind and spiritual condition.
Just like a violin, one maybe out of balanced or "out of tuned", when our natural energy level in our auric field maybe affected due to stress, emotional trauma, sudden changes in different environment or experiences or other reasons. When that happened, it may manifest as physical or health issues.
Since thousand of years ago, people found out that if they ate specific herbs (with specific energy vibration in it), it may help to cure or ease their specific health problems. People then started to use these herbs as natural or traditional remedies for different situations.
Sound (sound healing) therapy is just like "using or eating traditional herbs to cure or ease specific issues". Instead of using herbs, sound therapists use "sound" as natural remedies for healing or to ease specific issues. Ancient people already discovered that specific sounds, music, instruments or songs have unique healing benefits in them which may ease their pain or health problems. 
Therefore as a certified/qualified sound therapist, Ms Jin Loh may use specific sound frequencies or specific musical instruments as natural remedies, to help her patients to re-store or re-balance their energy in their auric field, thus helping her patients to improve their overall health, mental and spiritual condition.

About Ms Jin Loh's Sound Healing Therapy/Treatment
Ms Jin Loh's sound healing treatment is not for general relaxation purpose only. Ms. Jin Loh may help you to ease your specific health conditions that you may have, eg. if you suffer anxiety, depression, sinus or insomnia problems. If you would like Ms Jin Loh to help you to improve or ease your conditions, please describe your health issues, problems, symptoms...etc in more details in the booking form before she sees you for your sound healing online treatment. Ms Jin Loh will study your conditions and will use suitable sound healing instruments and specific sound frequencies to help you to re-balance your affected chakra energy centres.

Special Sound Healing Therapy/Treatment
Ms Jin Loh's sound healing therapy/treatment is unique because she combines her knowledge in ancient healing musical instruments; quantum physics; chakras; sound frequencies, energy & vibrations; human's brainwaves; vocal toning; yoga breathing & body movements; colour healing; healing gemstones for different chakras; essential oils for various chakras; some Chinese Medicine's Meridian's knowledge...etc in her sound healing therapy/treatment.

Online Sound Healing Therapy/Treatment

Ms. Jin Loh's sound healing treatment sessions are all private, one to one online sessions. Therefore, you may safe time traveling to her place for healing sessions; have more privacy; stay in the comfort of your own place; continue to maintain social distance...etc, while Ms. Jin Loh try to improve your conditions with her unique sound healing treatment/therapy. 
---
*Important Notice/Disclaimer: Please note that sound therapy is a natural energy healing, alternative or complementary healing method. People who have health problems need to consult medical doctors for medical treatments.